Fasim Uno made a new mural specially for the 12 Artistes, 12 Escoles project. He send us his story behind the work and we're happy to share!
A few days ago I participated in the festival 12 Artistes, 12 Escoles (Pintaescola) that brings urban art to primary and secondary schools through murals and courses to students organized by David Ruiz and Gabriel Segarra along with the city of Castellón that with this edition and will be 30 schools that have a mural in their facilities.
The event this year 2019 had a good group of urban artists;
Escif, Fasim, Musa, Harry Bones, Wendy, Ozzy, Toner, Demsky, Smithe, Vato, Mankey, Fati, Gracia, Yksuhc and Luce.
By getting involved in the project I also started a regression to my early days at school in Barcelona. I had deep meditations that multiplied when I entered the CEIP Blasco Ibáñez de Castellón and I was immersed again in the routine of a school and to walk between; classrooms, walls full of drawings, backpacks, shouts, forgotten sandwiches, football matches, teachers, the dining room, metal trays, smells …
Suddenly I had returned to my school days, although it is never pleasant to return to the chrysalis. I remember school with a certain terror, I'll be honest, I was hyper-shy… I had a Kafkaesque panic to be schooled, submitted, dogmatized or aligned. At that time I resisted everything and everyone. I didn't want to be like my family or like those unreal people on television who seemed all the same to me, I perceived all that uncomfortable reality that I didn't like and I rebelled.
"The school is a penal institution in which we are taught to forget childhood", said poet Leopoldo María Panero.
To be Momo, to be aware of it and to fight with all your strength against the grey men. That is the best interpretation that I would give to the efforts to preserve myself in that war of wills in which I played a lot and in which I had the luck or the ability to get away with mine and the laureate.
I just wanted to paint.
When I was 14 years old I escaped through the window of my room to paint trains in garages five meters under the floor, I was not exactly an obedient schoolboy. I had to bend all kinds of wills, I didn't have it easy. Once I had a family reunion with the principal of my school because my books were all painted, the lessons were not seen and they had to buy me new ones that I painted again, at that moment graffiti was already the most important thing for me.
Maybe all that resistance was due to the obsessive attempts of parents, teachers, directors, theologians, moralists to knead me? A sad ideological inheritance from that post-industrial era. I would like to know what I or any of us would be like without the pressure of all those grotesque colonizing characters in our childhood.
Hip-Hop is invented by children; "…graffiti was invented by children while they were going to school…", Enrique Torres aka Part1 TDS told me one day, as well as break-dance (there you have Crazy Legs or Prince Ken Swift). It happened during the Reagan era, one of the hardest ever known in New York, especially in the Bronx.
I remembered my last year with a tear, those days forged my destiny; I was 14 or 15 years old, I had stopped attending a large number of classes because at that time I met Henry Chalfant, he enjoyed a recent popularity and appeared regularly on television or in the press. I always had something better to do than go to class (I escaped adult control as the rabbit escaped from Alice, through a secret den).
Today, many years later I return to school as an artist to bring urban art closer to the Pintaescola project. When I was a child I used to draw to pleasure anything and I had a great time, I started with this energy, I spent a couple of days smearing on the terrace of the house until the figure of a cat or a tiger (or even a fox) appeared that interested me very much as a metaphor and I thought that it would work very well reproduced in the great wall of 13.4 meters long by 4.4 meters high.
It has a bit of Jonathan Swift's Gulliverian literature or some La Fontaine fable on purpose; also a mischievous look and a smile with autobiographical tints.
I think that children are initiated into literature through the suggestive image of children's stories, unconsciously reminding them that singular stories and fascinating knowledge await them when they learn to read and that is the idea I have tried to convey on the wall.
There is no greater school than the will and there is nothing more fun than learning things, as they taught in ancient Greek schools: learning by playing.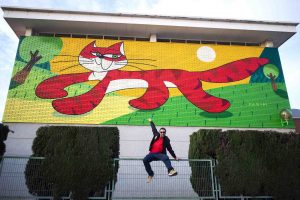 Germán Bel / Fasim / 17 – 04 – 2019 / Valencia
___________________________________________
+info
Fasim: https://www.fasim.org/
https://www.instagram.com/fasim_/
fasimonee@gmail.com
+34 651 17 53 63 Wsp
Title: Back to the school*
Text: Germán Bel / Fasim
Festival: 12 Artistes, 12 Escoles – Pintaescola, 2019.
The Department of Education of the City of Castelló, headed by Enric Porcar, has launched another year Pintaescola initiative with the project '12 artists, 12 schools', under the curatorship of David Ruiz and the slogan 'Education is the most powerful tool to change the world', which begins today. The project, which aims to bring the world of graffiti and mural painting closer to the city's schools, and with this new edition there will already be 30 educational centers that have a design in their installations.
Location FASIM: CEIP BLASCO IBAÑEZ.
Calle del Pintor Soler Blasco, nº 5. Castellón de la Plana, 12003.
City: Castellón, Valencia. Spain.
Photo gallery: Paco Poyato, 2019. https://www.pacopoyato.com/