Imagine the following: it's 1979, you're young, in love and living in the East Village of NYC. Your boyfriend is not just creative, he paints, draws, sketches on everything. He's convinced of his skills as an artist and sure he's going to be famous because that's what he wants to be. You're Alexis Adler and you're Jean-Michel Basquiat's girlfriend of that time.
We all kind of know the story of Basquiat. A famous artist passed away way too young at the age of 27 due to an overdose. But till now, most people know Basquiat from his big, expressive canvases. The early years of his career are less known and less focused on.
So I was very pleased to be invited by Schunck. They're the first to bring the exhibition Basquiat, the artist and his New York scene, to Europe. I'm invited to be shown around by curator Cynthia Jordens to find out more about who Jean-Michel Basquiat was before he became Basquiat.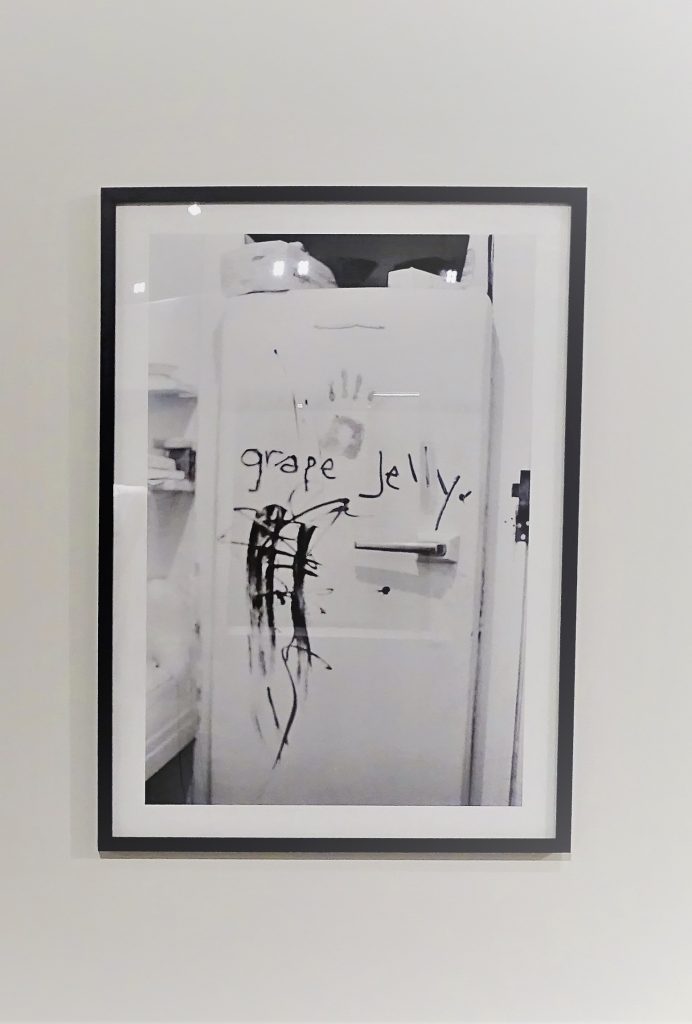 Original works from Basquiat, tagged refrigerator
I can barely imagine NYC 40 years ago. It's recent history but the city was full of crime and drugs back then. I'm ready to be sucked up in what used to be a part of Adler's life and NYC back then but most of all, into Basquiat's work.
After Jean-Michel and Alexis broke up, Adler kept most of Basquiat's work from that period. Some still on the walls but most of it was kept in a safe at the bank. When hurricane Sandy hit NYC 5 years ago and set part of East Village under water, Adler realized she had something locked in a safe for already a very long time. It made her realize she had something precious. And after being hidden from the world for almost 40 years, she decided it was time for Basquiat's early works to come out. I'm glad she did.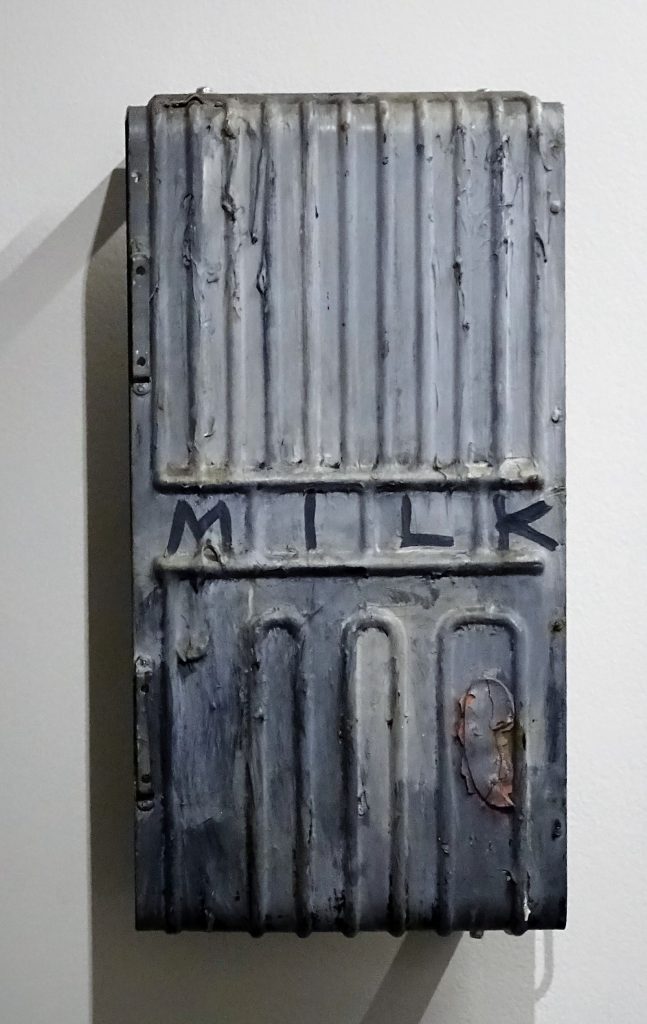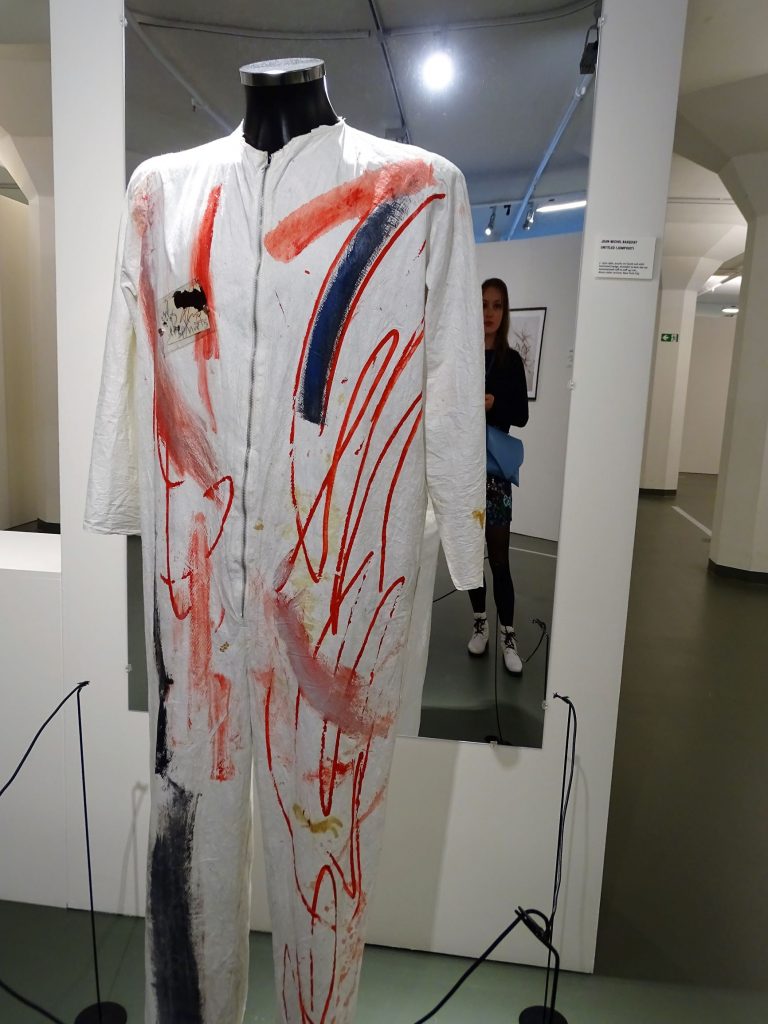 Tagged radiator, overall painted by Basquiat
The exhibition brings us back to 1979, in Basquiat's former apartment he shared with Adler (she still lives there). The apartment has been recreated, including pictures of the hallway and staircase. I can feel the vibe of living with an artist. Basquiat drew on everything, all the time. Even when Adler fell asleep with her clothes still on after a night out, he would draw on her jacket. Basquiat's tags where everywhere, in and outside the house.

Impression with real pictures of Adler's and Basquiat's apartment
How could someone so young be so convinced of his own talent? Basquiat knew he wanted to be famous. And even though his career didn't last that long, due to his young age of death, I'm still a bit surprised how he always had his same, recognizable style. As if he didn't even think it was necessary to experiment to find out what people liked. He seemed to be so confident.
Basquiat by Adler
I'm impressed by all the works I see. The recognizable style, the sketches, the drawings. The exhibition gives such a wonderful insight into how Basquiat used to be. I never imagined. I knew he was a famous artist, an artist who perhaps could hardly handle fame, seemed as if he was playing a role since he became famous. But this shows the real Basquiat, the artist behind the big, expressive canvases. The imaginary conversations, as movie scripts, he wrote down. The postcards he made to sell on the streets to pay the rent, once even to Andy Warhol! But also the pictures Adler took. They probably weren't even a serious art performance but just a young guy and his girlfriend making fun. It makes the legend more human to me. As if he stands closer, because don't we all have the secret dream to become famous? I'm not sure if we all have the dream to escape reality, though.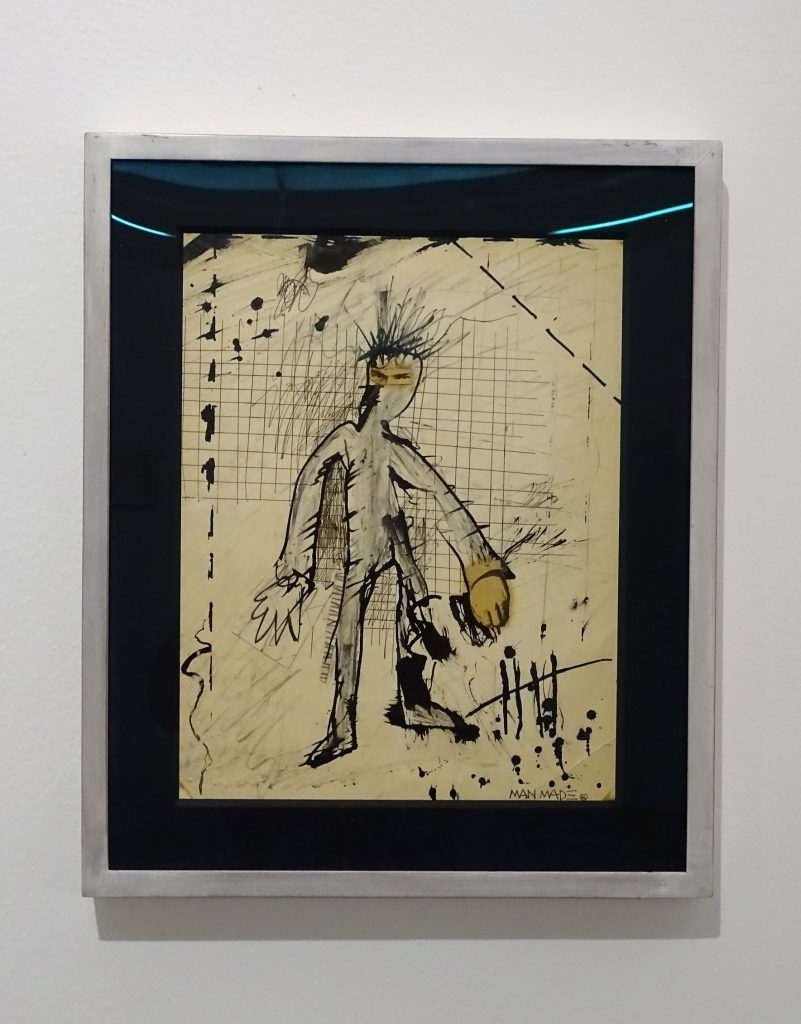 Imaginary conversations and drawings, original works by Basquiat
In a film shown at the exhibition, you see Basquiat working on the street. He sprays a statement and walks away as if he doesn't even realize that he just put something on the wall. Not secretive, he doesn't move quickly, but rather as if it doesn't matter. What is it about Basquiat that seems so carefree, natural, confident, but still so intense and self-consciousness? In all his work, the early works, the later works, it's like he screams for attention. As if he frustratingly wants to tell you something. It fascinates me.
(text continues below images)
Basquiat by Martha Cooper
It also interests me that people like Martha Cooper spotted Basquiat when he was working on the streets, giving us extra insight into his early works.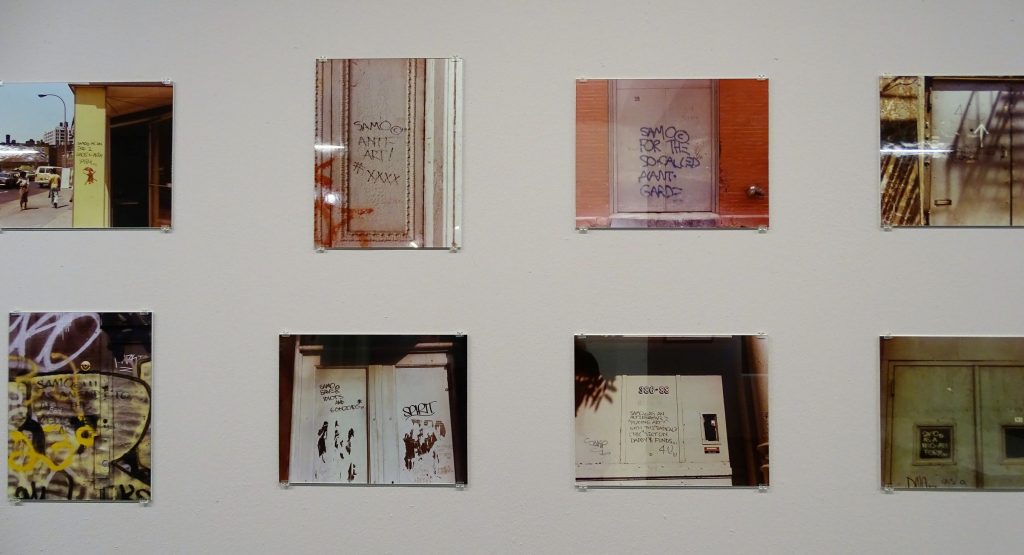 Basquiat by Henry Flynt
The second part of the exhibition brings us to the streets of NYC. Photographs from Henry Flynt appear, he took the photos in 1979 without knowing who the graffitists were. At that time Basquiat was part of the collab SAMO (abbreviation for Same old shit) tagging the streets in NYC. But not in the popular way everyone did. Instead of just tagging their name in colorful letters, he made a statement. Cryptic and socially critical texts. When SAMO breaks up, he writes SAMO IS DEAD. Basquiat moves from the streets to canvases.
SAMO is dead
The exhibition continues with an impression of the famous Time Square groups-show Basquiat that participated in 1981. Together with artists that are still famous and well-known today, the show was a huge success. Basquiat starts selling his work, gets a studio and becomes the famous artist we know. The famous artist that he knew he was and would be.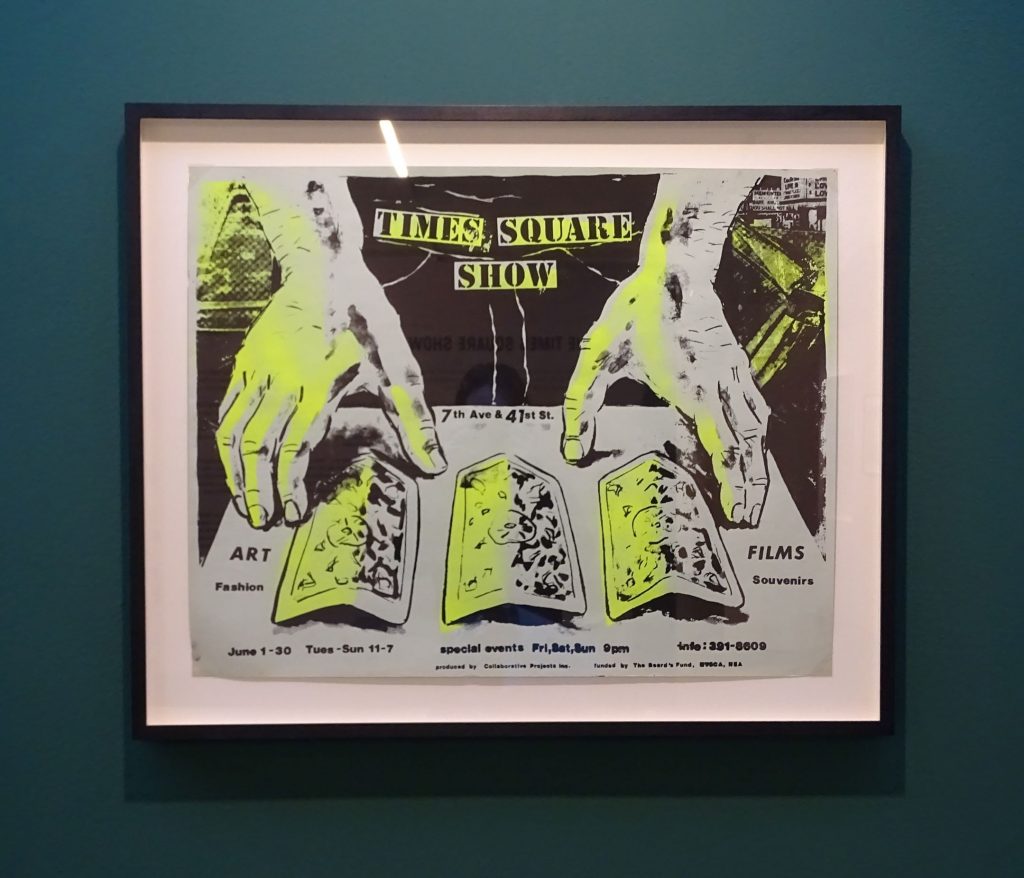 Flyer of the Times Square show
The exhibition ends with four huge Basquiat works. The kind of works Basquiat is world-famous for. But now I got to 'know him better', they suddenly don't feel real anymore. As I discuss with Cynthia, it almost feels as if the moment Basquiat became famous, he put on a mask. He started wearing Armani suits, carrying thousands of dollars in his pocket. But still he was always very aware of his background. The early works show themes of American identity as if he was searching for his own identity. His later works seem to be hiding his identity, I believe so due to the use of masks. Due to the portrait that was never called a self-portrait, and is named The Beast.
Basquiat as we know Basquiat
I'm impressed by Basquiat – The artist and his New York scene. The exhibition shows me the real Basquiat, the Basquiat I didn't know and didn't hear of yet. I always thought of his screaming, shouting work that people love or hate. I didn't realize that Basquiat was a young adult first, always saw him as a world-famous artist who passed away too young. But he had a dream and a goal and the exhibition showed me how he managed to follow so. I'm surprised by his perseverance to become a star. And I wish that his wished fame didn't end up the way it did.
Basquiat – The artist and his New York scene at Schunck, Heerlen is definitely worth a visit. The exhibition is on show till the 2nd of June, 2019. For more information visit the website of Schunck.