Best known for his bizarre, surreal films – such as Blue Velvet, Wild at Heart, Mulholland Drive and the transcendent tv-series Twin Peaks – David Lynch (1946) actually started out as a visual artist. During his long career as a filmmaker Lynch, who sees himself primarily as a painter, never gave up this form of creative expression. Over the course of his mature life he has created a beautiful collection of paintings, installations, photographs and stop-motion installations, a sizeable portion of which is on display until 28 April 2019. In fact, it is the biggest retrospective ever put together about this important contemporay artist.
In collaboration with the Bonnefanten Museum in Maastricht, Lynch has created an impressive exhibition, consisting of more than 500 works of art. Looking at his oeuvre, you get a glimpse of a subconscious and masterly imagination always at work.
Billy sings the tune for the death shuffle
His canvases and cardboards are plastered with cryptic, written messages. One of his latest paintings – 'Billy sings the tune for the death row shuffle' (2017) – is a good example. The somewhat disorienting representation depicts a little, headless boy with extremely elongated arms. In one hand he holds a red thread connected to a dog with a thick black outline, and in his other a part of the (same?) animal's jaw. In place of the boy's head we see a kind of molten lightbulb from which a speech bubble with the slogan 'Eeeeeeee' protrudes. Also emanating from the light bulb-like head: a tiny face and the appearance of Mickey Mouse.
About the deeper meaning of his work Lynch claims "What it means I do not know". But it is clear that his renditions are autobiographical as often as they are not. He has a particular penchant for the fifties, the time of his early youth. Lynch says he has always worked to keep that inner child and its thoughts and observations alive: "I feel between nine and seventeen most of the time, and sometimes around six! Darkness has crept in since then." Light and darkness are subjects he always returns to.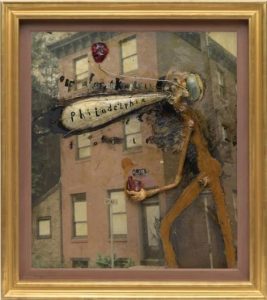 The artist's paintings can remind one of those of the late Jean-Michel Basquiat. Particularly the written words, done in a childlike handwriting with deliberate improvements and deletions, reinforce that association. But there's more, such as both artists' fascination for the carnal; many of their paintings are riddled with separated human body parts. In Basquiat's work the emphasis is on the bare skin, that may or may not be ripped open. David Lynch goes a step further. He works with a wide array of materials like paint, clay, dirt and cardboard so that cloths of blood or other physical excrements seem to be literally smeared across his canvasses. The comparison does not stop here. Both Lynch and Basquiat are artists working from a form of 'gut feeling'. Lynch emphasizes the representation of dark desires and dreams, the spiritual (the soul) and evil (mainly presented in the form of violence). This iconography is also visible in the work of Basquiat. Take a look at 'Flesh and Spirit' from 1983, where he emphasizes the spiritual circle between life and death. Science and spirit, reason and religion are themes both artists work with.
Is it a coincidence that the art of David Lynch and Jean-Michel Basquiat seem related? By no means. The artists were contemporaries for a while and moved around in the same artistic circles in the 1980s. Around that time both Lynch and Basquiat, at least in part under the influence of grafitti culture, started using written words in their paintings. Does Basquiat count as a major influence of Lynch's? It can appear that way because of the former's early death and the fixation of his oeuvre at that early stage, but it makes more sense to account for what these artists' shared (and did not), as well as for the decades long subsequent development of Lynch's art.
DAVID LYNCH – Someone is in my house                                                               
On show till the 28th of April, 2019 at Bonnefantenmuseum Maastricht. For more info visit: https://www.bonnefanten.nl/en/exhibitions
The exhibition is more than worth the trip to Maastricht, but if you do not have the chance, you can always make do with some of Lynch's movie classics in the retrospectives LAB111 and Eye are staging.