Farewell to one of the most relevant spots in Madrid's street art history
Most of the things I write about are positive and good news. Unfortunatly this isn't the case in this blog. We had to say farewell to one of the most relevant spots in Madrid's street art history. Two years ago when I lived in Madrid, I used to go to this amazing place called El Campo de la Cebada. Literal translated as "The Barely Field". I can show you pictures and write about the place but the actual feeling and vibe was indescribable. Located in the epicenter of one of the most vivid neighborhoods of Madrid, La Latina, El Campo de la Cebada contributed in its own way to the area's magic.
It was an open space where artist painted murals and graffiti artists did their tags. Flea markets happened during the weekends and there where many other cultural events that took place. It was the perfect spot to disconnect from the concrete jungle and be yourself.

A second home
I remember meeting people from all around the world who decided to spend the day in the area and have a cultural exchange. A lot of people even saw El Campo de la Cebada as their second home.
After years of being one of the most relevant places in the city's street art scene, the municipality of Madrid decided to close El Campo de la Cebada. They started building a gymnasium, pool and other installations. It's not that the new project isn't beneficial for the community. The problem is that the government could have decided of doing it somewhere else. Open areas like El Campo de la Cebada are not very common Worldwide. Why would you destroy a place with cultural and creative movement to build something that isn't really needed?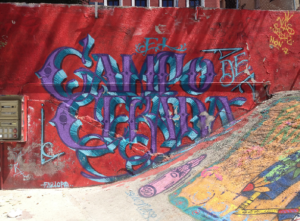 Spread the word
I'm writing this not only because I miss the place. I also want to spread the word about this type of tragedies against art and freedom of speech. I believe a lot of governments around the World should designate a higher budget on building public spaces for society to explore their creativity and for communities to strengthen their sense of belonging. Street Art is the voice of the people, and they will never be able to silence us.