The past few weeks they were everywhere in Amsterdam. Posters saying FREE ART NOW. It seemed like there were even more Free Art Now posters around town then the striking pink Moco poster that you also see on every corner of the street and which you also really can´t avoid. So there are a lot. After noticing the umpteenth poster I started wondering what this whole thing was about. Because even though those posters say something about art, it was starting to seem a lot like street advertising because of the huge quantity. I also started wondering, since when does art needed to be set free?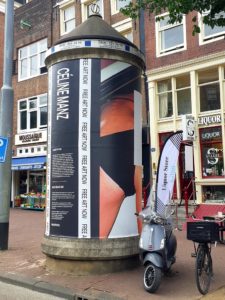 It turned out that the whole Free Art Now message was created by We Are Public. We Are Public is in their own words ´all about finding innovative ways to generate new audiences for progressive arts and culture´. You can submit to an ongoing providing access to a selection of concerts, performances, movies and exhibitions. All that for just 15 euro a month (which is a lot more than the Museumjaarkaart where you can go to almost every art exhibition). They also initiate projects to introduce artists, performers and musicians they love. For example, the Free Art Now project, where the whole idea is to turn ad space into art space by showing works of art of their favourite artists in public space. In short, they only promote art they choose from the artist they collaborate with. So far the whole ´free art now´ thing, which is apparently only setting free the art We Are Public can benefit from themselves. Which in the Free Art Now case is just 6 artists. Numbers from how many artists there are just in the Netherlands are unsure, but I´m sure there are more than 6. On the event page on Facebook, you can read: From 3 till 23 August. All over the streets of Amsterdam. Always open, free for all. A free exhibition? Always open? That sounds pretty cool. And unique as well. And also great: I noticed that a few websites I follow gave attention to the whole Free Art Now movement. Because besides my opinion on the free art now idea, I am indeed a big supporter of giving a stage to all kinds of art and making it more accessible to a big(ger) audience. However, the way We Are Public brings out the Free Art Now idea including a huge marketing campaign plus giving the impression they´re coming with something truly unique and improving is a hoax. Because the type of art from the artists including Free Art Now is already known and approved by a big audience. It´s the type of art people visit a museum for. They also forgot a small thing. There is a huge art movement they forgot about. Art that's already all over the streets of Amsterdam. Always open and free for all. With this campaign, they forget and pass the entire street art scene in Amsterdam.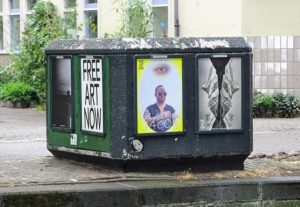 It´s not that I´m angry at We Are Public. I do however find it a bit naïve. There´s always the discussion if art should be commercial. I also have a lot of thoughts about some artworks that are now on items made in mass productions and sold in gift shops. I´m also not sure what an extremely commercial museum like Moco really ads to the street art scene. But what I do know is that most commercial parties, even if they are about art, prefer to just show you something from their own perspective. Of course not just in the art scene but the big shame is that most people don´t think for themselves. And that's why I´m a bit disappointed in Free Art Now. Because the (street)art that is already free, might be just next to a Free Art Now poster or artwork and overseen. The street art that's already free is made by someone with passion and way more bigger love for art and creativity than such a company. And probably done for free in contrast to the artwork it´s hiding behind and that was so lucky to be selected by Free Art Now to show it to the ´bigger 'audience´.