A typical characteristic of Street Art culture is that it is global. This arises, among other things, from the scene itself, where the canvas can be any chosen location. Free movement through an area, making contact with each other, critiquing each other's work; this all contributes to an organic 'flow' within the scene. Nowadays, the urban canvas is supplemented with international Street Art festivals, art shows in galleries and in the newly created Street Art museums all over the world. But it is still correct to equate Street Art with freedom, even if the works are commissioned. The freedom to show who you are, paint what you like, but also to go wherever you want, adheres to this idea.
Yes, we need to update the romantic ideal of Street Art, where the artist illegally decorates the city with beautiful pictures and catchy texts, to a more contemporary view – but physical movement will always remain an essential part of the art form. The privilege of freely moving within society depends on factors we normally do not think of as difficult or challenging. Origin, gender identity, physical and mental (dis)abilities and sexual identity are subjects that may not always be comfortable or uncontroversial in the Western world, but at least they can generally be discussed. As an artist from a Western country, it is rare to come upon boundaries you cannot cross. For some countries you need a visa, but most often this is not a problem. Even your gender or sexual identity isn't something you have to worry about too much when you are commissioned a foreign assignment.
'Monument of Arrival and Return'
The exhibition 'Freedom of Movement' in the Stedelijk Museum, Amsterdam invites you to question your own position through about twenty new works of art. Very impressive is the video installation 'Monument of Arrival and Return' by the artist Basir Mahmood. For this work, Mahmood, from his studio in Amsterdam, hired a production company in his hometown of Lahore, Pakistan, to film a local group of railway porters interacting with some of his private possessions. The museum visitor watches the various porters from a huge sofa, placed in front of an enormous film screen. The working porters (who actually do not go anywhere) and the lounging visitors of the exhibition, who can up and leave as they please, form a big contrast in the room. Apart from this significance, the artwork also seeks to showcase a profession that has remained unchanged for ages, symbolized in a highly aesthetic way by the very men who practice it.
'Infection Drivers'
The video 'Infection Drivers' by Kate Cooper (in collaboration with Theo Cook) covers a different side of freedom and shows a computer generated image of a naked girl in a plastic body suit that continuously inflates and deflates.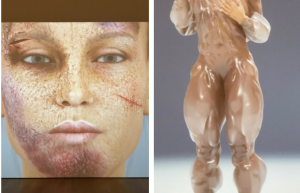 The girl is trapped in this suit, which alternately takes on the form of male and female stereotypes. The close-ups of the girl's face look like a mural on the museum wall, but when you look closer you see the avatar getting worn down by the struggle with the suit (her sounds remind me a bit of the nineties game Tomb Raider) and her face bruised. Cooper wants you to think about how women are depicted and stereotyped in advertising and popular culture – this video questions, among other things, the idea that a 'natural' female body stands in contrast with a 'man-made' world.
You will inevitably leave this exhibition more fully aware of the need to continually question your own positions – and how they impact how you see your neighbors, your environment, your world and yourself.
Freedom of Movement at the Stedelijk Museum Amsteram is on show till March 17, 2019