Street Art City in central France is a unique city truly dedicated to street art. With over 90 frescoes created by artists from around the world, it's the perfect place to wander around for hours, discover and immerse yourself with creativity. 
GOMAD Graffix (Marcus Debie) visited Street Art City last year to paint at this unique former PTT telecom site. He shares his urban experience with us in his travel blog specially written for ASA.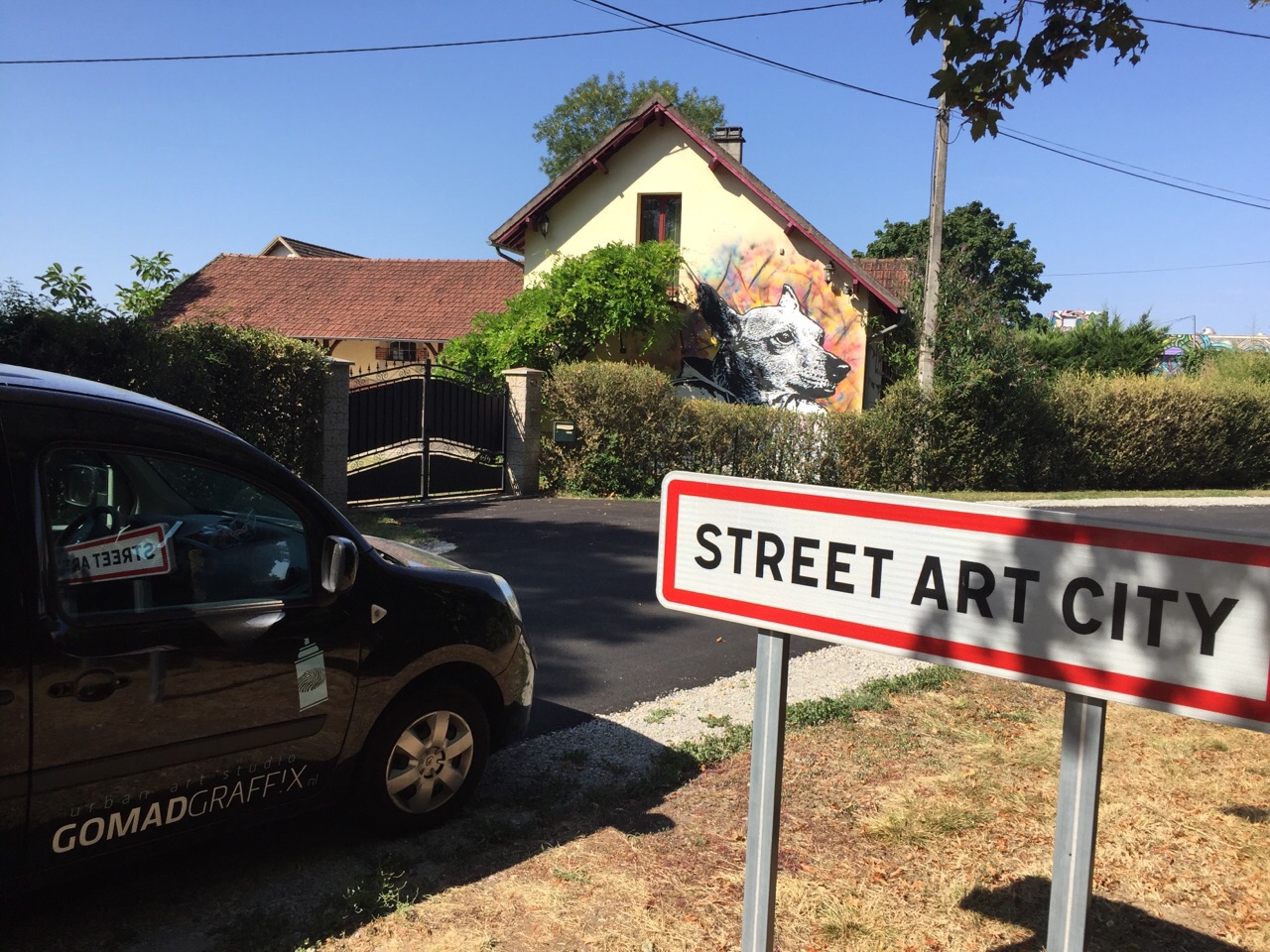 Netherlands-Belgium-France / 30 July 2018 / 21°
It is 8 pm. My wife Nancy, street art photographer Martine Kiers and I have just landed at Schiphol Airport, returning from our adventure in Bristol at the UPFEST street art festival, but that's another story.
We drive from Amsterdam via Rotterdam to Antwerp and leave the Netherlands. It's quarter past 12 at night and we have finally reached the French border. Suddenly the motorway ends and we drive a long way on rural and picturesque D roads. It is a pity that it is in the middle of the night because this seems to us a very nice part of France.
In the town of Épernay we close our eyes for a few hours sleep. Simply in the car, seats backwards. When we wake up it is already getting light again and then we realize how beautiful the surroundings are, hilly and green. We drive the Route Touristique du Champagne. Near Sézanne, you see Champagne grapes as far as the eye can reach.
Arrival in Street Art City
France / 31 July 2018 / 26°
We arrive early in the morning in Street Art City in Lurcy-Lévis in the Auvergne region in central France. This used to be a national telephone exchange where telephone operators were trained and lived internally. The site was closed in 1992 and now it is the private property of Gilles and Sylvie and they have created a unique location out of love for street art and graffiti.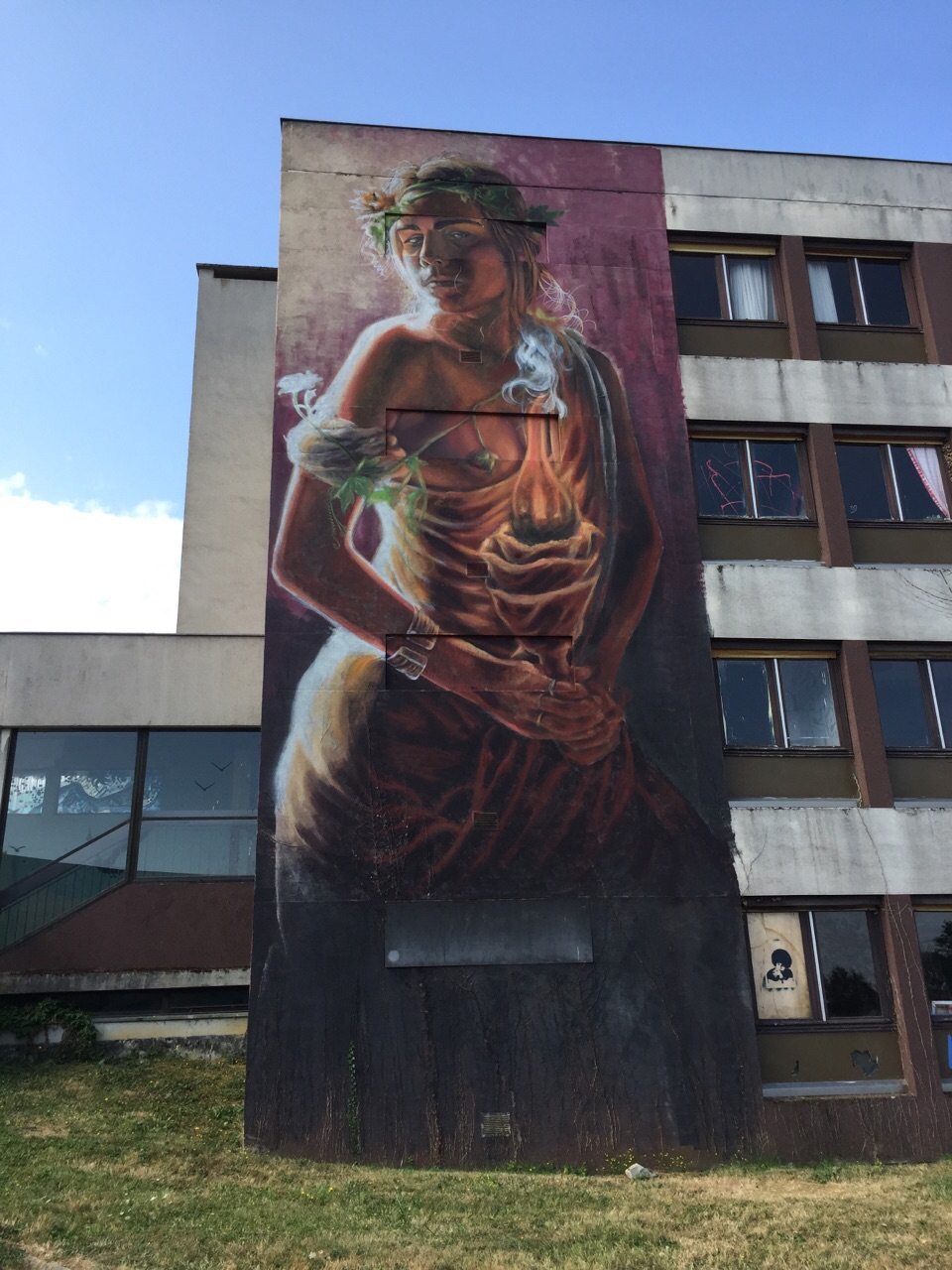 Street Art City / the site
Various smaller and larger buildings are scattered over this former PTT telecom site that are now almost entirely covered, inside and outside, with all kinds of street art and graffiti made by international artists from all over the world. In the basement of the main building you will find a gallery with old remains from the time of the PTT period. Nice that these old elements have been preserved from the 70s and 80s. There is also a bar and restaurant on-site for visitors.
At this moment there are 6 other artists at work here. Sef.01 and Hadok94 from Peru, Tremos-art from Peru but living in Toulouse, Hydrane the only lady also from Peru but living in Paris, Alaa Awad from Egypt and Nikoalaos a Tsounakas from Greece. It was a coincidence that there are so many Peruvians in the same week. It is a special international party. The French managers Gilles and Sylvie hardly speak English but they speak fluent Spanish. So I was immersed in Spanish and French for 2 weeks with so many Latinos at the dinner table. I don't speak French or Spanish myself so I was lucky that Nancy was there as an interpreter. The family atmosphere at Street Art City certainly contributes to all beautiful art results.
Hotel 128
One of the buildings is the former hotel with 128 rooms spread over 4 floors. Hence the name Hotel 128. The project in which every room is painted by an artist started last year with the 2nd and 3rd floor. Of course, you can no longer sleep here anymore. As mentioned, every artist makes 1 room. Every room becomes a small museum on its own. Floor 1 has already been completely finished in 2017. In the basement, there are a few empty rooms left and floor 2 also has a few available. They want to complete these floors in 2018. It is unbelievable what has sprung from the creative minds of some artists.
We choose room 72 (my year of birth) on the 2nd floor. The only downside, we have to completely strip this room ourselves. Wallpaper off, floor out, cleaning everything before we can start creating. Handyman GOMAD, for all your demolition, DIY and paintwork haha. We knew that this would be a 'working' holiday, but we did not expect this much preparatory work. We worked very hard today so that we can start painting tomorrow. First, we prepared the walls, paint the ceiling and window frames. Nancy and I are going to make something beautiful out of it.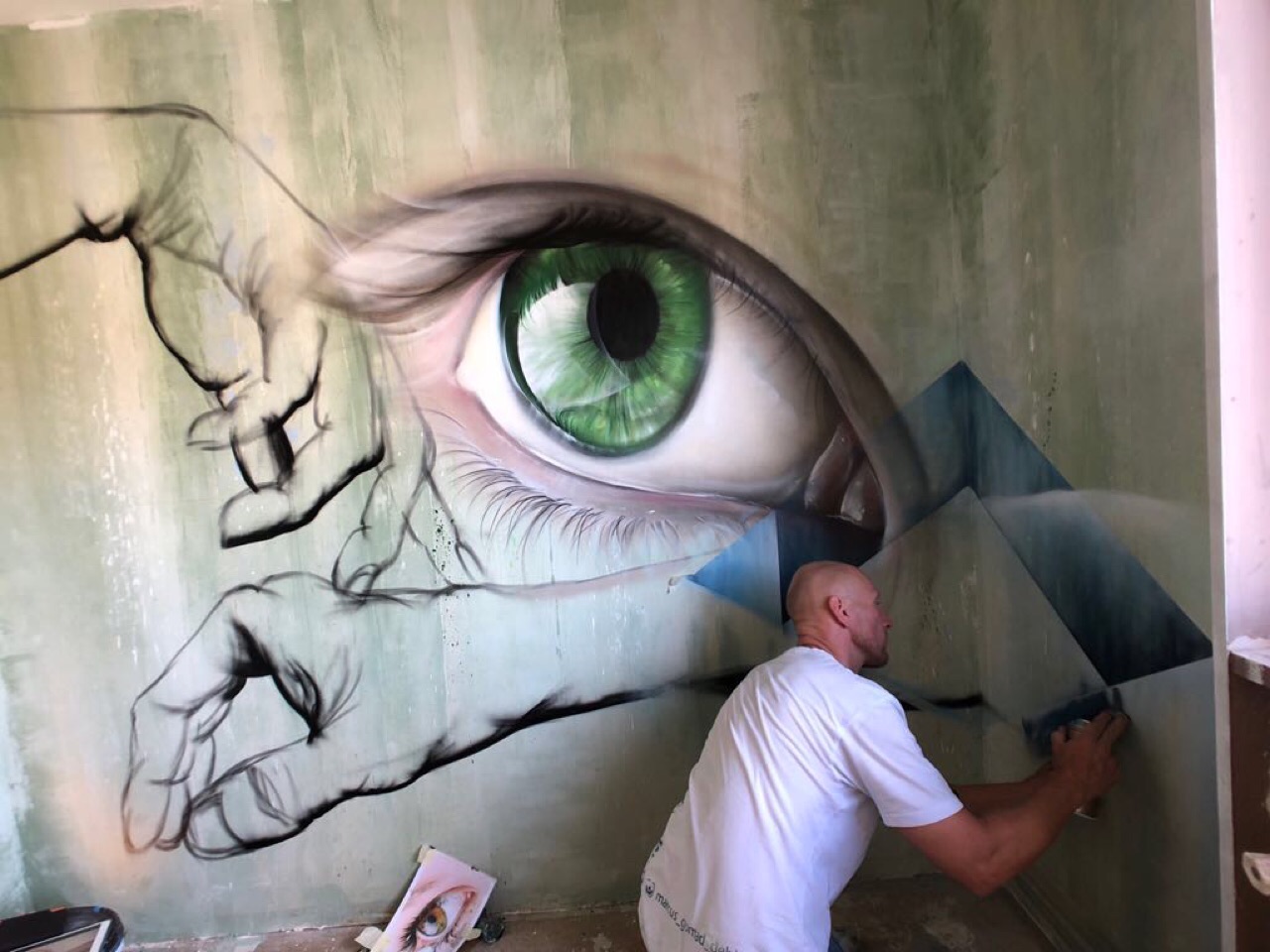 When Gilles blows his trumpet we know that the dinner is served and the artists come from all corners of the site to have dinner. We are well spoiled with Valérie's cooking skills. Cooking is done twice a day, in French style, complete with salad, meat or fish, red wine, French cheese, a small dessert, and coffee, only take potluck.
In the evening we sit together talking on the porch terrace with a beer or a glass of wine, in the dark under the silent star sky. Luckily it's not just hard work here. We sleep in the guest rooms in the main building which are quite luxurious.
Room 72 / day 2
August 1, 2018 / 24°
All preparations and room 72 were done yesterday so the transformation to the GOMAD room can begin. It is not easy to freestyle an entire room without a real design. While all artists are at work, tourists walk around the grounds, the corridors, and rooms. They get a map with all the rooms and which artist made them, plus a light to put over the forehead. There is no more electricity in the corridors and at the end of the corridors, it's almost completely dark even in the daytime. That gives an exciting atmosphere in such a large abandoned building.
(text continues below images)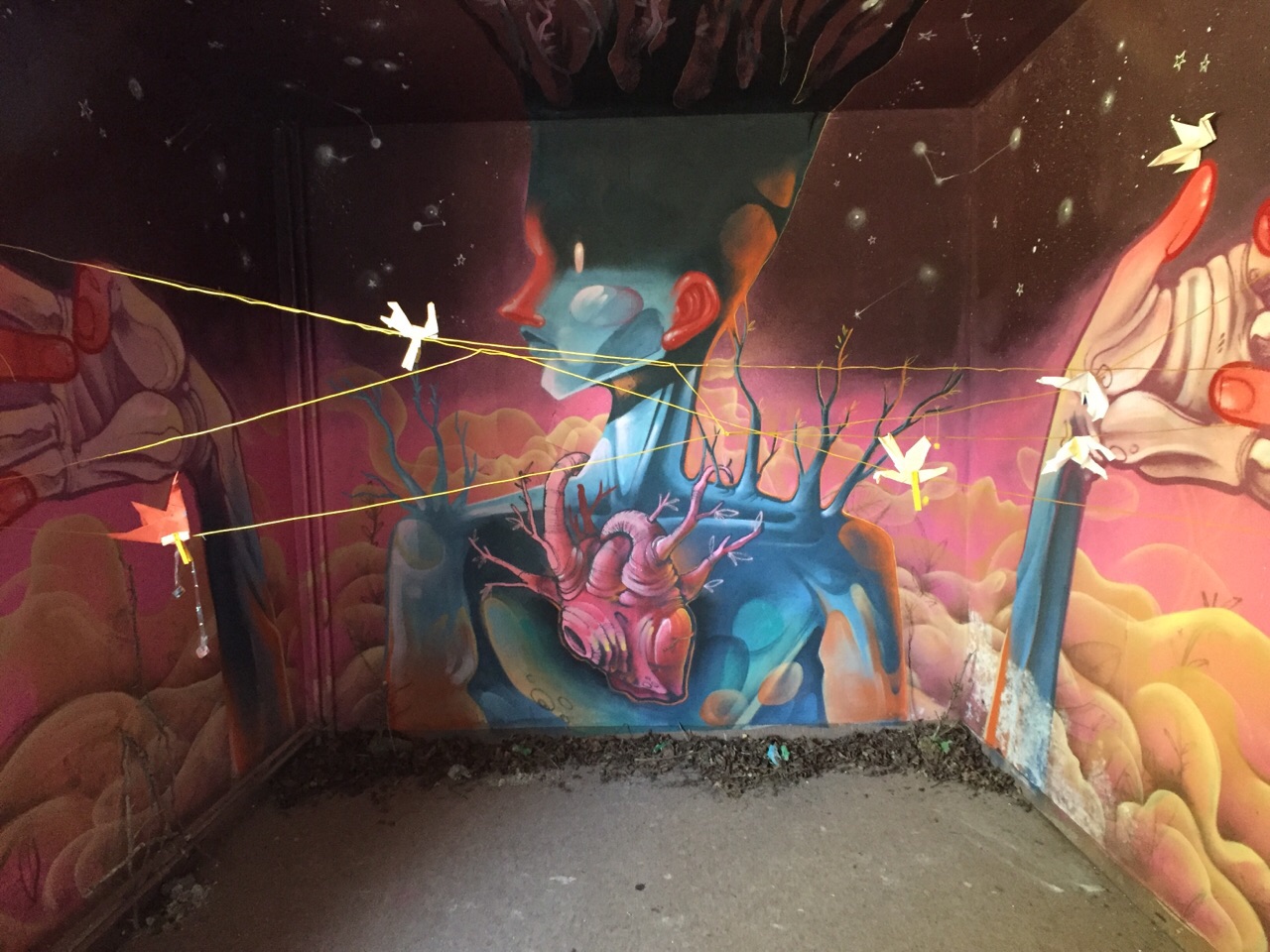 Tours are also given here and today a Dutch woman with her children on holiday in France came especially to see me. She had seen on Instagram that I am working here and drove 240 km to see it. She had previously seen me spray at Step in the Arena in Eindhoven. Sylvie and Gilles are proud to announce it.
On the 4th floor everything is still old and original, except for a lost tag. An ideal urbex location where the past glory of the old PTT building is still clearly visible. Nancy is doing a nice urbex photoshoot here today.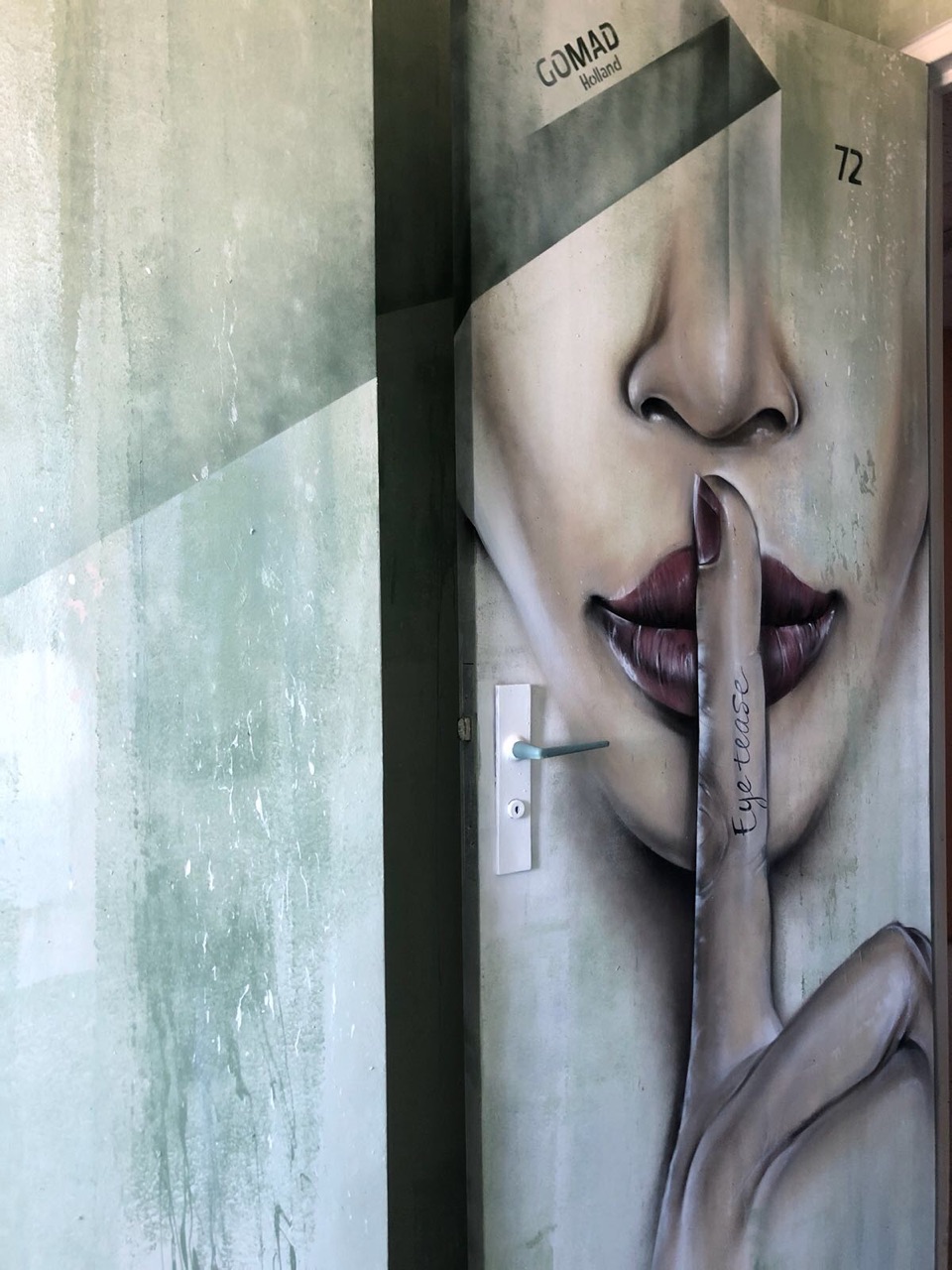 Room 72  / day 3 and 4
2 August 2018 / 34°
Day 3 for the room. Outside it is 35 degrees in the shade, but in the room, it's good to keep up with a breeze blowing through the building.
Day 4. The room is almost ready. It took a bit of effort to mix the right color for the floor, but with a little help from Tremos we managed to make it into a beautiful dark green color. Painters have to mix the color themselves and that is a challenge for a colorblind graffiti artist used to spray paint. Now let the floor dry for a moment and then the last layer can be applied.
The name of the GOMAD room no. 72 has become "Eye tease". The room is ready plus the accompanying canvas that I also painted today. It's almost impossible to see what the room looked like when we started. Tomorrow we deserve a day off!
Moulins
August 5, 2018 / 33°
It is Sunday and we actually planned to take a day off today. Still, half a day designing for the 15-meter high chimney of the building that I will start tomorrow. It will be the eye-catcher of the terrain as the highest point. Exciting and a great honor to be allowed to do so since artists from Paris have been rejected for this.
Finally time for some sightseeing in the area of ​​Street Art City. The nearest city is Moulins, 40 km from Lurcy-Lévis. Moulins is located on the Allier river. We find a cozy terrace and sit down and enjoy a cold drink at these temperatures. It will stay this way for the rest of the week so I will be condemned to the small platform box of the cherry picker in the baking sun.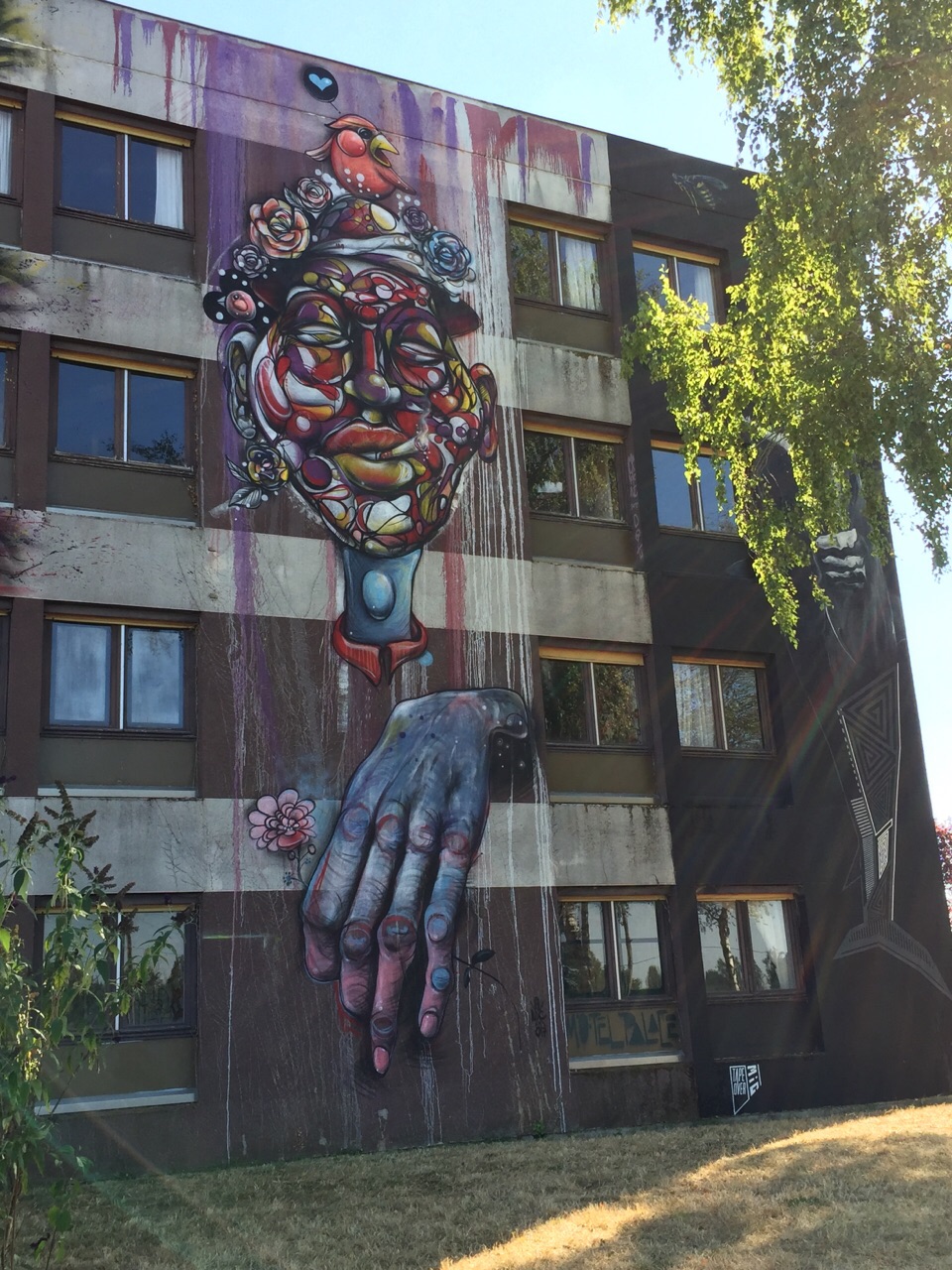 The exterior mural
August 6, 2018 / 33°
Sylvie had saved the chimney for a foreign artist and I immediately noticed it when we entered the grounds the first day. It is the highest point of Street Art City and visible from the entrance, overlooking the rooftops. Because of the three sides, it is a very complex object to paint and I want to make a big anamorphic work out of it. Olivier has already put up the light green paint on the chimney so that I can immediately start sketching.
The chimney / La cheminée
August 7, 2018 / 34°
It's around 35 degrees this week, so we get up at 6 am to work on the chimney in the slightly cooler morning. If it is too hot in the afternoon, we take a siesta and then continue a few hours after 5:30 pm when there is a shadow on the chimney again. The coloring is going well, but the cherry picker acts weird. It only wants to go up, no more down. So there I am stuck high in the sky at 15 meters. Nancy tries to control the thing from the ground but there is no movement. I try to switch the engine on and off, but that also has no effect. Just when they want to call in Olivier or the fire brigade for the rescue, the device responds again and I can happily come down. Luckily just before the thunderstorm because you don't want to hang up there when that happens.
However, the next morning I am stuck again. Now halfway. Niko (the Greek artist) comes to the rescue. He gets a long ladder and I climb out of this plight and stand with both feet on the ground again. I will have to go in again since this is the only way to work at this height. But I no longer trust it.
The next morning we get up a bit later since I don't want to go in until Olivier is here to check everything… and then the battery is dead. The device doesn't do anything anymore. Olivier gets jumper cables and the engine starts again. Now that the cherry picker works again, the coloring process goes much faster. But to make matters worse, I discover a wasp's nest in the chimney. So I have to be very careful with spraying because I don't want to make them angry. If we hadn't had all this delay, it would have been finished today. So I'll have to put up the finishing touch to the chimney mural tomorrow.
Exhibition Ted Nomad and Kelkin
August 9, 2018 / 15°
There are currently 2 large exhibitions in-house. Stencil artist Ted Nomad and labyrinth lover Kelkin, two local artists who also came by this week. All their works were made here during their artist in residency and both sell a lot of paintings here. This formula really seems to work. It is neatly presented and Gilles and Sylvie also promote the work very well. Also the local artist Snek and Zeso from Barcelona pays us a visit.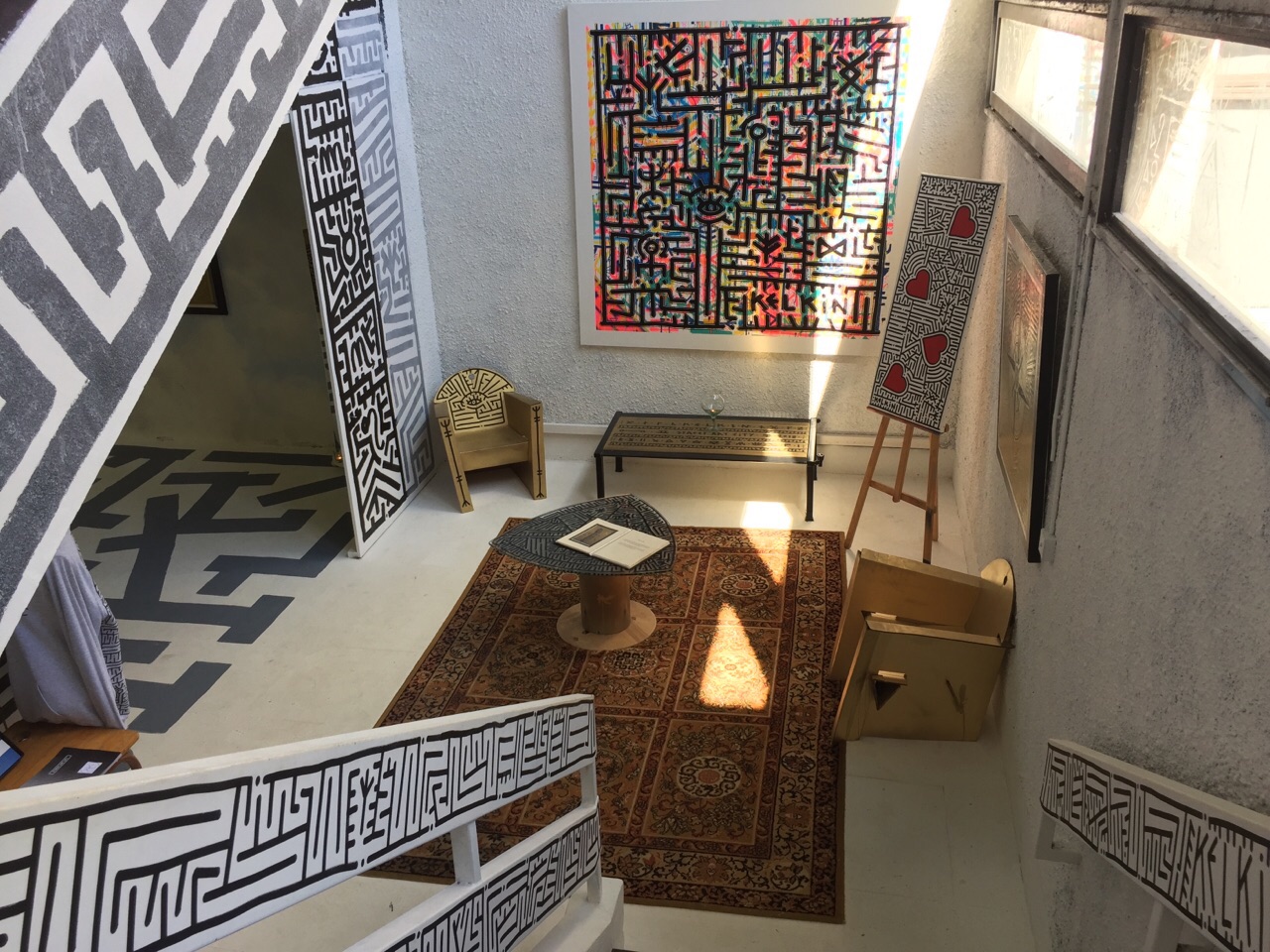 The last evening / visit to Nevers
August 10, 2018 / 22°
The chimney is ready. I name it L'oeil surveillant, the overseeing eye. Two friends of ours, Gaby and Werner, who live in the village Pionsat in France since a few years, come to visit us and the brought the mayor with them. She would like to have the water tower painted by me and comes to see what can be done with street art. Gaby has written a travel guide about this region called 'Betoverend Auvergne' and my Louis de Funès mural that I made in 2015 in Pionsat is also included on one of the pages. And Street Art City is of course also mentioned in it. Gilles can greatly appreciate this and is so happy with it that he immediately buys Gaby's book. Of course, exclusively signed by Gaby and me.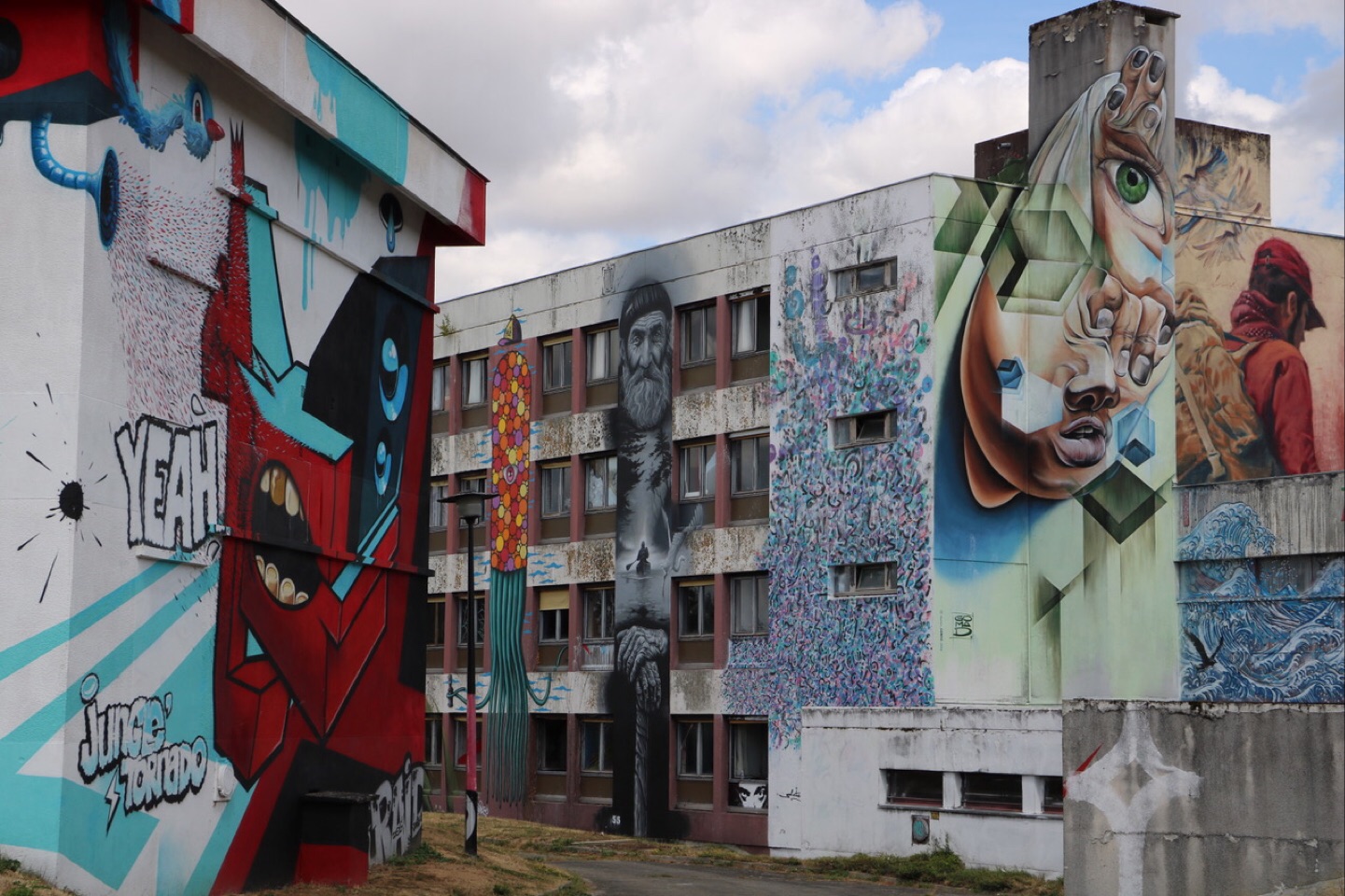 This last evening we need a change of scenery. We decide to drive to the largest city in this area, Nevers, to have a nice bite to eat. Just like Moulins a typical old French town, very cozy with all the squares, churches and chapels. It's located in a hilly area on the right bank of the Loire River. Locals are swimming in the river here to cool off from today's heat.
The end result
August 10, 2018 / 18°
We have waited with going home until we could take the best pictures of my mural. Yes, that perfect picture, that's what it's all about. From 12:45 am to 3 am the sun is in the right place, when there is no shadow on the 3 sides of the chimney. It is an anamorphic mural so the best effect is standing on one fixed spot. I marked this spot on the ground. Sylvie is very happy with the new chimney mural. She shows this during the tours she gives today to groups of visitors. Around 12 pm we say goodbye.
Return to our hometown Sittard
France-Belgium-Netherlands / 11 August 2018 / 14°
Returning home today via Paris on black Saturday. Fortunately, the traffic on the French motorways are not so bad. After a 7-hour car drive we are back home in Sittard in the Netherlands. On November 10th, 2018 we will go back for one weekend for the book signing and meet & greet in Street Art City, when the annual book with all newly painted rooms is presented.
Epilogue
We didn't know what to expect of Street Art City and their Artist in Residence invitation, but we had a more than great time with Gilles and Sylvie and the other artists. Absolutely worth a visit as an artist or as a visiter!
Want to see more of GOMAD's work? Have a look on his website, Instagram and Facebook.
Movie Hotel 128 https://youtu.be/B8PP19hEMTE
The making of room 72 https://www.youtube.com/watch?v=RvvandVdED8
GOMAD (Marcus Debie, 1972) is a Dutch artist, born and raised in the city of Sittard in the south of Holland where he still lives and works. Heavily influenced by the iconic film, 'Beat Street', as well as 'Style Wars', GOMAD got artistically active all the way back to the early 80's in the Southern Dutch graff scene. So much so, that he's considered one of the pioneers of the sport in that region like Nash and Mr. June. Nowadays he works as an international 'urban fine artist' doing murals and paintings for exhibitions wherever his art brings him. GOMAD's work is considered a pinnacle of post-neo-cubism, the combination of photorealistic images in an often mind-bending surrealistic setup, against cubistic and organic shapes, in a Picasso-like composition.