Because the annual Mural Istanbul is such a success, the organizers extended the festival to other districts and municipalities of the city. This year saw the district of SARIYER, close to the black sea, become the first area to participate. Held as the second part of the festival between the 3rd of September and the 16th of September. Three more artists contributed new murals. Continue reading to see the new additions to this colorful city.
The mean panda
Leo Lunatic is an Istanbul based artist. He has been painting his panda character around the streets of Istanbul since the early 2000's. For Mural Istanbul he painted one of these panda's on a much larger scale. The soft pink background belies the barbed wire circle surrounding the panda. Not to mention his pretty mean looking facial expression. It alsmost scares me!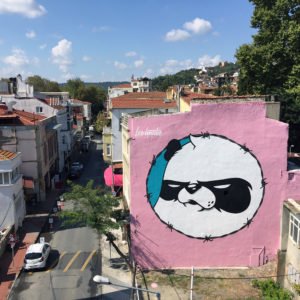 The futuristic abstraction piece
Festival Co-founder and multi-disciplinary artist Esk Reyn created the final mural for the festival which is located very close to the sea. The impresive art work took longer than expected due to the inclement weather in Istanbul over September. But it was well worth the wait! Esk Reyn mixes organic and mechanical forms which have come together to create this futuristic abstraction piece.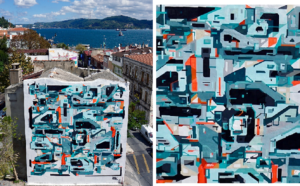 The two cats
Last up is the second wall from Max On Duty. Remember his robotic ram in our previous blog? Not content with just one wall, Max left behind this second wall one street from Esk's near the black sea. Taking five days to complete this mural depicts Max's two cats. Once again with that futuristic vibe. Both cats have a 50/50 mix of real and robotic which is a really nice touch.


Thanks to Mural Istanbul the city is enriched with a number of beautiful artworks. We're already looking forward to what Mural Istanbul will bring next year!