Saturday 19 October Keteleer Gallery, Antwerp opened the newest ROA show 'La Bête Humaine'.
Who's ROA?
ROA needs no introduction, born in Ghent (Belgium) often ranked among the top street artists in the world amongst legends like Banksy, Vhils, Blu and others this enigmatic artist is known for his love for animals. You can find his characteristic black and white paintings of endangered and extinct animals all over the world, portraying them including their skeletons and/or colorful internals. Turning heads across the community with his large scale murals, ROA gained international fame in 2010 when he painted a giant 3.5-meter-high rabbit on the sidewall of a recording studio in Hackney, London. When to local council decided the artwork needed to be removed because it didn't suit the district, the whole community rebelled gaining some media attention and in the end, the mural could stay.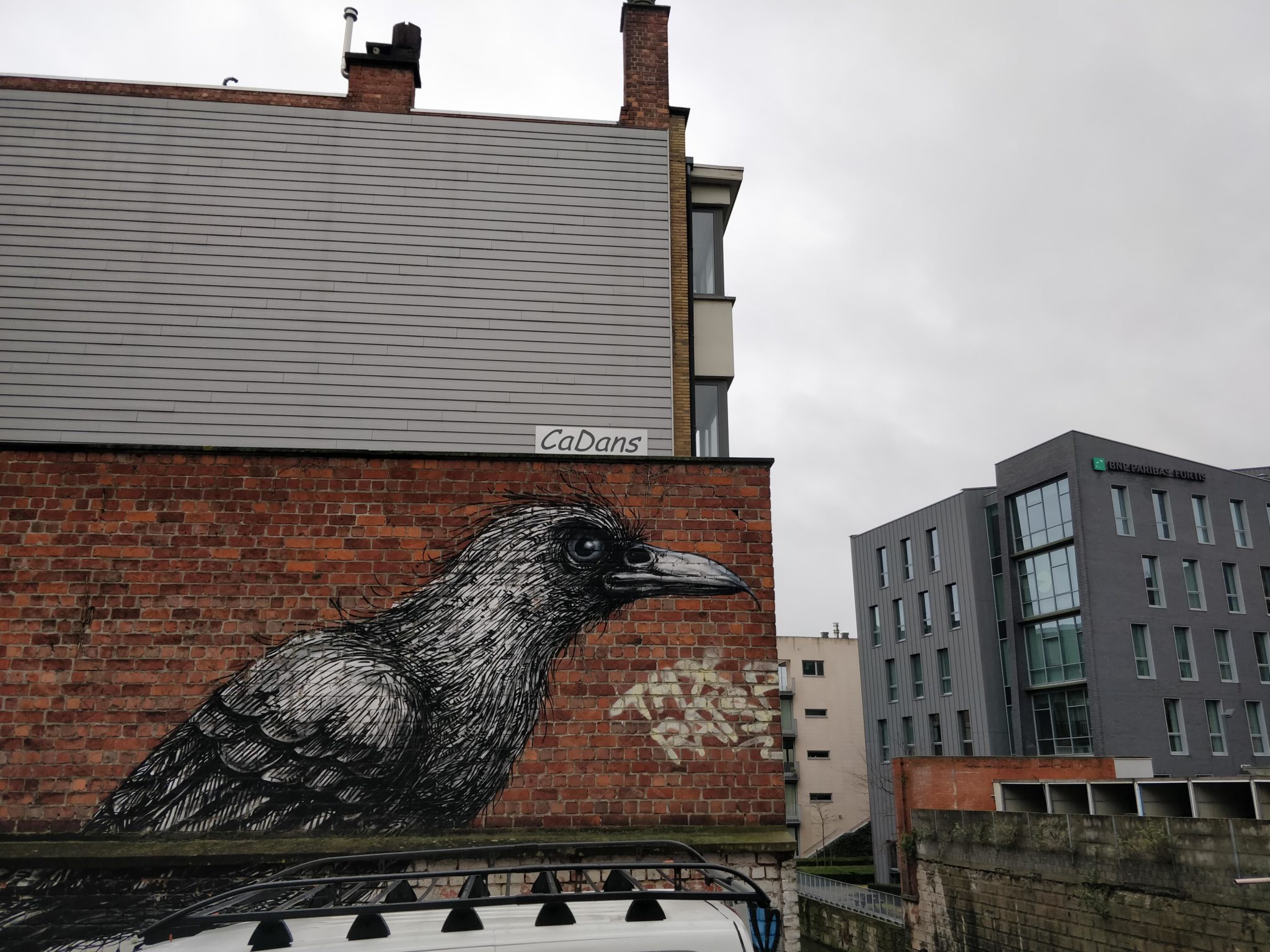 Traveling the world ever since you can find his work on every continent, sometimes in some of the most remote places. After his recent show 'Dormant' at Stolenspace Gallery London in 2018 and his previous show 'Cataclysm' at the Keteleer Gallery (Antwerp) in 2017, the famous artist returns to this latter gallery with some new work.
La Bête Humaine (the Human Beast)
Inspired by the eponymous book by Emile Zola from 1890 telling the story of an obsessive man who can't control his murderous and sexual urges proving that the beast in man is irrepressible, ROA used recycled metal as his 'canvas', contrary to his previous exhibition where he used old church floors. A very deliberate symbolic choice, metal is an industrially made material for which nature was transformed with brute force using huge amounts of energy (fossil fuels) to create this new, cold product. The metal panels were collected from old cupboards from the Belgian army, schools, power plants, … and refer to the bureaucracy and institutions that serve to keep society in check.
This show is all about how science demystified metaphysics, nature as a mystery, God and the human race facing a new threat: the loss of identity. Identity became the new anchor after our loss of relationship with God, the natural science turned upside down by Darwinism shattering all religious illusions. Man is an ape not a child of Adam and Eve, we're all mortal and our soul will not be saved.
Man wants to rule over nature, putting himself above animals by industrializing human food production becoming the victim of its own mass consuming society, becoming the slave of his self-build reality. His natural habitat becomes unlivable and ultimately destroying nature and his world.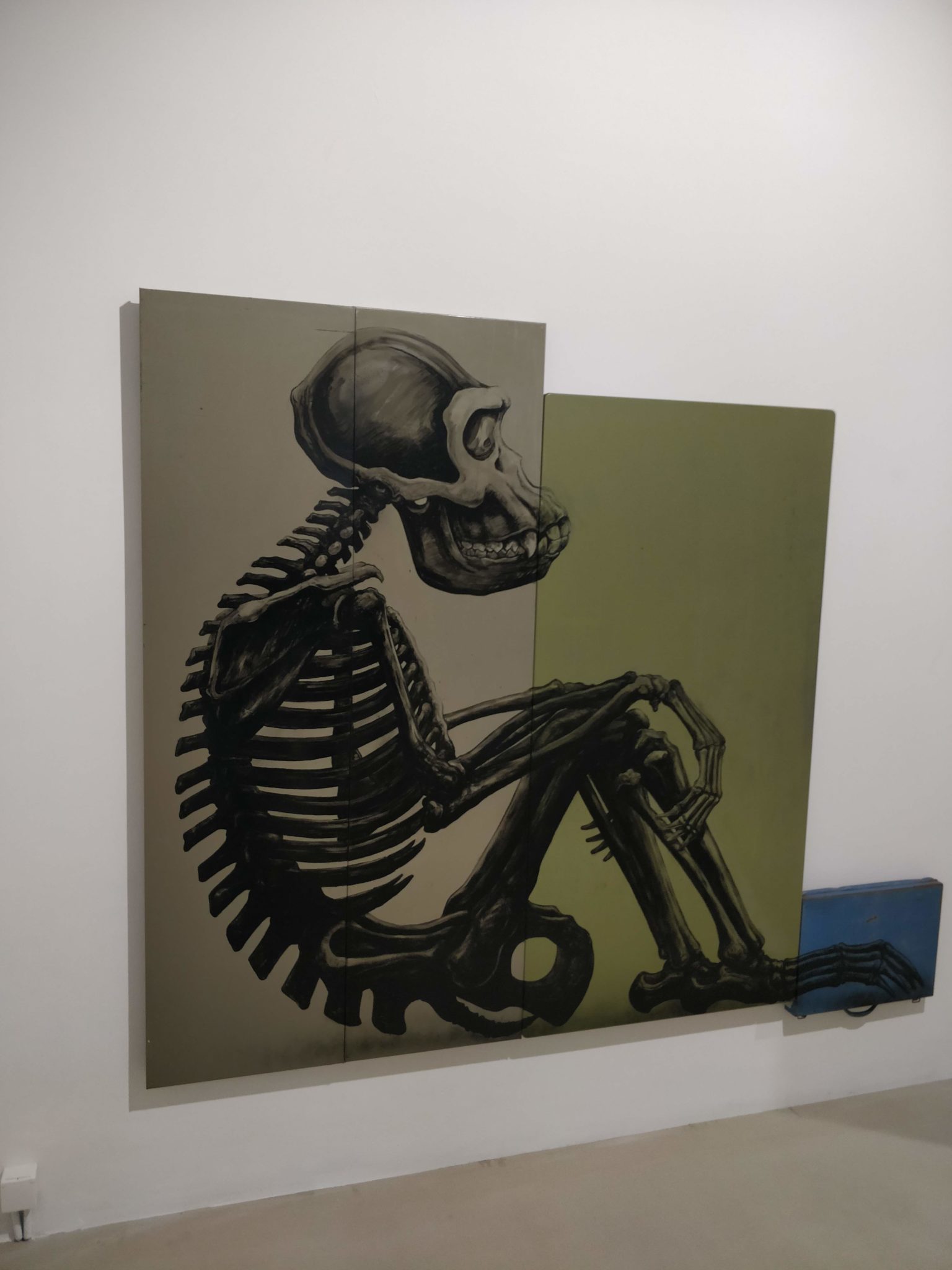 Keteleer Gallery in Antwerp
Keteleer Gallery is located in the south of Antwerp, in the backyard of the Royal Museum of Fine Arts, that's still under construction. The gallery is housed in a 600 m² restored old auction house and was founded in 2012 with a commitment to focus on important Belgian and international artists. Representing artists like Jan Fabre, Guillaume Bijl, Rob Scholte, Javier Pérez, and ROA amongst others. Roa's black and white work on cold metal panels stand out on the clean white walls of the gallery, making his art relevant and raising even more awareness on his mission.
The bunker installations in the basement throws you back in time and lets you feel what our ancestors felt not so long ago when Antwerp was liberated only 75 years ago, and what a lot of people are still feeling these days during military conflicts happening in the world.
ROA is at is best when his work evokes feelings of wonder and awe, while staring at the details of his paintings. Opening doors revealing the true nature of animals, gently exposing ourselves as being animals just like the ones being portrayed. We're not on top of the food chain. We're part of this balance that needs to be reinstated before collapsing on ourselves. Or how art can be the necessary counterweight of logic and science.
The show can be viewed from October 19th – December 1st, 2019. Visiting hours are from Wednesday to Sunday from 10 am – 6 pm at Keteleer Gallery, Pourbusstraat 3, 2000 Antwerp.
There's no work of ROA to be found in Antwerp, so this show is a must-visit when in Antwerp. When you got time to explore the hidden gems in the Antwerp streets, don't forget to check www.streetartantwerp.com to find the latest updates in and around Antwerp or load your smartphone with the free Street Art Cities app and you'll be amazed with what you'll find.