Like street art festivals, books about street art are being published on a regular base. But some books are too good not to buy, especially if they're about one of the most enigmatic and influential artists. And no, I'm not talking about Banksy, but about nomadic Belgian artist by the name of ROA. Scroll down for our review and to find out how to win a copy!
It's not about filling the wall, but about fitting the wall
For over a decade, Roa has been traveling around the world leaving his iconic black & white painting wherever he travels. From cute bunnies to gigantic alligators, his walls vary in sizes, from a small blind wall of about 10m² to huge paintings 50 meters wide and high. Every street art fan knows his style and will search the streets until they find his work, often to be misunderstood as horrible and gruesome. He paints local animals in an anatomically correct way and loves to dissect them to show the intestines. It's his way of saying humans are destroying nature, which he emphasized with his latest show La Bete Humaine in Antwerp (read our review here).
Phenomenon captured in one book: Codex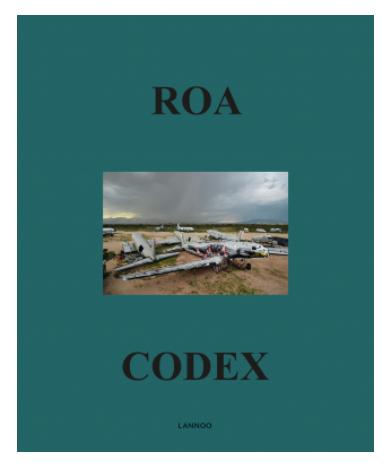 Just like Banksy, there's not much known about the Belgian artist, just that he's from Ghent where he experimented in his early days with graffiti and sought out the most remote places to develop his skills and search for his unique style. It's all about his work and not about his persona. After 10+ years of painting and traveling to just about every desolate corner of the planet, he's probably one of the few artists who painted in every continent.
When you ask him about numbers, he must have painted over 1000 artworks, so collecting those in a book is nearly impossible! Codex does a great job, a massive bible for street art fans of 350 pages with loads of pictures and some great background stories about his nomadic existence and his problem-solving approach in his early years when he didn't have access to boom lifts.
The Codex is bundled like a roadmap capturing his travels in the most fit way and guiding you along the way. Codex is a must-have book in your collection if you love urban art and because you probably stumbled upon one of his works somewhere.
It's the most anticipated street art book of the year and you can order it here.
And even better, we raffle one to our loyal readers! Do you want to win an edition of Codex? Comment below this post why this book would be a great addition to your collection. We'll inform the winner upcoming Monday at 10 am.
This win-action is made possible by Lannoo. No correspondence can be entered into about the outcome of the competition. The winner will be informed via email. We can send the book to The Netherlands or Belgium.