Whenever I visited my family in Yugoslavia in the 90's, me and my cousins would sit around the t.v and watch 80's movies. Simply because that were the only movies available at the time. Those movies are probably my first memories of New York and how I thought New York was like. Old graffiti, street-ball, bodega's, b-boys, and subway-trains all pass my mind with a Run-DMC track in the background. I'm still hooked on New-York in the 70's and 80's, even though I was never a part of it. Due to my upbringing, it felt a bit like that.
I had the opportunity to relive those times a bit when I got handed this book to review. Making all stops; New York subway photography vol.1
1970 – 1976
I'm not a fan of introductions. Most of the time the people who write them are asked by the author to do so and they feel forced. This introduction was nothing like that. It felt sincere, it was… heartwarming and it was genuine. The book is dedicated to the life and work of late Steve Zabel. Steve was an avid subway photographer and worked at the Transit Authority for nearly 20 years. He loved to operate trains as much as he did capture them, which gives us a great insight into the life of New Yorkers going on their daily commute during the 70's and 80's. Now the book itself isn't filled with photo's made by Steve alone. He and a group of his close friends (who are all magnificent photographers) supplied us with some great historical shots.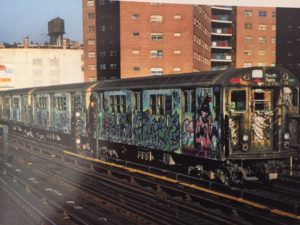 And this is where it gets interesting
This book isn't about graffiti, it is about transit. However, it is packed with hidden gems and it's an accurate representation of New York and the evolution of graffiti. Most of the trains are filled with tags and pieces and I loved every picture of it! It captured the early essence of graffiti, namely writing your name to show your roots. These tags are similar in the style and spirit of Taki-183, a New York foot messenger who represented his neighbourhood across town. Now, what Taki-183 did was happening back in the 1930's during the hobo-wave across the United States. Hobo's (often vagabonds who travelled from job to job by illegally hopping freight-trains) left their mark to communicate with each other. Where they're from, where they were going and how the environment was. I'll probably write a specific article about Hobo graffiti in the future. Let's get back to New York, where we can see graffiti developing from neighbourhood tags to pieces. Every page has something new to offer if you look closely, and Steve noticed the development of the urban-artform as well. This man covered a lot of ground for his passion and would capture clean trains and the same trains covered in tags all on the same location. Rooftop shots, tunnel shots, wide shots and close-ups are all part of his memoir and dedication to something he loved and believed in.

Is it worth it?
This book is without a doubt filled with hidden gems across the pages. I'm still looking and searching under a magnifying glass to read some of the tags. I'm a history buff and a graffiti and street-art lover so if you are one too this is the book for you. Besides an intricate look into the development of graffiti, we see a city that is evolving and it gives us an intimate look into a group of friends who shared the same passion. I suggest reading this book to a play-list that I compiled of music from the 70's and 80's. Just so you can emerge yourself in a time or relive that era. Passing a bodega with a boombox blearing Run-DMC. Getting a Cuban sandwich and ride the A-Train to play a pick-up game at Rucker Park.
Here is the Spotify link: https://open.spotify.com/user/11146752797/playlist/0okmSeYwB2iNpdKTJERDaw
To order Making all stops. New York subway photography vol.1 please head over to http://www.makingallstops.com/ and order your limited edition book there. Are you a retailer and interested in these series> please contact Makingallstops@yahoo.com