Go Gallery's annual show "Pink with pride" is a household name inside the L.G.B.T community and Amsterdam. The award-winning gallery has a tradition to host an extravagant show two weeks prior to Amsterdam's famous Canal Pride. A celebration of love, Amsterdam as a progressive city, the L.G.B.T community and their supporters. This year they featured 6 artists; Endless, Ard Doko, Holger Zimmermann, René Zuiderveld, R'JEAN, and Cris Marmier. Six artists that have a vastly different style yet seem to look as a whole when their art is hung next to each other.
Endless
Perhaps the most (in)famous of the six is Endless, a London-based street-artist that creates colourfull stencil-art. His artwork for the show depicts a picture of Mark Wahlberg during his Calvin Klein campaign in the late 90's. An interesting note to add; Endless his stencil work of the picture was re-used in a campaign that warned males to check themselves for testicular cancer.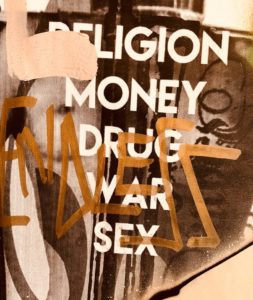 Ard Doko
Doko is revealing two new works that were made especially for this show. The young artist combines his street-art roots with his love for Thrash Polka, a tattoo-style that incorporates graphics with brush-strokes and splatters. The two portraits of Transgenders are filled with symbolism about the difficulties people in the L.G.B.T community have to face (even in Amsterdam) till this day.
Chris Marmier
Chris was one of the top-sellers in the previous edition of Pink with Pride and did it again this year! The French man who grew up in a bi-cultural family portrayed his fascination about humans with colourfull illustrations on canvas. He said the following about his series; "People Safari".
'People safari' is a journey through people's everyday lives and the connection with their surroundings. As if watching other people like we watch animals in a game reserve with a safe distance, we make a parallel with our lives that becomes a reflection of who we are and how we interact with one another.


Chris Marmier
Holger Zimmermann
Zimmerman's work can be defined as a layered-reality. His collages are made with post-war newspaper articles that he collects throughout his life. At first sight, his works show beautiful minimalistic female portraits but when you look closely at them, you'll see the dystopian times during the era of the 50's and 60's.

René Zuiderveld
René exhibits beautiful and delicate photos of his models. Erotically tinted, but also evocative images that flirt with fetish and kink, are all displayed in black and white. Art-lovers with an eye for detail will see the subtle nod to Egon Schiele's work made by René in a few pieces.
R'JEAN
Drag Kings and Drag Queens are the stars of R'JEAN his eye-catching piece during the opening. The 16 portrait photos show his subjects merged with their alter-ego's. He says the following about his series;
"I think Drag Queens and Drag Kings are special and beautiful. It is fascinating to see how the man transforms a woman into another person in appearance and behaviour. At the same time, it is a part of the person himself, intriguing.
I wanted to capture these two appearances and extremes (the man/woman and his / her alter ego) in one image without photoshop. So half in the make-up and half a wig, which was quite a challenge".

The 7th artist
During Oscar van de Voorn's opening speech he took time to shed light on Project Sanjay that is on display during the exhibit. Sanjay (who sadly passed away two years ago) was an L.G.B.T activist from Surinam. After his passing, a lot of friends and loved ones wanted a few his ashes to commemorate him and his hard work. His partner, Johan Brouwer, decided to make small portraits of him with a few his ashes incorporated into the art piece. All the money from these portraits is donated to enhance the life of the L.G.B.T and HIV positives community in Surinam. This goal is achieved by sharing knowledge contacts and funds.
Pink with Pride is on display at the Go Gallery till the 25th of August. Open from Wednesday's to Saturdays || 12:00 – 18:00 || Marnixstraat 127 Amsterdam