Everybody knows Antwerp, the 2nd biggest city of Belgium for it's fashion, diamond, architecture and food scene. But what Lonely Planet didn't mention about Antwerp is it amazing street art scene. Here's a recap on what happened in Antwerp in 2018. Almost 55 new murals and artworks appeared without considering the well known Meeting of Styles Belgium. Enter the secrets of street art and graffiti in Antwerp:
City Centre
Antwerp is divided in several districts, some of these districts are becoming real street art districts over years. But the most prestigious project of 2018 was the Baroque Murals project. They've asked local artist Rise One of the local Aerosolkings to invite 3 influential international artists to paint huge, baroque inspired murals in the city centre. The result were 4 stunning, eyedropping, monumental artworks. Wich appeared in matter of weeks, just in time to open the Baroque festivities. A perfect example of the fusion of classic culture with the new contemporary street art. It wasn't easy to get the necessary permissions for these walls, but the end result is astonishing with iconic artworks by Smug (Aus), El Mac (USA), Astro (F) and Rise One.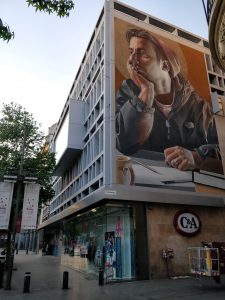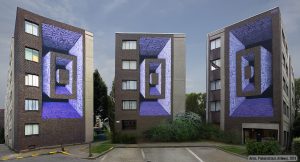 Columbia graffiti crew
A perfect example of how official institutions find their way to street art was the collaboration between the embassy of Columbia (Brussels) and Antwerp. The secretary of foreign affaires worked together with Street Art Antwerp to create a big mural by the popular Vertigo Graffiti crew from Bogota. Street Art Antwerp found a big wall at the public library of Merksem, a popular place for young and old, right next to the Academy of Fine Arts. The Vertigo crew prepared 3 designs of which locals could choose their favorite, the result was 'a shared glance': you see and old man gazing at the future with his grandchild exchanging ideas (check out the cool Magritte sky details). This wall depicts the link between young and old, enthusiasm versus wisdom and started a friendship between Antwerp and Bogota. Until today this mural inspires people passing by.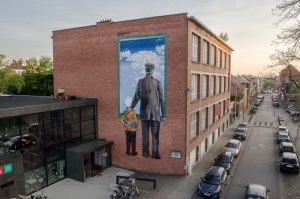 Tizarte 3D Street Art Festival
Next to the returning Meeting of Styles Belgium there's another festival you need to check. In september Part of Antwerp organised the Tizarte 3D Street Art Festival for the second time and this time they turned to Street Art Antwerp for help. Street Art Antwerp worked together with Treepack, a small mural producing organisation that earned their stripes on several projects. Joining forces with these young guns they inivited some new players next to already known WD Streetart and Muretz. Newcomers Sshhozzy and Gooze from Russia, next too Belgian artists Djoels, Ceepil & K.Shit, Matthew Dawn and rookie Arttoon painted several murals near the iconic Porthouse (designed by late Zaha Hadid) with a 3D twist. This festival was refreshing showing some new, upcoming talents instead of always showing the highrollers (no disrespect there).
World's first alderman of street art
National news in Belgium is the appointment of an alderman of street art in Berchem, one of the districts of Antwerp. This districts profiles itself as the street art district of Antwerp, it's been pioneering for years now in Belgium. Every year in august Meeting of Styles Belgium lands in the huge "Zomerfabriek " arena, where 60+ artists paint 3000m² of walls. Kris Gysels, the new alderman, wants to promote the existing street art and attract new visitors to this district. Next to promotion he wants to help look for new locations and link all the instances to streamline an efficient street art policy without tampering too much with the creative artists.
Obviously Antwerp needs to be on your list when your looking for street art in Belgium or if you're just visting the "Diamond City" for a day. Take a look at the website ​Street Art Antwerp or download the free ​Street Art Cities app. If you are lookig for more background information, you can always join a street art tour via Street Art Antwerp.
This article was written by Tim. A

ll his free time goes to street art. Starting as a die hard street art hunter he documented over 300 artworks in and around Antwerp and tries to visit other cities as much as he can. He's the driving force behind

www.streetartantwerp.com

, and since 2016 he organizes street art tours during the weekends.
It doesn't stop there as he facilitated 30+ new walls in Antwerp by getting permissions, scoring budgets to pay for lifts and materials. He's also the co-organizes the

Tizarte 3D Street Art Festival

.
Next to his local work he's also the co-founder of the international Street Art Cities network, where he runs the community and the socials and is in contact with 300+ hunters from all over the world.