After painting an impressive mural at Pow Wow, Saïd Kinos' work is now part of Kunsthal Light, the talent development program of Kunsthal Rotterdam. This exhibition program focusses on young artists and talent by offering the possibility to make a site-specific work in HAL 6. Three times a year, the hallway is the domain of a new artist, and this time Saïd Kinos got the honor. The result, 'A half truth is a whole lie', shows a fragmented version of reality in Saïd's characteristic style.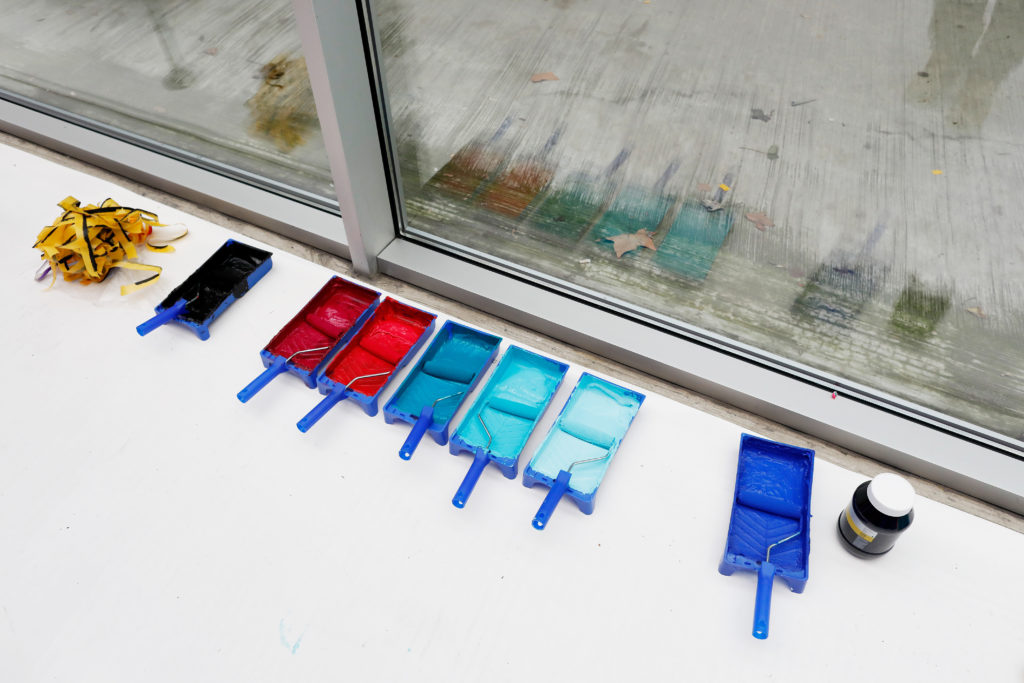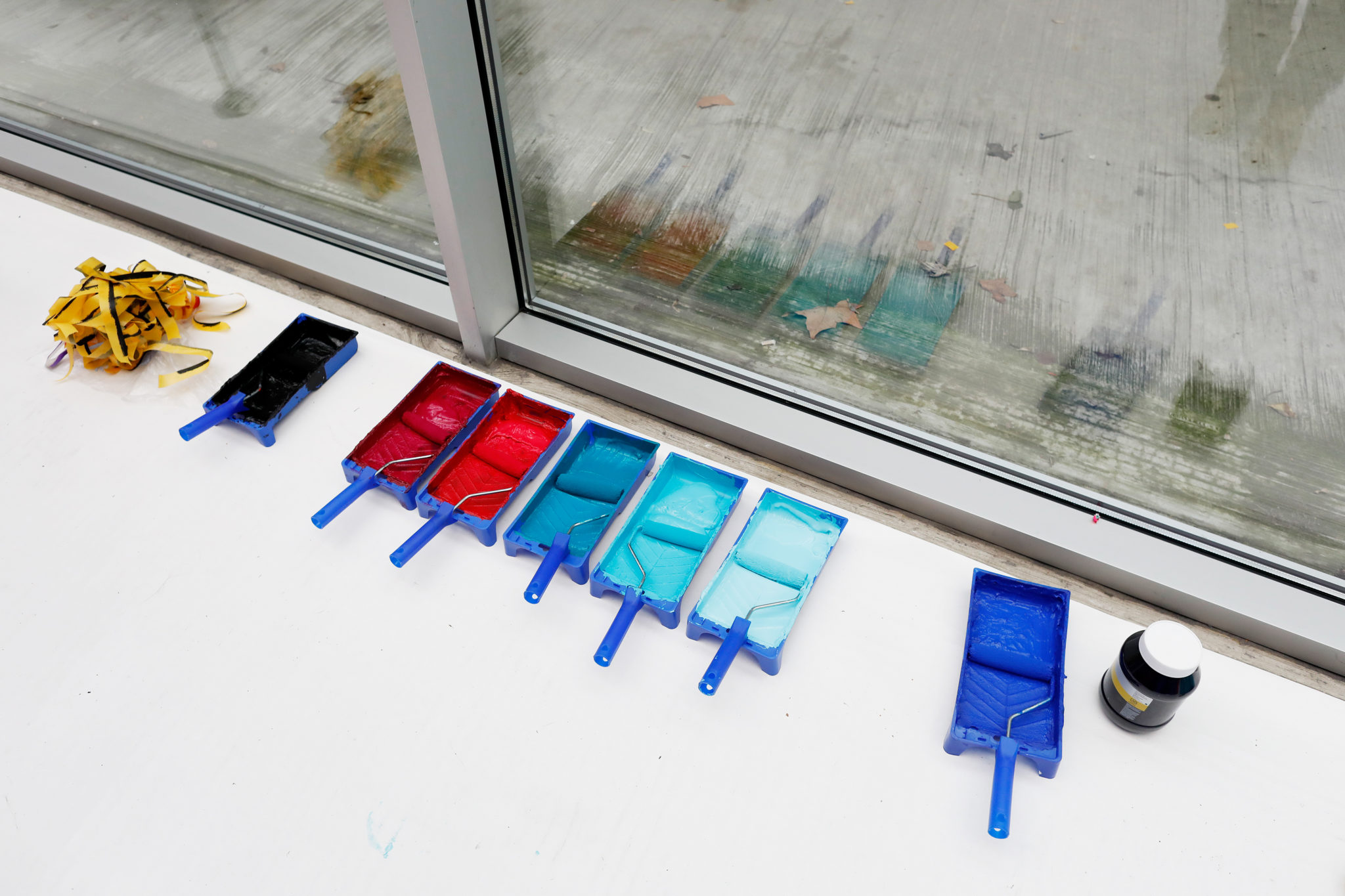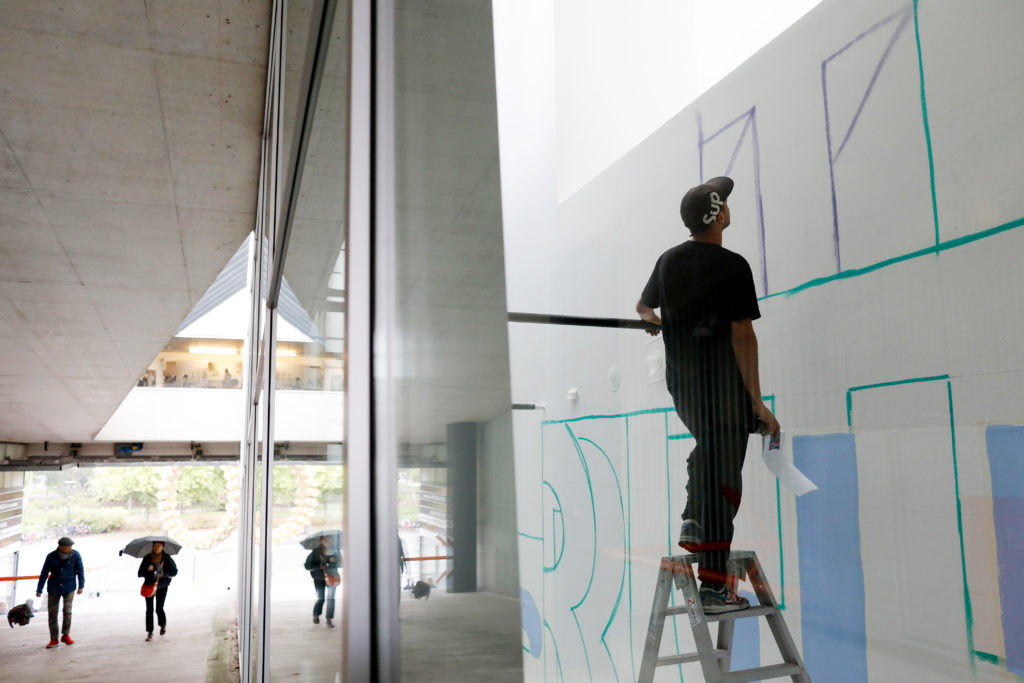 Picture by Bas Czerwinski
HAL 6 is a 25-meter long 'hallway' connecting the museum's lower and upper floor. What I think is so interesting about this space is that the full length of it can be seen from outside the museum. This way the hallway doesn't only give a great addition to the route of the museum, but it also gives an extra stage to the young talents where passers-by and visitors of the museum can see the art as trough a shopping window. Concerning the work of Saïd, due to the visibility from outside, the work from the street artist is now both a street-artwork as a museum piece at the same time. No discussion possible in this case if street art belongs in a museum or not, 'A half truth is a whole lie' connects both worlds perfectly.
Picture by Bas Czerwinski
'A half truth is a whole lie' covers the entire wall of HAL 6, making the piece 25 meters long. Saïd is well-known for his passion for words, social media, communication, and typography. Or maybe even more about his fascination with the indistinctness of mentioned above. With his work, he shows us how all the news, social media posts, and information we're continually receiving nowadays makes our brain confused and that it gets more and more difficult to keep all this information clear in our head. Because HAL 6 is just a view meters wide, you can't take as much distance from the mural as you might usually when looking at street art outside. This really strengthens the 'letter mush' in the bright colors Saïd recently started working with. Especially when you walk close to the wall and upwards, the letters melt together, creating the metaphor for the visual overkill Saïd's work is all about.
In this overkill, Saïd finds a metaphor for the amount of information we have to process on a daily basis. But stepping outside the museum again and viewing the work from a little more distance through the windows, Saïd's work somehow also has the ability to create a kind of calmness, due to the high contrast and steady hand he works with. Maybe that's the whole metaphor too, once we finally have all the information that's around, only then it is when we accept it for our brains to be calm and take some rest of it.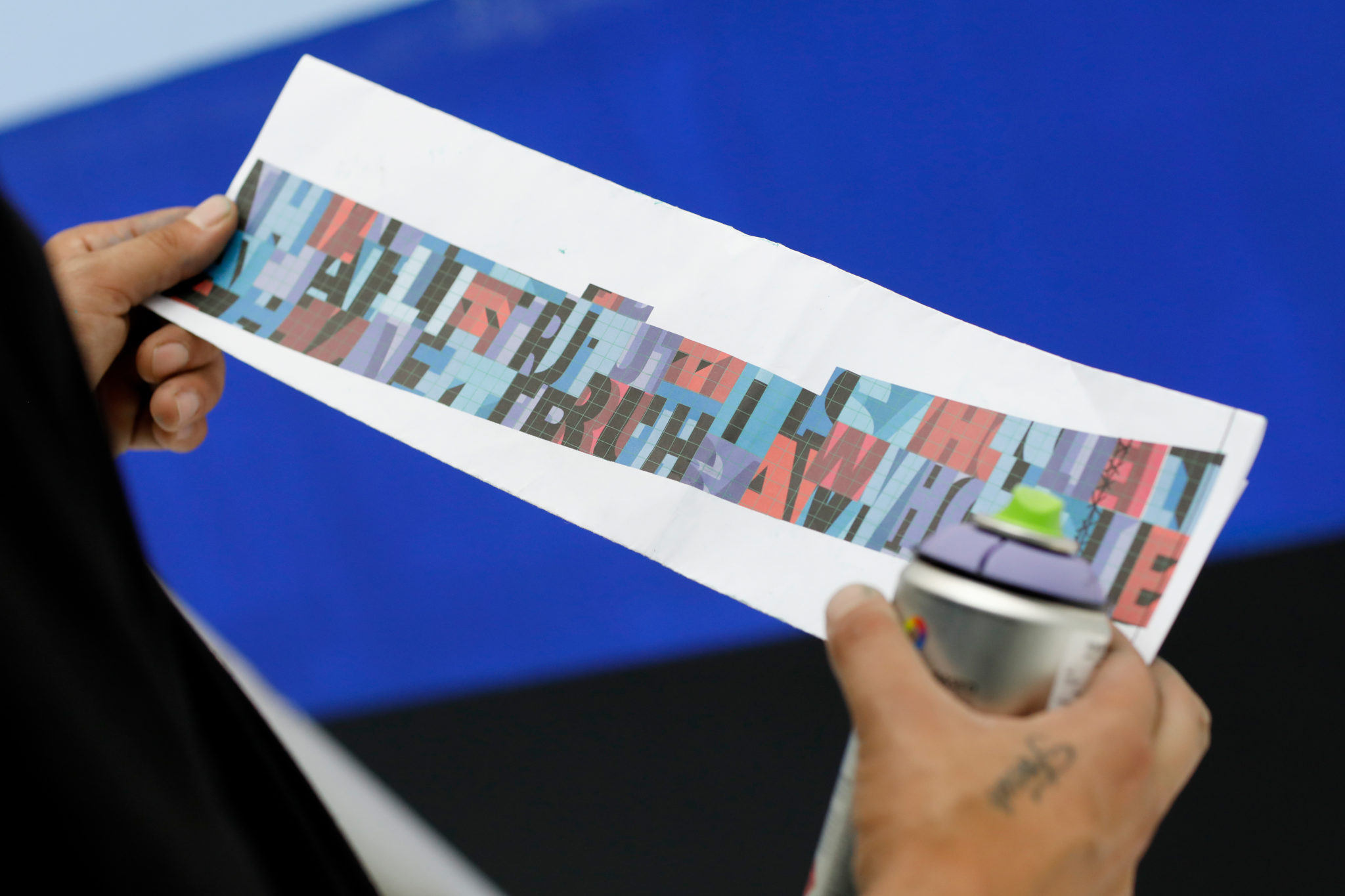 Picture by Bas Czerwinski
'A half truth is a whole lie' is on show until 16 February 2020.
Kunsthal Rotterdam: info 010-4400301, opening hours: Tuesday t/m Saturday 10.00 am – 17.00 pm, Sunday and Holidays 11.00 am – 17.00 pm. Follow Kunsthal on www.kunsthal.nl, Facebook, Instagram
Saïd Kinos: saidkinos.com, Instagram, Facebook