In Bologna, it seems, everybody writes on the wall. The streets of Bologna feel cozy, with their many 'porticoes' and 'gallerias', as if you belong to a secret community. The city is painted in a warm orange, yellow and red pallet and the street pattern, within the many gates, hasn't been altered since the Renaissance. The city breathes an authentic Italian feeling. At the same time, I have not seen a city so fully tagged and bombed as Bologna since growing up in Amsterdam in the 80s. Its walls are filled with words as far as the arms can reach. Beautiful tags, ugly tags, toy-work, rebellious quotes, messages to the neighbors.
The art teacher Francesca Alinovi
Where does this obviously vibrant local tradition of writing on the walls come from? Does Bologna have a graffiti past? In the early 80s art courses at the University of Bologna taught  more traditional art history, but started mixing in contemporary art movements from overseas. Responsible for this shift was Francesca Alinovi, art teacher at the university, critic and curator. Alinovi was especially interested in the art of young rebellious artists from New York City. She interviewed Keith Haring, Kenny Sharf and met with several members of the 'early scene' like: CRASH, Daze, and Toxic. Francesca laid the foundations for the new Street Art movement in her city by arranging several exchanges between the young artists of Bologna and New York. Unfortunately she did not live to see the Bologna movement grow. In 1983 Alinovi, 35 years of age, was found brutally murdered in her Bologna apartment under circumstances that remain unclear until this day.
Today, artists still remember Francesca, who was known for her love of art and her students, with huge public portraits and quotes. One example is her portrait in one of the alleys near the university.
So, local writers aside, Bologna has also managed to raise several local street artists, like Alessandro Ferri aka 'Dadoferri', Ale Senso aka 'Sensoale' and Aboutponny – who refuses to explain his stage name.
"If the trick is revealed, it loses its spell" – aboutponny
Let's take a closer look at one of the works of the latter. Near the Via del Pratello Aboutponny has painted a portrait of an old man on a rolling shutter. In passing, I was immediately taken by the subtlety of the depiction. The old man hasn't got a tooth left in his mouth and has a smoking cigarette in his left hand. By the look of his eyes you assume he is sitting down, watching someone who is standing in front of him or passing by. He looks at ease. The portrait is of Roberto Mastai, 'the painter of Pratello', who died in 2013. Mastai, who had a very long career, gave away or exchanged his poems and drawings because he found 'money is dirty'. He was beloved by the neighborhood. Aboutponny has captured the portrait of Mastai in a huge stencil that is combined with spray and brush strokes. He has managed to capture the gentleness of the man's character: the friendly look, the convenience of a cigarette, Mastai is rendered as your favorite grandfather. The love and respect captured in this portrait by 'Aboutponny' nicely fits the way Italians place the elderly and tradition on a pedestal. I think it is a great example to finish your Bolognese street art journey with. It breaths Italy. (Foto 3, 4, 5)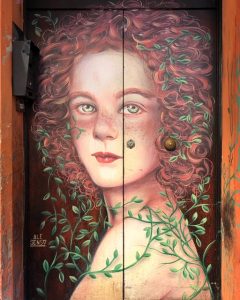 Text and all photo's by ccartlover