Stumbling Upon Lisbon's Blessing Yet Curse
I went through a mental struggle deciding if I should write about Lisbon or not. I'll explain why. I've had the opportunity to travel around a few places in Europe. Portugal in general has become one of my favorite places. It's nice to know that the country is getting something out of the tourism. But, the mass tourism in Lisbon may be out of hand. I understand why it has become so popular during the past few years, but it's important to preserve its essence. Having more articles written about how amazing the city is will not help with this phenomenon. Either way, today I'll be incongruent with my thoughts.Because Lisbon deserves to be worshipped for its street vibes and culture.
Always in for a suprise
I arrived in Lisbon during the World Cup of 2018 and around the celebrations of Saint Anthony, which added more chaos and flavor to my travelling experience. I heard a lot of beautiful things about the city and about the amount of street art in it, but I was in for a surprise. I've never been a big fan of planning a trip based on what street art pieces I want to see. I always decide to go to a few "must see" places and in the way, I stumble upon the coolest murals. I believe the surprise factor of bumping into a piece of art you weren't expecting to see is one of the most beautiful things in street art itself. Speaking of which, I got to see four pieces by the Portuguese artist B0rdalo II without knowing about their location. I understand street art hunters' job plan ahead of time to shoot specific pieces in cities, but that's just not how I roll.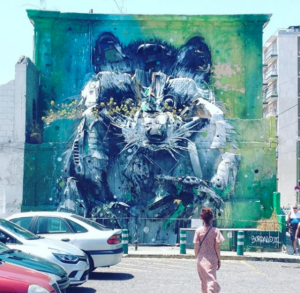 LX Factory
One of the most interesting places I visited was LX Factory. This is a must for people that are into street art and hip culture. It's not the common place where tourists spend their time, which makes it more interesting. LX Factory is located in what used to be an industrial area during mid XIX century, underneath one of Lisbon's biggest bridges. There you can find pieces by B0rdalo II, misterpiro and Add Fuel, to name a few. This area is now the nucleus of the creative movement in the capital of Portugal.

Portuguese's DNA
As I wanted to avoid the touristic experience as much as possible, I stayed in a random area. That ended up being the best decision. Around this upcoming neighborhood near street Calçada de Santo André, I found most of the street art vibe I was expecting to see. I could tell that this movement is in the Portuguese's DNA and they embrace this form of art just as many others. It's in the peoples' nature to express themselves with vibrant colors in their walls. From tags, to murals, Lisbon has a huge variety to offer to whoever is willing to opens their eyes and appreciate the magic of this artistic techniques. One of the most impressive pieces I got to see was made by Vhils. I had seen his work before but only in the digital dimension. This time I got to see a piece from him in the physical dimension. All I can say is he is revolutionizing the way walls are being intervened. His working method experiments with drilling the wall, which is not very common in the street art World.
The down side
For the most part, I enjoyed every inch of art Lisbon had to offer. The down side of the story is I realized street art, among other cultural aspects of the city, are a blessing but a curse too. What makes Lisbon beautiful has led into mass tourism. This made me question what will happen to many other amazing places around the world when they become this popular. I really hope the human species can learn how to enjoy a place without destroying its essence. Let street art remind us the grace of each culture and to respect one another.
All text and pictures by Andres from strawberrystreets.com