It is almost there, on Saturday, May 12th is the exhibition "The Impeccable Bunch "of the Canadian artist Kevin Ledo. The owners of the GO gallery are working on the final details. Everything is cleaned, the last artworks are hung up and put straight.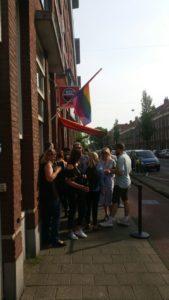 I am on my way to the GO Gallery, where the exhibition from Kevin Ledo will take place tonight, in collaboration with fifteen other artists from all over the world. From a distance, you can see people standing in front of the door with a drink in their hand. Once I have arrived at the Gallery, I notice something; the rainbow flag is hanging out. It stands for; equal rights, joy, and everybody is welcome.
I step into the Gallery, I immediately see the artworks on my left and right hand. All the people are looking with admiration to the artworks. Every piece of art is unique. Almost every artwork is filled with color, from pink with yellow from orange to blue with green. The artworks were really colorful and inspiring.
While I am looking around, the smell of fresh Piccolini's is coming towards me. I turn around and see a woman who serves them out. The woman smiles at me and offers me one. She continues to the people next to me. Art and drinks are the perfect combinations.

From a distance, I can see that Kevin is enjoying himself. He is talking to everyone. Also, there are two well-known guys present, namely the ''Brothers Grimm''. They get a lot of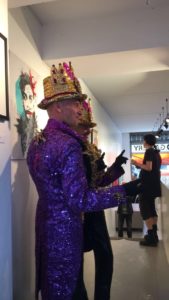 attention because of the clothes they wear. They both wore a big large purple glitter jacket with gold and a golden glitter hat with pink on it. They made a nice appearance.
As I walk past all the artworks, I spot three works with a red sticker. These works belong to the artist: Ard Doko with his artwork: Queer & proud, artist: Serge KB with his artwork: Painting on the book cover and the last one artist from France: Laurence Valliéres with her artwork: Gemsbok in stock. These red stickers mean that these artworks are sold.
This was my first time visiting an opening during an art exhibition. For me, this was a really nice experience and would recommend everybody to visit the Go Gallery.