There may be a clear line in my writing that talks about how things are not always as they seem. We usually build up an idea in our minds based on what we've heard of a place. Traveling helps you break with that idea and create your own opinion on things. Well, at least in my experience.
In this case I'm writing about my travels regarding Düsseldorf. To be honest, I didn't hear or knew much from that city before I visited it. I only knew that it was one of the "poshest" cities in Germany and that the fashion industry was a big thing there. Having this as a reference made it difficult for me to think that I would find a lot of interesting street art.
I knew that a few months ago, Osgemeos did a huge mural in Düsseldorf. Osgemoes is a Brazilian duo which are also twin brothers. They are recognized worldwide as two of the pioneers in the Street Art scene. I was very excited to see a mural by them in real life for the first time instead of on a screen. When I got to the spot, I wasn't disappointed at all. Their cartoon characters and all the colors they use could bring life to the darkest corners. I have to confess that, since the mural is located in the parking lot of a car shop, I didn't have much space to take a clear shot of the piece. Thanks to its size, I could manage a decent photo. It was funny how the owner of the shop stared at me the whole time. All I could think about is the amount of people he has seen coming just to take pictures. I hope it's good for the business!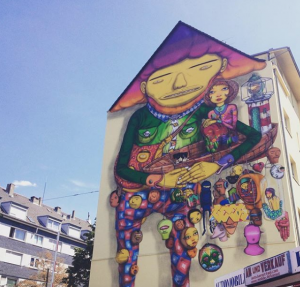 After checking out Osgemeos mural, I walked around the city and I randomly found two more amazing murals, one by Pixel Pancho and the other was a collaboration by DXTR the weird, Roman Klonek, MEXER and a few other artists. These two murals are facing each other. Seen from the distance, it looks like a staring contest, a very creative staring contest.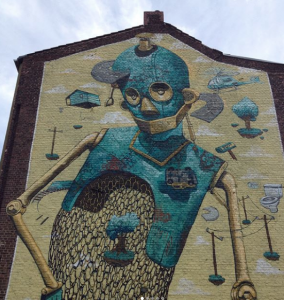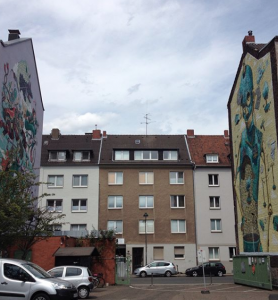 By this point, I was already quite satisfied with the quality of street art I had seen in Düsseldorf, but I was in for a surprise. As I walked to a neighborhood called Flingern Süd, I bumped into a street called Kiefernstrasse. I am not exaggerating when I say that this is one of the most appealing places that I've been to (street art wise). For a few seconds, I thought I was in Berlin. I loved how this neighborhood is showing the rest of Germany and the world that they also got style and not only in fashion. I'm not really sure if many street art hunters and lovers know about this place, but it should be in their bucket lists for sure.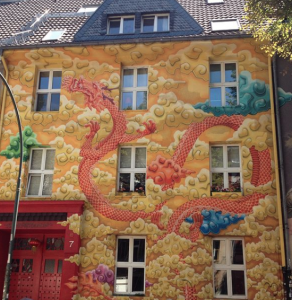 Once again, a city proved me wrong when it came to stereotypes. Düsseldorf has a vibe that not many other places have. If you go out of the posh areas, you have an underground movement to discover.