I sometimes tell myself that I should have studied something related with art instead of marketing. I know I may have chosen the "easy" path, but I've realized that the world doesn't have enough marketers with ethics and vision to promote artistic talent rather than causing massive consumption. So here I stand firmly knowing that the "easy" path was the correct one.
Nevertheless, about a year ago I went to a street art seminary in Facultad de Bellas Artes (Faculty of Fine Arts) in Madrid and my desire for studying art revived from one second to another. As I usually say, nothing that I write about this place can compare to the actual feeling of walking through the corridors of the faculty, but I'll try my best.
At first sight, the outside of the faculty made me think that nothing was happening inside those walls. To my surprise, a revolution had been happening for many years in that place. As I got closer, I decided to walk through the back door. Here is where the real experience started. One of the first things I saw was a graffiti that said "El pueblo organizado funciona sin estado" which  vaguely translates in English to "An organized society functions without the state." This frase lets you know the political position of some students in the faculty and their desire to fight against the system.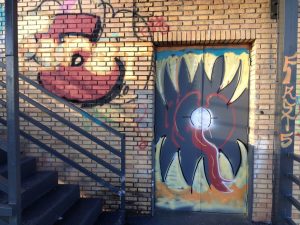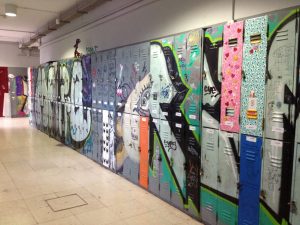 As I walked through the corridors I stumbled upon hundreds of lockers all covered in graffiti and colors. Many would think of this as "vandalism" which I think is a mistake. I could sense that this place was a safe zone for students to express themselves, far away from the average society who judges them on a daily basis and tells them how they should live their lives. My curiosity led me to explore the faculty from top to bottom. I had the opportunity to see quite a few murals and paintings.
Based on my perception of time, my brain played a game with me, making me feel like I traveled to the past, present and future of the artistic movement in Madrid. To put you in context, due to a dictatorship in the past century, the Spanish people were oppressed with no freedom of speech, no contact with the outter world and many other human rights. Once the dictatorship was over, a cultural revolution exploited all around Spain. I mention this because the Faculty of Fine Arts in Madrid has been one of the clearest examples for me to understand what the oppression did to the Spanish culture, and how they've been recovering all the lost time by experimenting and creating innovative art.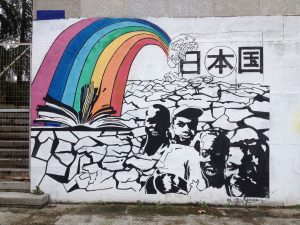 Street Art, as I've mentioned in other articles, is a universal language that gives voice to the people. I was very happy to see that new generations are still using this discipline to express themselves and show their concerns about the direction modern society is taking. The Faculty of Fine Arts in Madrid is one of the many hopes we have as a species to make this world a better and more creative place.