When walking from metro station Spaklerweg, Amsterdam, a massive building rises up. Separated by a not too big canal and a grey, concrete shielding with barbed wire on top. It's the former prison of Amsterdam. Since 2016 it's an asylum center but from 2019 the huge building will be rebuilt to a place with a 1000 new apartments. Besides the asylum center, the former prison is home to several creative projects. The reason I'm walking towards the big building today is because I'm visiting BIG ART.
BIG ART shows over an 80 XL artworks. Because of the building and the knowledge about the history of the building and the fact that I know that this place has so many big artworks inside, I'm already impressed before I arrive.
I'm intrigued
When I enter the massive building, I'm immediately intrigued by the first work I see. The sculpture looks like a future vision, or maybe an imagined past, from the building which I'm currently in. It shows an abandoned, dilapidated building. Including concrete mess, a forgotten toolset and some graffiti tags. The sculpture makes me a bit sad, as the decay of buildings always has something grim, something ghastly. The work is called Liberty City by Erik Sep. Unfortunately, I don't see any further information about the artist or the work. Which is maybe part of why I think this small building is so fascinating. Left behind with questions, quiet and impressed, I continue. I don't know anything about the work or the artist, so I'll leave you just as wondered as I was myself. Later I even return to have another look.
I realize something
I continue my journey through the massive hallway when I see a work that reminds me of graffiti. PRESSED TO THE EDGE (2014) is made by Fraser Stewart. A four-panel artwork. But it's not graffiti or a kind of tag I see. The work is made by the wheels of a truck on zinc plates. It makes me realize even more how much the surroundings of an artwork can influence the artwork. It might remind me of graffiti now because it's showed in a raw and industrial area. But how would this work look when in a classic museum?
Several works attract my attention. I'm getting excited because I know there's so much art to come, and I only just started. I enjoy seeing a few works that are made by materials found on the street. A few of those artworks are also inspired by the street, outside areas and environment. I'm always so busy with appreciating street art artists giving art back to the street, but there are so many other artists who really give something to us. Just like street art artists, they give something to the world.
Untroubled
The light coming through the small windows in the prison makes the hallway mysterious and dreamy. And in combination with the art, less depressing then I thought. The walk so far makes me feel untroubled. The light shines perfectly through an artwork by Studio Ruwedata. 'Holy Shit' looks like stained glass but is actually made out of plexiglass and wood. The information says the installation has 'references to nightlife, love and a broken society that together tells a story with a lot of symbols.' I read that the guy behind Studio Ruwedata, Thijs Kelder, comes from the underground- and sticker/street culture scene. I definitely recognize some street art style in this work. The colors, symbols, and style, are for me a nice combination between street culture and the ecclesiastical it has due to the stained glass look. But because of the light shining through it, the work becomes a second artwork on the wall as well.
It's funny
It's funny. I don't have a street art background myself. I'm educated in modern and temporary art and before I started working for ASA I liked street art but it was not my main focus. Now, whilst walking through BIG ART, I notice how I somehow can -or try- to link every artwork I see to street art. I apparently am starting to develop a preference for art that looks like or has similarities with street art.
In the former gym, the works by Floor van Keulen and Marjolijn van den Assem grab my attention. Both big, impressive artworks. The raw painting technique on museum cardboard against the brick wall makes them look edgy and I think both works will look good inside someone's house as well as on the streets.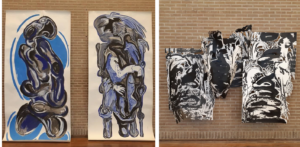 An other work that works very well with its background is made by Leoniek Bontje. It shows her two daughters, for always attached to each other by the wire they're both made of. From distance, the work looks like a pencil drawing. When you look closer, you notice the wires are so attached to each other, they could never be detangled.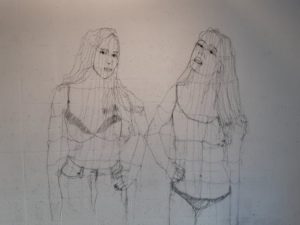 I'm impressed
One after another artwork dooms up. Paintings, installations, drawings, statues, and everything in between. Of course, I can't relate everything to street art and that's okay. But I do notice the more mystery a work has, due to the missing information or representing the artist, the more it interests me. I see a bed, with nails, paintings, Styrofoam. It looks dirty but it can't be. Who would sleep on a bed with nails in it? I like the open interpretation the work gives me.
An other work that gives room for interpretation is by Marcel van den Berg: 'It takes a nation of millions to hold us back (1998-2018). I realize I haven't even seen half of the artworks yet and am already a bit overloaded by all the amazing stuff I see. I'm being sucked into the work made by van den Berg. It's powerful and I need to stop myself from walking through the work. Multiple canvases hang behind each other, lay on the floor and are put up against the wall. Marcel's painting exudes power, emotion, and passion. The colorful paint in combination with the dark brush sweeps, crumpled paper, and text written with passion is powerful and makes me want to be part of the work and story.
A blissful and satisfied feeling
I further the end of the exhibition and doubting if I should skip the last few works of the exhibition. I have seen so much art already. But, as always, I'm too curious and decide that I want to see every artwork from the BIG ART exhibition. I'm -literally- walking towards the light at the end of the tunnel. In the beautiful sunlight in the former church of the prison, I find the stunning installation by Zwier Cornelissen. The combination of the artwork in the by sunlight illuminated space makes the work extra magical. Zwier made an installation consisting of about 12 painted organza canvases. It's a group portrait in a way I've never seen before. The canvases hang next and in front of each other and because the fabric is sheer, the whole creates a dreamy, but also intriguing, surprising and rare feeling and look. The work sucks me up. I walk through the artwork and I know this work needed to be seen last. I can finish BIG ART with a blissful and satisfied feeling.