Kunsthal Rotterdam is celebrating the 25th anniversary of Dutch fashion duo Viktor & Rolf.
The two met at the art academy of Arnhem and graduated in 1992. What began as a friendship soon developed into much more. Viktor and Rolf made their first collection in Paris after their graduation, protesting the difficulties young designers have to face in the fashion industry. The collection won 3 prizes at the world-renowned fashion contest Salon Européen des Jeunes Stylistes in France. Since the two didn't come up with a name, the organization simply called them Viktor & Rolf. That name never changed and throughout the years Viktor and Rolf had multiple exhibits (some but not all) including Museum of Contemporary Art in Tokyo, Visionaire Gallery New York, Van Gogh Museum and Museé de la Mode et du Textile in Paris. We here at ASA like to think outside of the box so I headed out to Rotterdam and experience the work of Viktor and Rolf.
Tickle my fashion sense
So let me be honest, I don't know anything about fashion. I wear shitty jeans with holes in them and paint splatters… my shirts? Second-hand. I've never seen the importance of clothing besides covering that 'dad body' of mine. That being said, I enjoy learning about new people and art-forms. The moment I walked in I was hooked by what I saw. The first dress, I mean it seemed like a dress, consisted out of pillows and blankets. It reminded me of Alice in Wonderland (a movie that resemblance Disney on shrooms) which is a plus. While the lights were dimmed I walked along the black walls into Viktor & Rolf's "Russian Dolls" collection. The collection (from 1999) feels like a performance piece. Models dressed up and wearing nine (NINE!) layers of clothing on the catwalk, depicting some real-life Russian Matryoshka's. I really enjoyed this concept and seeing the various stages of the dress/art piece. The collection was accompanied by the creepy sounds of children chanting, I couldn't figure out why that was a part of it but that's okay. I didn't understand fashion and I was learning on the spot.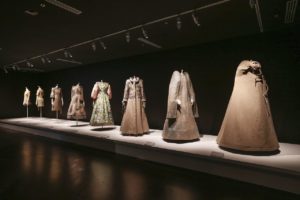 Trying to say yes to NO!
Across the "Russian Dolls" is another outspoken and well-known collection by the duo. NO! A simple mind like me thought it was a woman's trenchcoat representing women not taking street-harassment from guys anymore. Even though it could fit into the whole #MeToo movement, I accept the terms that I'm way off about this one. NO! is a protest against the high-pressure of the fashion industry which, in a way, makes sense. The exhibit consists of 45 haute-couture pieces so you get hit in the face with piece after piece. It is overwhelming at first but the room is being put to good use. Not only are you learning about the duo and their haute-couture, as an artist, you're learning about concept development and styling your exhibits. Throughout the pieces, there are porcelain dolls with miniature concepts and dresses which the bigger pieces are based off. Now I will not spoil the whole exhibit but the last pieces got me so excited that I have to talk about it. These pieces took the term "wearable art" literal and I can definitely see this be a part of a street-art show.

I came, I learned, I did something
I like museums that have the opportunity to do something and don't care if it's a kid's table at the Stedelijk Museum Amsterdam for example. If I can create my personal Malevich with plastic and cheap-ass beads I will do it. Viktor and Rolf must feel the same since they made a special section for the visitor. After the video room (a room full of their performance art pieces featuring their clothing) is a workspace. If you feel creative enough you can build your own haute-couture hat out of paper and all kinds of accessories. I want to show you mine but I sold it already. Ok, maybe it turned out to a disaster because I'm better with paint than paper but at least I had fun.
Is it worth it?
Yes, this exhibit is definitely a kick-ass exhibit. Even if you're not into fashion or clothing like I am, the concepts are interesting and there is something to learn. From an artist perspective or as a visitor, you merge yourself into this weird world filled with story-lines. To top it all off, the exhibit ends in a Viktor and Rolf pop-up store. Here you can buy books, prints and guess what? I bought a shirt that matches my shitty jeans with paint splatters.