The art, the midnight sun, the fishing village, the art loving locals, one of the best tourist destinations in the world. AND then…
You paint in the midnight sun, yes 24/7 of sunshine. You live in a small, out of the fairytale fishing village. You eat, you drink and you laugh with the locals. In THE tourist destination called by Lonely Planet … one of the best in the world they said.
AND then, then you have the local street art crazy photographer to shoot your piece when Aurora is dancing, the lady herself, in the sky, when winter hits and you are not there.
Picture of The Fox under the northern light by Stian Andre Nystad
Just like M.u.M did. He went up from Bergen, Norway, to Lofoten Islands last summer. We followed him on SoMe as he drove and painted his way up through the fjords, over the mountains, way up beyond the article circle. Then he hit Ballstad … THE place in Lofoten … and the locals grabbed him in their strong, friendly arms and called out "Welcome to our little heaven, Mr. M.u.M".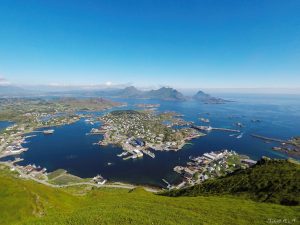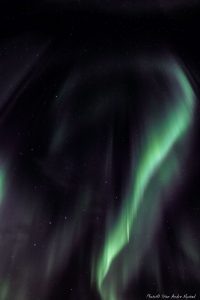 Picture of Ballstad in Lofoten Islands, by M.u.M
He painted with the midnight sun in his back and his lady in his arms. He eat and slept at Kræmmervika Rorbuer and when he woke up he painted more. Empty handed he arrived, so the locals got him a factory to paint his mural on. "The Fox" he did. As taken out of the snow and placed on the wall it was. We are way above the article circle you know. They got him a boom lift and sheered as his cans were emptied. They did not let him be, for two weeks or for more, that's how it goes in heaven you know.
Picture of M.u.M painting by Claudia Sánchez (M.u.M's wife)
Then this fall, as winter crept in, taking over our world … it all came together under the Northern Light. The lady went dancing, as she so often do, way up there in the north, and we all could enjoy this wonderful, awesome picture of the fox under the dancing light, way beyond, in the arctic sky.
Whos next?
Text by Øistein Jakobsen from StreetArt Bergen
Pictures: Stian Andre Nystad & M.u.M