The Barcelona artist Germán Bel / Fasim participated a few weeks ago with a surprising mural intervention in Alcoy (Alicante) in the first edition of the festival 'Urban Skills, Urban Culture Exhibition 2018'. Along with five other renowned urban artists he made murals in buildings throughout the city. URBAN SKILLS is the first Urban Culture festival promoted from the citizen participation platform of the city of Alcoy. Check out Fasim's in the first edition.
A risky experiment at Urban Skills
Fasim worked seven days to complete his mural. He has surprised everyone with an unexpected proposal; he posed a risky experiment when making a collage game. It is that old game of the surrealist group headed by André Breton, also from Paul-Émile Borduas' group 'Les automatiques' and the avant-garde Dada; the automatic drawing, but taken to the gigantic scale of mural painting.
"This psychological game has always attracted me because it changes all concepts and poses new meanings. I like to alter things. Since I was a child I always try to see things from other points of view. Even the impossible or delirious that are my favorite. It is an act of poetic rebellion."
The inspiration came to him in August in Paris. He wanted to study closely some of the ceramics treasured by the Department of Greek, Etruscan and Roman Antiquities of the Louvre Museum. He left the museum with many ideas that bore positive fruit when he set to work on this new and fascinating series.
The giant figure in the humble district of Batoy recalls the power of the ancient gods and is also a return to the figure of the Totem, practically forgotten today but fundamental in our history. From the Totem all religions departed and this comes from the pareidolias and the ancestral shamanic visions. The neighbors were pleasantly surprised from the first moment that the two faces of the tigers emerged from the top of the building.
Wildstyles
It seems that this unexpected twist of Fasim has surprised the urban art scene more accustomed to its classic black figures created from juxtapositions of abstract stains or its legendary wildstyles.
"I always like to work with new challenges. I'm not always painting the same painting or the same mural. I couldn't do it, because I always find new ways of expressing myself. New series that excite me and I end them or abandon them when I'm already in another new game."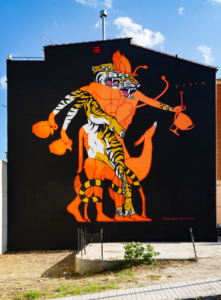 He assures that this wall is only an experimental test that has been successful. But that could have gone very badly. "Sometimes what one prepares as a sketch does not always work on the wall. I risked a little but in the end I am very satisfied with the result."
The other artists participating in this first edition were: Nuria Mora, Sebas Velasco, Demsky, Smithe and Dulk.
Check more Urban Skills on their Instagram!
Photo's by; Juani Ruz, Jordi Arques