Re:Think Sisak
An interview with Dahna Prskalo Peco
Every small city should have a big art festival. Since 2015 walls in Sisak have been turning into works of art, changing people's views of their everyday life, making them stop, look, think and shape their thoughts. Sometimes they just walk on by, sometimes they watch them from their cars while being caught in a traffic jam, deciding what the murals mean to them on that particular, and ever so different day. Sometimes they give them hope, sometimes they give them strength, sometimes they inspire daydreaming and take them to faraway places in their mind's galaxies. Re:Think Festival started shyly, but turned into a big, important event. As it brings international and homegrown artists to Sisak, it draws a new map of the town, marking new points of interest or new meeting places, it changes the reality and turns walking home from work into an intimate art gallery visit. As much as it has grown, behind it all is an artistic and organizational core of three people: Dahna Prskalo Peco, Alma Trauber and Dean Zlovolić. Even in the best of times, art can be regarded as a luxury, therefore in the times of global pandemic, in the post-industrial town severely damaged by an earthquake just a couple of months ago, art can seem redundant. But that couldn't be more further from the truth. Art is on the walls of Sisak, and it speaks, heals, makes one think. Think again.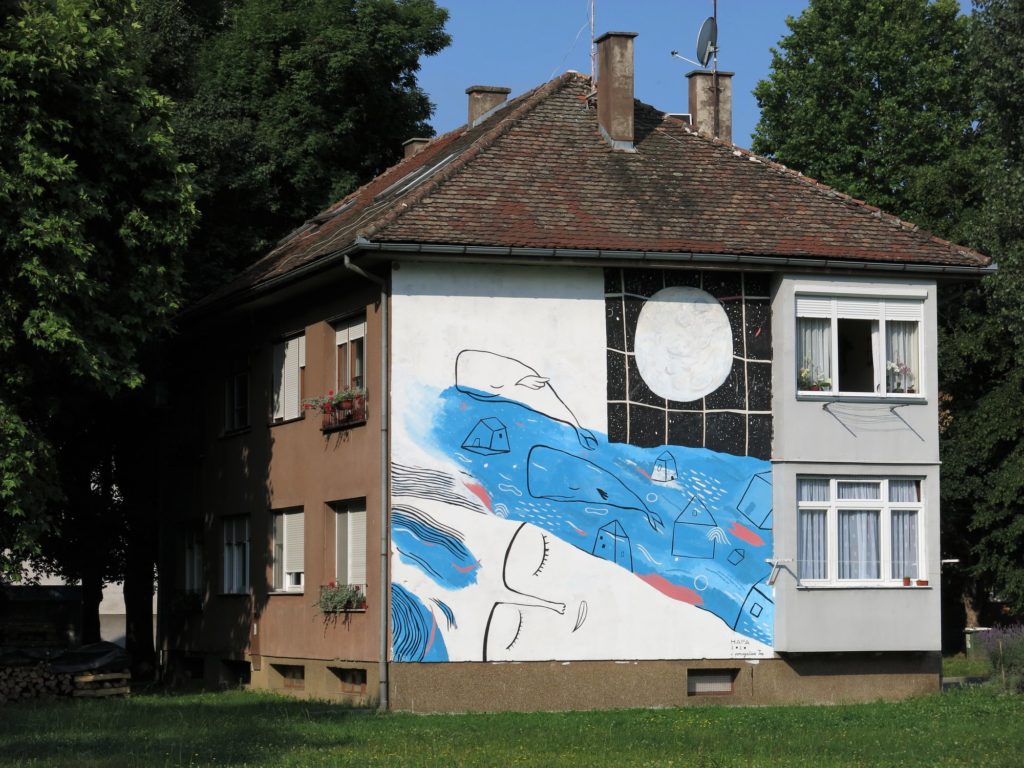 How did the initial idea for the festival come about? Who was, and still is included in organisation and have you had institutionalised support from the start?
The idea of this festival had been materialising for a long time, however, it took the right moment and the right combination of people for it to actually happen. The initial reason was pure spite, my own rebellion against the ugly media portrayal of my home town, the second reason was the notion of rethinking the space around us and finally, the general perception of art in public spaces, the paradigm of works of art as something constrained by gallery walls and exclusively reserved for a specific class of audience. Art itself lives to the fullest when it is available to everyone, when physical boundaries are ignored, when it hits the streets and becomes everyone's, a part of everyday life. Somewhere in between these ideas the three of us – Alma, Dean and I – met and combined our art historian's, painter's, historian's and PR foundations, and this is, in a nutshell, how the colourful opposition to all dreary news that has been coming out of the town began. The longer version of its genesis includes, of course, a huge amount of paperwork, licences, signatures, persuasion, negotiation, pleas and applications, and in the end, hard labour since Re:Think is a festival and a construction site at the same time. The first act that we did was in 2015, the setting-up of the global art installation 'Before I Die' by Candy Chung, which was a big wall where all citizens could write their own ideas, plans and dreams. That was the year the festival was conceived, and we already started it the next. Since the beginning we've had the institutionalised support of the Sisak city government, they trusted us and that trust has, since the festival has successfully established itself over the years as an event of the highest quality, grown bigger, as well as we've had support from other sources and sponsors.
Why should the city, as a place where we live, be constantly rethought?
One of the festival's initial reasons and the idea behind its name is precisely the rethinking of the space where we grew up, walls that we've grown used to, bits of facades, prominent and unpresentable, and the question: What if it doesn't have to be this way? What if we could turn everything upside-down, if we could participate, influence, create? The idea behind the festival that 'rethinks' is exactly the organiser's wish to initiate the impulse of curiosity among people that would make them not being stuck in the everyday rut and inspire them to question the world around them and constantly try to make it more beautiful. Our starting point was not the idea that Sisak is an ugly city that should be made more beautiful, on the contrary, it was the fact that it is a beautiful city whose beauty has to be constantly highlighted and reconsidered. Murals are just one way of provoking that attitude towards the place we live in.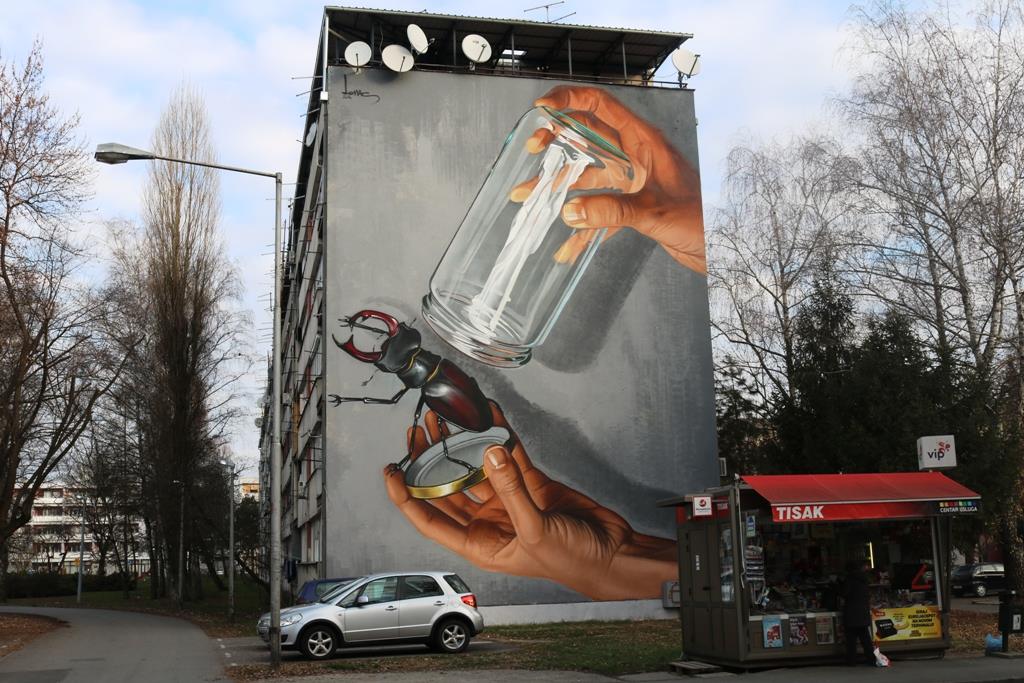 How many murals have been done, what were the themes of previous festival editions and how many countries did the artists come from?
So far we've had 39 murals done, all different sizes and levels of complexity, some of them have disappeared in the process of energy efficiency reconstruction of buildings, and some disappeared in the December 2020 earthquake. We tend to avoid annual themes because we don't want to limit the artists' creative process, but every year's edition has had a certain feature that could be regarded as a theme; for example, we had a Southamerican art showcase, 2018 was a year of all-female artists, and last year was reserved for Croatian artists. So far we've had artists from eight countries and two continents.
Is it complicated to reach artists and establish collaboration?
The fact that a huge number of top-notch artists exist in the field of street art is a big stroke of luck in our line of work, and the most complicated part every year is to choose just a few of them. Immediately after the festival's first edition, our inbox was overloaded with marvellous portfolios of artists who have been contacting us. Our year is, for the biggest part, spent examining their fantastic work, making lists and choosing participants for the next edition. When we finally manage to make our choice, the collaboration is quickly arranged and that part of the process is very simple.
How complex is the process of organising the festival?
Looking back, I still can't grasp how we managed to get through the first edition, when, despite very limited funding and a lot of beginner's mistakes, we managed to pull out a brilliant festival with 12 superb artworks. We were lucky that all our artists were enormously understanding and that we somehow managed to charm both sponsors and walls' co-owners who were ready to meet us halfway not knowing what to expect. Of course, it is easy for people to know the value and greatness of something that's right in front of their noses, but to realize it without being able to see it is a different matter. That's the reason I always say the owners of the first festival edition's walls were all great visionaries. We were only armed with smiles and a huge amount of goodwill, absolutely certain that what we were doing would benefit everyone. Besides that, I have a hard time taking no for an answer, so it was pure luck and the bold persistence that took us to the finish line during that first year. To organise something of that extent that no one in our town had endeavoured before us was really demanding and challenging, but everything after that has been a game, really. It is a strenuous and time-consuming game, however, during which there is a large number of permits and signatures to be obtained, a game in which we spend 12 hours a day for two weeks in the streets and a game during which we sometimes feel like alchemists for succeeding in doing the impossible. It's every kid's dream come true, really.
Since a large number of murals are painted on apartment buildings' walls, could one say that art influences the lives of tenants, of 'ordinary people' – how do they react to turning their facade into a work of art?
Some of the goals of Re:Think Festival are exactly that; establishing citizens' new meeting points by bringing about open communication between the city, professionals, citizens and artists. At first, we had a hard time explaining to people what our aim was, since most of them regarded painting the facade as something that should be dealt with by the police. However, now we get really positive feedback, filled with love and curiosity. Last year we even wanted to do a kind of the best building competition, but we soon realised we couldn't decide on the winner. The tenants always accept the artists as one of their own, they bring them cookies and juice, ask them to join them for lunches, discuss the meaning of their artwork, even despite occasional language barriers; they are extremely kind and happy. This, in itself, is logical, since for a couple of days there's something in their everyday lives that's completely out of the ordinary, different from what they are used to, and at the end of the day they are left with a work of art they can call their own. We expected a great reaction from the start, but people in Sisak have even surpassed our expectations.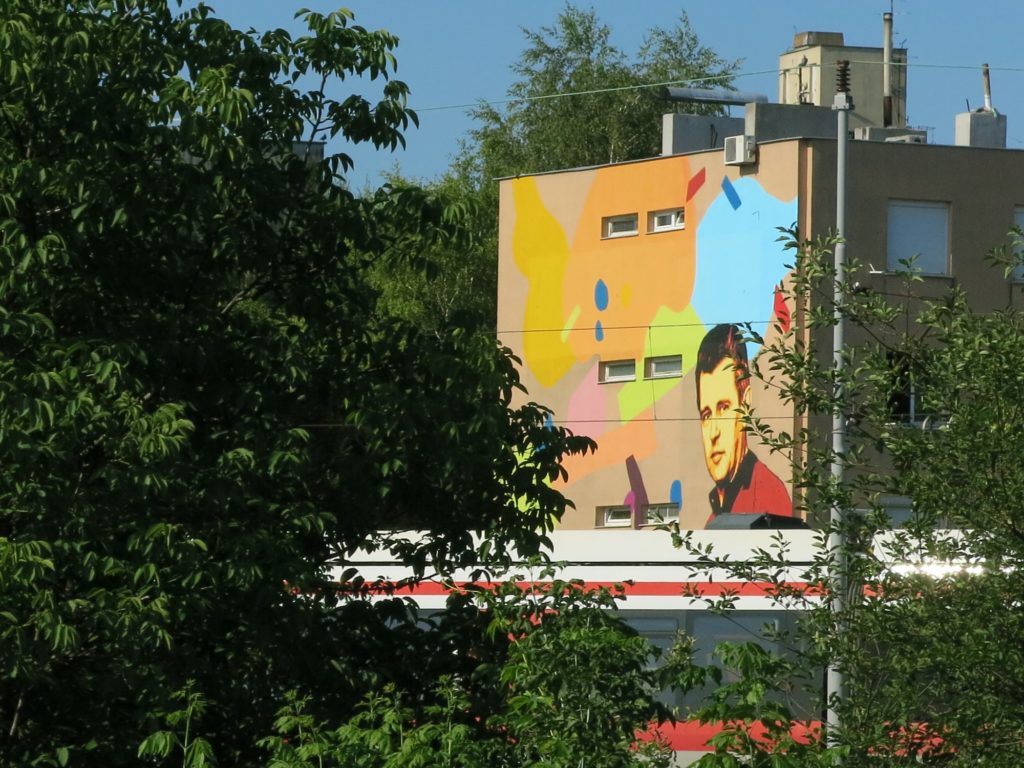 Can a work of art publicly displayed in this way influence the lives of people living there? How?
The whole idea of street art is its inclusion in the community to enhance the quality of life. No matter how trivial it may seem, especially in these challenging times, no matter how art might seem irrelevant, it has its role in the quality of living. What's most important in the whole thing, and a proof of our endeavour's success is the fact that people have formed intimate connections with murals and have started to regard them as their own, as well as the fact that murals have become new meeting points, which indicates that they have become a part of Sisak's everyday life. People orientate themselves according to murals, and as they used to meet "under the clock" in the past, nowadays they meet "at Lonac" or "at Regoč". This kind of reaction is really the most important thing.
How many murals were damaged in the December 2020 earthquake?
Three murals are completely gone and the destiny of another three is still uncertain.
Taking the current situation into account, will Re:Think Festival happen this year, and who will take part in it?
The global pandemic had already made the last year's edition challenging, although thinking about it from this year's perspective makes it seem like it was a piece of cake, compared to what awaits us this year. In the first couple of weeks after the earthquake, I found it extremely difficult to think about this year's festival while watching the city in ruins and seeing my fellow citizens who had lost everything. But, I firmly believe we'll heal and recover from the blow that knocked us down, and despite the currently gloomy situation, I'm, as far as the future goes, again perhaps foolishly, optimistic. We have a lot more work to do! Re:Think began with the idea of making a real, open-air gallery, although this has become a banal and worn-out phrase that has constantly been repeated without thinking about what it really means, but from the onset, our plan was to create a gallery, according to professional museum postulates and rules, during which the layout of the city and street raster are regarded in terms of gallery space. Slowly we're approaching our goal, but we're far from being done, and after the latest horror, our motivation is stronger than it ever was. Current priorities are clear, all of us know what needs to be done and how we should proceed, but bit by bit, life and optimism will come back to the city. I am certain that this year art will symbolically give people comfort, and I believe that this will make us better and stronger and that soon this sad period will be regarded as just one dark moment that we'll remember with a bit of discomfort. This year Re:Think will completely devote itself to the wounded walls of its town.
(We never disclose the names of the artists before they start working.)
Are there any Dutch artists you would like to invite to the festival?
When it comes to street art, Holland abounds with ingenious artists. If I could choose, I'd invite Amok Island, Hanneke Treffers and Telmo Miel.