Even nowadays, sports and graffiti go well together. Heroes are immortalized, historical moments recorded, and sometimes a true graffiti war is unleashed.
Ancient graffiti
Traces of graffiti reflecting the importance of sport in daily life, have been visible since the first century. In the ancient graffiti of the Roman Empire, found in Pompeii, Herculaneum and Afrodiasias, gladiatorial combat was a favorite subject. The etchings, made by fans, show different types of gladiators who fought in those towns' arenas. The graffiti gives us a unique insight into Gladiator lives. They reveal to us their names, physical form and equipment (sometimes supplemented with a description of their good looks), the prizes they had won, and their status in general.

Kamp Seedorf
Take, for example, the Dutch street art collective from Almere, 'Kamp Seedorf'. The artworks of the collective, that won a Dutch Street Art Award in the category Best Message in 2017, often depict soccer players. Their 'semi-permanent' hand-painted paper posters represent players from different clubs, but Ajax predominates.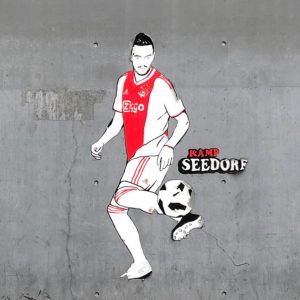 Observing these paste-ups, one notices that they all depict individual players, not (part of) teams. The player himself is put in the limelight, usually during a legendary action. The flying Buffon (in Turin), a ball-stopping Clarence for Sampdoria (in Amsterdam) or a cheering Onana. It is clear these homages, all in Kamp Seedorf's characteristic style, are done for sheer love of the game. So far, and forgive me if I'm wrong, the tributes all depict male players, so I am rooting to see some ladies included.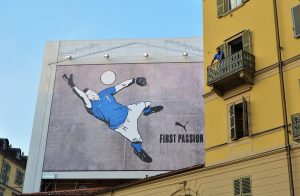 Graffiti fight
Football-related graffiti can also unleash a true 'graffiti war'. In a very entertaining way, in the run-up to the KNVB-Cup match between FC Utrecht and Feyenoord in 2016, a number of murals were made. The war was fought between gnomes (Utrecht) and Bokito and Olli (Rotterdam). Behind the gnomes was the Utrecht artist KBTR, behind the Blijdorp-residents the artist collective 'Lastplak'. Read the whole story here (in Dutch).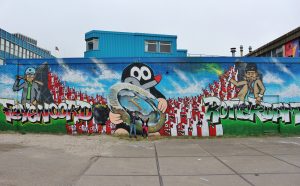 Because of their public display, such tributes, 'wars', homages and memorial pieces are all part of our daily life. You see the depicted figures appear, triumph, decay and disappear, just before a new one appears – just as in real life.