It´s the event of the year, ASA´s greatest show pony. We´re talking about the Street Art Awards of course! The 16th of September the Street Art Awards 2018 Benelux Editionare coming up again and we can´t wait.
This third edition is going to have a few firsts. First of all, we´ve made the exciting step to move the awards from our hometown to Rotterdam this year! Daring, yes we know but we´re convinced that this is a good first step to lift the Awards to a higher, bigger and more international level. This year the Awards don´t only involve artists living in the Netherlands. The 2018 edition is the first Benelux event of its kind. Meaning that street art from our neighbouring countries (Belgium and Luxembourg) are getting the spotlight it deserves as well. This edition will be decisive for us but also the entire scene whether we can bring the Street Art Awards up to the next level. We´re more excited than ever!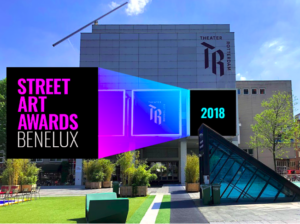 The awards are all about appreciating the artists from the street and giving them the stage and credits they deserve. So we collected a great jury, consisting both insiders of the street art scene as experienced experts with refreshing points of view and with other backgrounds. To help the jury decide from all the submissions we invited a pre-selection from over a 100 street art insiders and lovers. Via a tinder-like app, specially developed for this edition, they can easily swipe through all submissions. DJ Sander Kleinenberg, Willow Shields from the Hunger Games, stage phenomenon and legend Diana Ozon and the 'original' Robin Gunningham are just a few of the names who will help us through submissions.
The weekend of 15 and 16 September Rotterdam is all about urban art. Not only do the Awards take place, POW! WOW! will also host their first European festival. So make sure you mark these dates in your calendar if you want to submerge in everything Street Art. On the 16th, Theater Rotterdam will be completely dedicated to the Awards with an afternoon and evening filling program. Join free activities like watching a live art battle, make a selfie with your favourite street art hero and dance to the tunes of the DJ while enjoying a cocktail. Real street art lover? There´s also a limited amount of tickets available if you want to witness the Award show itself.
And if you´re an artist from the Benelux yourself, you can submit your work. Check out www.streetartawards.org for more info and don´t forget to like our Facebook page to keep updated about the latest news on the Awards.
See you the 16th!