Saturday, May 12 was the opening of the exhibition The Impeccable Bunch of Kevin Ledo at Go Gallery, Amsterdam. We did an interview with him about the show and the artists.

Kevin met the owners, Farud and Oscar a couple of years ago in Miami during Art Basel in Wynwood. Last year when Kevin was in Amsterdam to paint a piece for the Street Art Today Museum he saw the guys from the gallery again. They invited Kevin out for dinner and the idea of collaborating came up. One of the ideas was to have a 'Kevin and friends show'. Kevin was really flattered about the idea and thought it could be fun. Almost a year later, the idea where it all started had become reality with the show ´The impeccable Bunch´.
Name of the show
But how did Kevin came up with the name? 'I was thinking about it for a bit, and when this idea crossed my mind, I laughed. It was a good name I thought!
Collaborations
For the show, Kevin collaborated with different artists, among Laurence Valliéres and Ard Doko. ''So, the idea was that I invite some of my artist friends.'' says Kevin, ''While I couldn't invite all my artist friends I admire, I choose some that I thought would look good together. The Go gallery suggested Ard Doko and Serge KB, to have some local flavor. I like their work and thought their work would be a great fit!'' he continued with a big smile. ''All the other works are my friend´s! Some of them I've known for many years, others are some newer friends.'' The friends he invited to work together with, each made their own piece specially for the show.
The result is an eclectic show. A nice mix of several artists, with each their own style.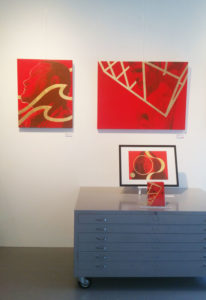 Kevin got a lot of positive comments about his show and he loved curating it and is very happy with the results. He had a great time with Oscar and Farud and is glad Amsterdam welcomed him.

Follow him on Facebook & Instagram!
For those who're visiting Amsterdam, check out the:
Impeccable Bunch show
by Kevin Ledo