I first 'met' Riak, or Bastian the Jail as he was known back then, last year at a festival near Barcelona. I'd seen his work on Instagram and really liked what I saw. As is often the case here, I got a bit language shy and didn't go and say hello. Of course, Bastian speaks amazing English having had a Scottish girlfriend at one point. But I didn't know this until I messaged him on Instagram about doing this interview. I've been waiting on this interview for a while now but it's been worth the wait! Check it out below.
Hi Riak (Bastian) how are you? Tell us a little about yourself…
Hi, first of all, thanks for the interview and your attention as the "man behind the camera" for all artists, so much respect for your work. I would define me as a soul survivor doing murals, graffiti and illustration, but started tattooing now because bills keep growing… I'm 29 and grew up in a small town of northern Spain surrounded by nature and drawing cómics, worked since I was 16y.o and tried many things to end up dedicating full-time to painting.
When did you first start spraying on walls? What was the original inspiration for grabbing a spray can for the first time?
It was 2003, I was thirteen and flipping out with those textures of colors cut by strong dark lines on walls. I think the original inspiration was that warm tones cut by dark violets, the videos watching how funny missions were… I grabbed some cans and went straight to the construction sites on the outskirts to test the shapes of my new aka RIAK. I'll never forget that rasta flag-colored toy piece, it was the first step.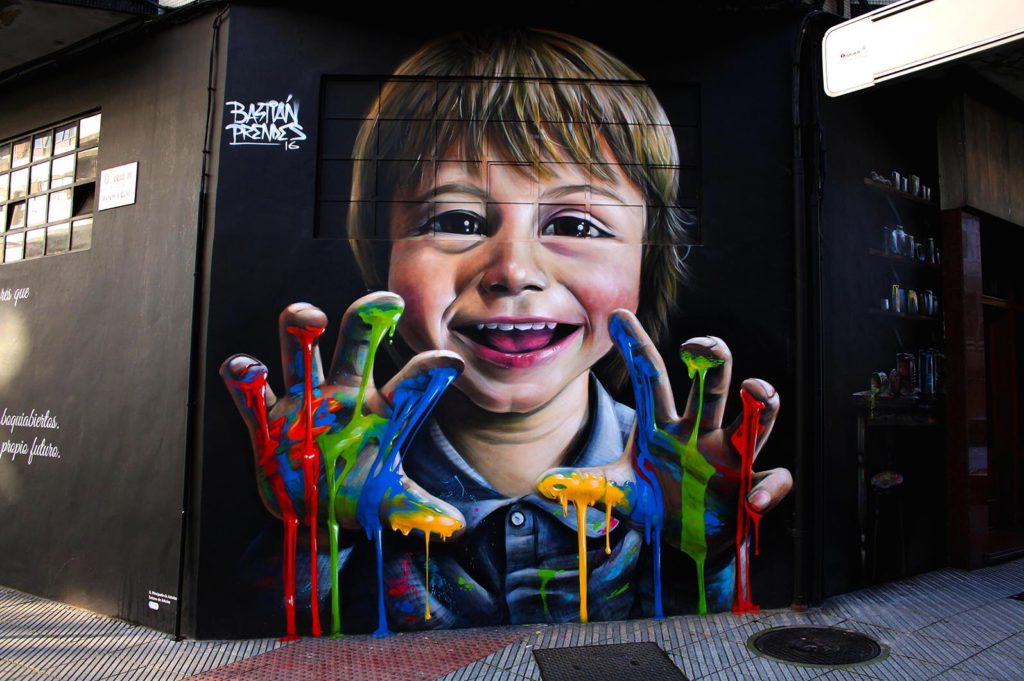 Do you like to work with a sketch or just freestyle?
Depending on the moment, I'm quite a perfectionist so maybe sketch best. But a simple one that lets space for freestyle in colors and light. Public spaces are different from the studio in that way, they always ask for something because many people will be involved.
What's the inspiration behind your work? A never-ending list of things right?!
I think I get it from two different sides. Technical inspiration on one hand and spiritual on the other. I love academic art and drawing, but the essence comes from life and nature, the circle of life, links and ruptures, the unstoppable universe, inner-strength… Artists who inspire me by their work could be James Jean, Okuda, Miss Van, Deih, Audra Auclair, Dulk.  An important point is graffiti and street life from an early age, adding some tension to the pictures sometimes.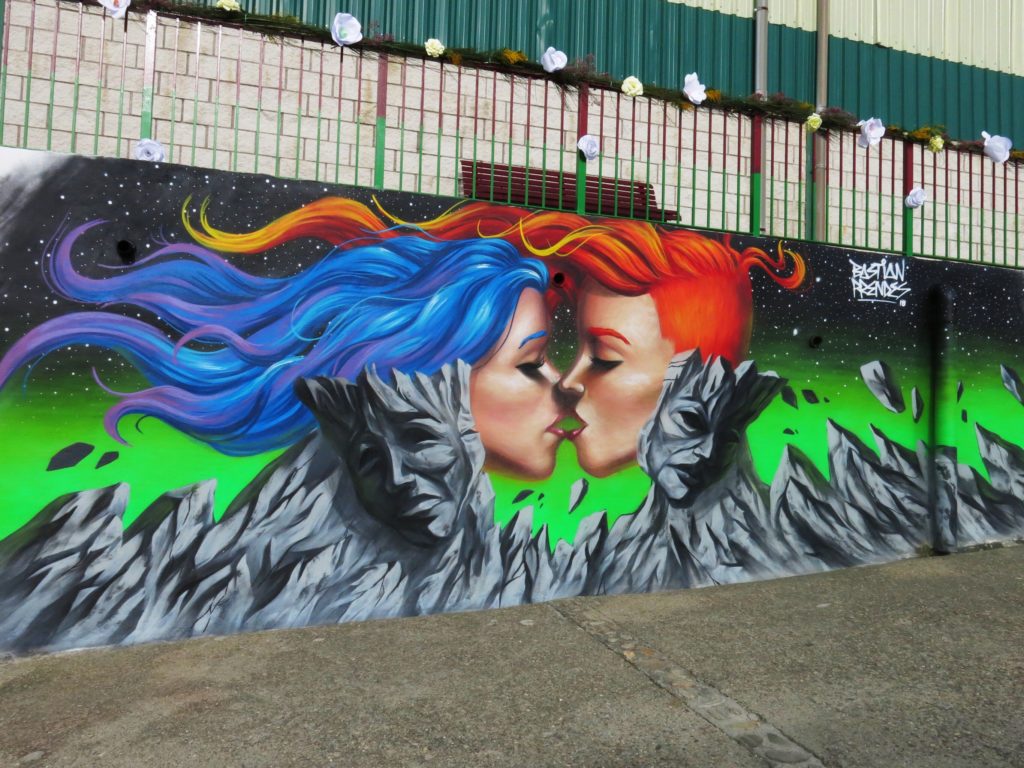 Is a piece ever finished in your eyes?
Hehehe good one. It never is. I usually finish when I think the risk of destruction is higher than the possibilities of improving it in a short time… but if your style of painting is realistic or a never-ending research, single pieces are just sections of that path.
What's the street art/graffiti scene like up in Asturias (Spain)? I can imagine it's very cold and wet like my home country!!
Our region is geographically quite isolated by mountains, so everything comes little by little and we are not many. You can see more quick graffiti pieces, and Parees helped bringing some contemporary street art lately. Dealing with cold and water is pure background here. Remember when we were kids and used to spend the whole night out in a town to paint a piece, 10 hours literally soaked to the bone walking, painting, waiting…. only thing I hate is, when the rain stops work plans, that is annoying as you never know when its going to rain here.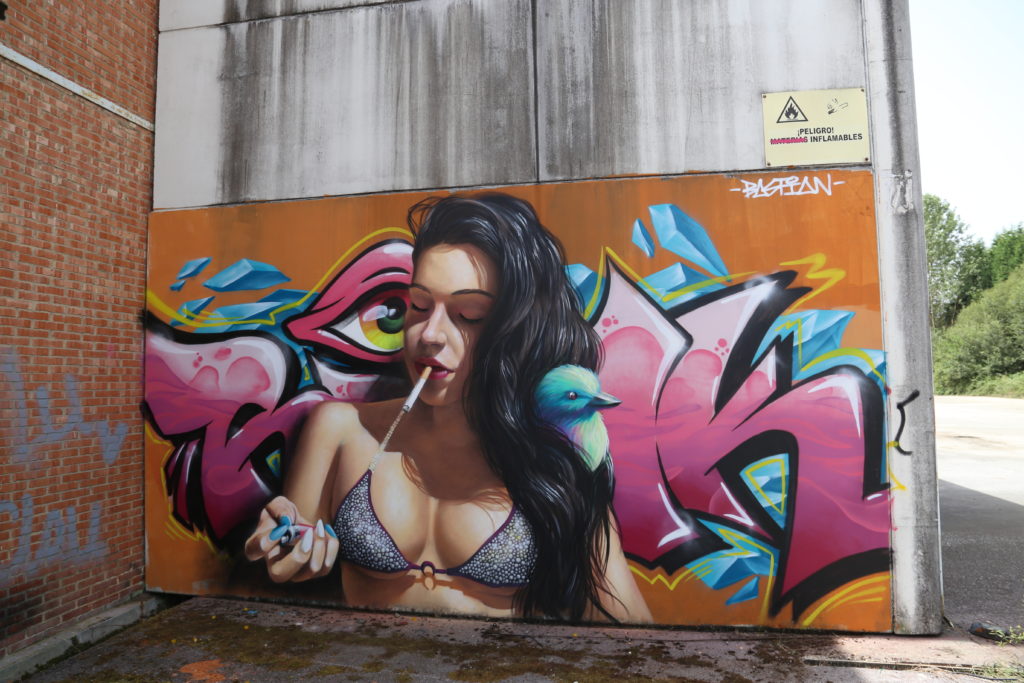 Do you have any crazy ideas/projects that you'd love to do one day?
Yeah sure. At some point, I'd love to do some projects through social networks that involve people and create connections. I realized that's the most important thing and being isolated makes you heavy and slow in a faster life. Nowadays people spend more money on tattoo but not so on art, any project that can make people empathize with art would be rewarding. One concrete plan would be giveaway a big wall in district areas of different countries, first posibilities are now in Cuba and Maroc but still don't know what problems with permissions we could find.
What do you like to do with your non-painting time?
I always need to rest. Painting murals full time is exhausting, so relaxing in the mountains surrounded by green and birds is one of the best things we can do here, sports to stay fit and avoid contractures, and discovering new places anytime is possible.
What's the ideal soundtrack to a day's painting?
When I paint walls I prefer motivational rythms, African new beats fitting perfectly for 8 hours moving non-stop. When painting in the studio, something chill like soul or minimal techno. Although hip hop and reggae always been company for the painting days through the years.
If you could have one superpower for the day what would you choose?! 
Maybe traveling through dimensions, time and universes like Rick, you move in the morning, and in the evening move back again, then go back on time to the morning, nothing you would notice could happen as you were away. That way there's plenty of time to discover, rewinding your reality to the moment you left it.
What's next for you?
Starting from now with a new name: Riak (my first tag) a path of work in my own style. And leaving the commercial customized works that never let me time to focus on creation. So tattoo and multidisciplinary art are the main things to focus on, I'll try to show pictures full of color and imagination, so next year start moving to festivals abroad.