Sunday the 16th of September was finally the day on which the winners of the coveted Street Art Awards 2018 Benelux Edition were announced. We received 626 submissions of which no less then 483 where valid and it was both exciting as relieving for the winners to finally be announced.
There were 10 awards to reach out in the following categories: Young Talent, Most Inventive, Global Mural, Best Artist, Best Message, Local Initiative, Benelux + ABC Mural, Greatest Gallery, Best Photo/Videographer and People's Favorite. Curious about how the winners feel after receiving their award and what their next plans are? Continue reading!
We continue the Street Art Award interview series with Bier en Brood and Telmo en Miel. Winners of respectively the award for Benelux + ABC Mural and Global Mural. Haven't read the other interviews yet? Check it our here and here!
Bier en Brood is a Rotterdam based duo consisting of Koen Harmsma and Jelmer Noordeman. Their motto is 'the bigger the better' and that becomes very clear on the 26 meter high wall of the Nederlands Dans Theater, The Hague, the mural with which they won the award with.
Congrats Koen and Jelmer with winning the award for Benelux + ABC Mural! Could you tell us more about how the collaboration between you, the Nederlands Dans Theater and The Hague Street Art came into being?
Thanks! It's part of the THSA (The Hague Street Art) project "Haagse iconen"; Icons of The Hague. In this project memorable icons from The Hague are painted around the city.
The wall which we won the award with is painted on the building of NDT (Nederlands Dans Theater), near the central train station. A lot of people were involved. First THSA with the director of NDT who admires street art a lot. Together they've come up with the idea to paint the side of the building. There was a lot of communication with the local authorities to make it possible. It is also a big building site, which brings some implications that had to be adjusted with the project developer. It also meant we could only paint at workdays between 7:00 am and 7:00 pm, at maximum. So that's what we did for 3 weeks. Luckily we had no boundaries for the design, and NDT was immediately excited about it, so that was very nice too.
Your work usually consists flowing lines and is executed in black and white. How did you developed this style?
We started working together around ten years ago. We made highly detailed drawings with a lot of cross hatching. Everything we made was in black and white. The idea is that you can get lost in the drawing and can keep wandering through it. Besides that it's the highest contrast you can get, and it sets the scene in a matching gloomy atmosphere. We were always obsessed with lines and line work and looking for ways to expand our pallet beyond our figurative work. Simultaneously we were experimenting in an op-art kind of way in which the abstract lines also give a sense of being lost and disorientation. So that's were we started to incorporate abstract graphic work.
About colour; most people tent to fall for the brightest colours available, especially in graff-, pop- and street art. We can work with colour perfectly but we feel that by working in black and white, the work we create is honest and without distraction. It's great to win this award using black and white!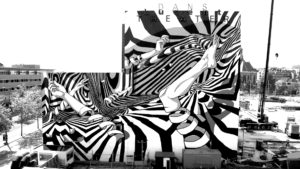 You work together as a duo. How did you met and how did the art formation of the both of you begin?
The Formation "Bier en Brood" started more than 12 years ago with essentially a group of graffiti writers who needed a "legal" name for a group expo. Later on the group grew with other disciplines like illustrators, graphic designers and autonomous artists. The group grew to around 13 people which had painting walls as a core, and also did expo's and things that come with it.
Then there came a point that people evolved in their own direction and continued for their own. Us two were still doing our thing working on our drawings and kept going ever since.
Are you always on the same line when it comes to murals and projects?
We have a lot of the same interests. But we also have our own way of going into a process. Jelmer works more from a technical perspective in which the sketch evolves during the making, in which some parts of a story are allowed to be unsolved and leaving mystery in. Whilst Koen has a more conceptual approach and a more thought out plan. Of course there are discussions sometimes, but they bring out the best in the work.
What do you want to tell people with your art?
We like to take the viewer inside an other world. And it's nice if it leaves a certain vibe behind in which the viewer considers it's thoughts for a change.
You won a 2 week in residence in Tampa, Florida + flight, a pop up expo and you're going to paint a mural in Florida, made possible by The Basel House. What are your thoughts on this prize? Any ideas for the expo?
Yes that's awesome! We have ideas already but they'll have to be more crystallized jet. We are going to put all of our bottled up energy in it, that's for sure!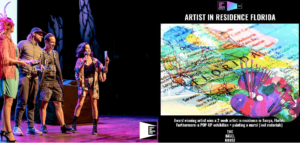 Thank you Bier and Brood! We're looking forward to your new murals and projects. Don't forget to check out their Instagram and Facebook.
Just like award winners Wojo, Daniel Mac Lloyd and Studio Giftig, Bier and Brood are also featured in ASA's Street Art Calendar 2019, which you can order here!
Telmo and Miel met each other at the Art Academy during 2006. Soon after meeting they realized they can learn a lot from each other and that combining their individual works together in to one art piece reinforce each. After starting their company TelmoMiel in 2012 they created dozens murals worldwide with their recognizable dreamy style.
Congrats on winning the award for global mural! You won with the mural `Like giving flowers to a fish´ in Saint-Denis, France. How did this project occur?
We were invited to paint this mural for a project called Street Art Avenue Grand Paris. An organization with the goal to have a street art tour by boat, as all the walls are located near or besides the canal Saint-Denis.
You're making murals worldwide, do you have thoughts about why this specific mural is the winning one? Did you expected this one to win?
We always have little knowledge on why one piece gets more credits then another. This one in particular was a bit more abstract then we're used to do, maybe that's the factor?
It's always an opinion, and it could easily have been another painting, or artist. We didn't expect this one to win anything when we painted it, I can say that with high certainty.
Your opinion is that perspective is one of the most important and interesting aspects of art. What else inspires you?
Inspiration comes in many forms, and for us it always comes in a different way. Sometimes other artists inspire, but just this week I took some pictures of brown/red leaves that were almost coming off the tree. It's hard to keep track of so many creative inputs out of many aspects of life. Iphone camera's should get a lot better in that perspective.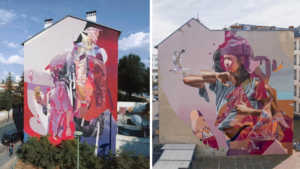 There is always a lot to see in your work. Are your works based by a story you want to tell?
Our artworks are usually visually initiated. We know very well what we want to paint and what we will do to process an image or sketch input. So, usually during that process of trying and looking and sketching we come up with the story that it could be about. But initially we start with visuals, getting inspired by new combinations of figurative elements. Afterwards looking for a logical story it can tell, and finish the artwork in that way.
This wall was the same process, first initiated the visual with the human figure with a huge backpack. Afterwards adding the flowers, in a giving pose. Then started to connect dots and thought about how our job sometimes is received (painting a wall in a neighborhood). On Instagram it seems maybe very high profile and such, but there are a lot of times we get harassed or screamed at by people. Sometimes you get to a place and it's like giving a flower to a fish. You give it with the best intentions, but a fish can't do shit with flowers. Just like our walls sometimes. We work on it with love and care, but some people just don't get it or can't appreciate it. And that's only logical, but a big and interesting aspect in our daily work.
And that's when I added the fish..
You won an all-inclusive paint trip to Aruba during the Aruba Art Fair including all materials, flight and hotel. Looking forward?
It's a crazy good prize to get! But to be honest we initially didn't realize this was the case! We still have to look for the right schedule window, but we wouldn't mind doing some snorkeling in between painting!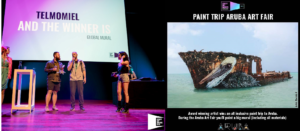 Thank you Telmo and Miel! We're looking forward to your new murals and projects. Don't forget to check out their Instagram and Facebook.