Where two worlds collide, magic happens, and that's exactly what went down when the KNVB suggested the art collective Kamp Seedorf to create 19 portraits of the Oranje Leeuwinnen, who are participating in the FIFA Women's World Cup 2023. Trusting Amsterdam Street Art to facilitate the collaboration.
The project called "Wall Stories" showcases seven art pieces dedicated to individual players, each crafted with inspiration from the player's personality and prowess on the field. The artworks serve as a symbol of support and encouragement for the national team. The idea for "Wall Stories" was brought to life when KNVB approached ASA for a project in collaboration with their partners: ING, Nike, KPN, Staatsloterij, Albert Heijn, and Bitvavo, to cheer on our Dutch women's soccer team during the FIFA Women's World Cup in Australia and New Zealand.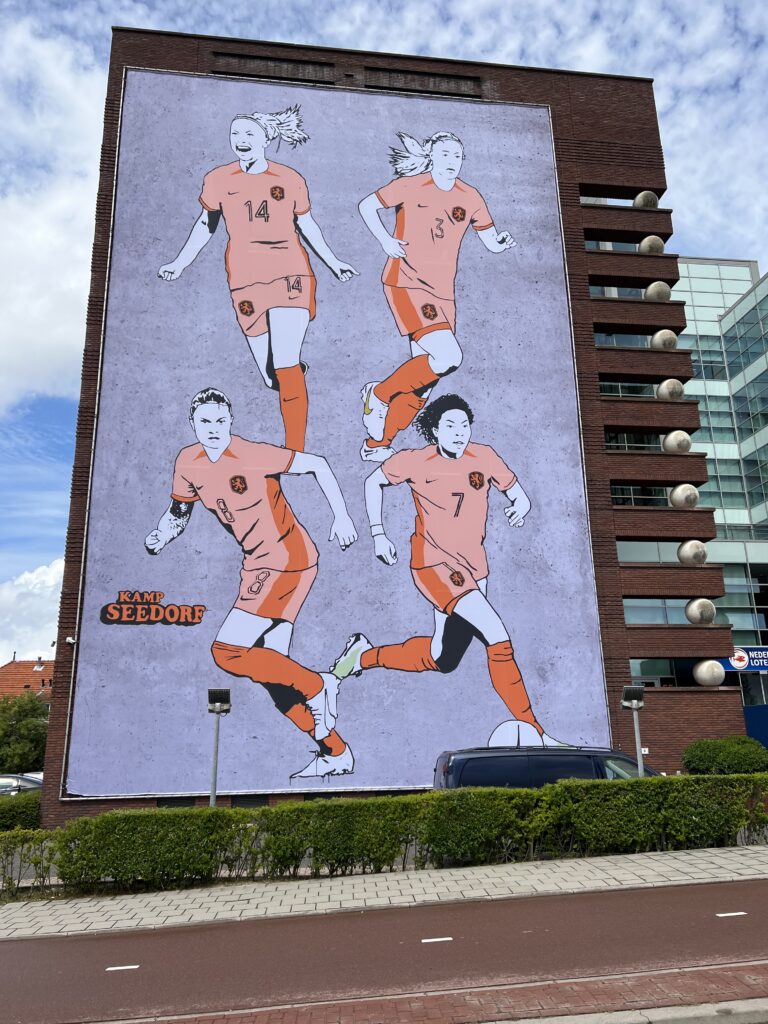 Kamp Seedorf was an obvious pick. The well-known art collective from Almere creates unique semi-permanent artworks, often paying homage to football players and other icons. Their art style involves hand-painted posters glued to walls, allowing them to be easily removed. Although semi-permanent in nature, their artwork has a long-lasting impact and can be found not only in the Netherlands but also in various other European cities.
When the concept is in place, and the artists are ready to bring it to life, it seems like a smooth journey lies ahead. However, where the corporate and art worlds meet, communication can sometimes be a challenge. At Amsterdam Street Art, we find ourselves bridging these two realms, striving to keep both the client and the creators satisfied while defending the essence of both parties. But sometimes it can feel like orchestrating a symphony of creativity and paperwork, getting on board property managers, marketing experts, and brand guardians while ensuring the artists' artistic freedom.
At times, challenges can be truly daunting. For instance, one of the locations turned out to be incredibly windy, making it impossible to sustain Kamp Seedorf's delicate art form. Another partner had no available walls at all. However, at ASA, we thrive on embracing challenges as they often lead to even more creative thinking. Through Google Earth, we explored various solutions, and at one location, we even decided to use an illuminated wall to showcase a digital version of Kamp Seedorf's work.
Looking back, we can confidently say it was a success, with seven stunning art pieces gracing the buildings of the KNVB's partners. As for the Oranje Leeuwinnen, we believe they can feel the unwavering support and encouragement all the way in New Zealand, where last night the football team held up a strong game against the USA. The score was 1-1.
Watch the making-off !