Meet Hytes. I spotted this band months ago at a creative evening for young talent in a club in Amsterdam. All though the setting was very small, these guys made a huge impact on me. The combination of their energetic, electronic music and complementing visuals on see-through screens made me happy but also curious. Who were those guys behind the screens? I contacted them for an interview (and asked them to open our Street Art Awards show, which they totally rocked).
Hi Hytes! Could you tell us more about how you guys started?
We were friends way before we created the project Hytes. We developed our skills separately in both music and visuals. Two of us produced music and DJ'ed for several years together and the career of our VJ was also going very well in the past few years. We always wanted to combine our ways of art in a new project, an audio-visual live act. After a lot of idea generation, testing and remodeling, the Hytes concept was originated.
From what do you get inspiration?
We get inspiration from many things like modern art and other music (different genres too). But also the environment we live in and the places we visit are often a source of inspiration to us. This can be anything from a crowded city like Tokyo or New York to a quiet mountain top or a jungle in Indonesia. And of course we get inspiration from each other! Sometimes a visual triggers a sound in our head, or vice versa.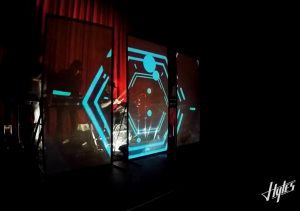 Where and what kind of performances do you have?
Our performances are mainly based in the Netherlands at the moment, but we would love to tour with our concept through Europe or even further around the world. We play at events where electronic music meets band-music. This can be a club or festival, but also some small creative events where music and design are the leading factors.
What do you want to achieve with your music?
We want to move people of course. We want to make them dance, smile or just let them really feel and experience something with multiple senses. Maybe that's what all artists want to achieve with their work, call up emotions and reactions.
How did you came up with the idea of combining music with your own visuals?
There was always a drive to combine these two aspects in one project where the visuals and music intensify each other. We try to trigger multiple senses, so the audience can really feel like being on an awesome trip with us during our live show. The project we had in mind to create this feeling is mainly about expression. This means expression in music and visual art, but we also wanted to get some physical expression by using a drummer doing live beats.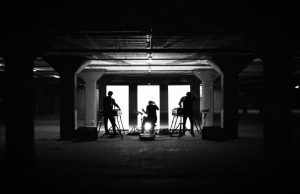 What do you want to tell with the visuals?
Sometimes it is just a feeling we translated into images, sometimes it's more of a vibe we have in our heads, created by the music. Until now it's more about expression than about telling a real story. But maybe in the future we will use visuals to tell a story. We think this will work well in some of our songs.
How was it to perform during the Street Art Awards?
Awesome! It was a great honor that the organization of the Street Art Awards asked us to open the award show. We really felt a connection between the Street Art Awards and our vision of expression through art. Street Art should be stimulated in a way and should be more acknowledged, so we were happy to help sending this message.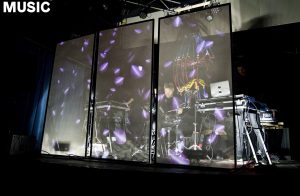 Can you find a link between street art, art and what you do?
Our vision from the start with Hytes was letting the music and visuals be the centerpiece instead of the artists. We as artists are important too, but in our concept we come in second place. That's why we decided to perform behind semi-transparent screens, it literally moves us to the background. This links back to Street Art in a way: Artists are often unknown, hidden behind their art.
What are your plans for the future? What else can we expect from Hytes?
Our creative process has just started. We really would love to work together with more creatives like other producers and vocalists. Expect our show to flow between danceable music and music you listen to (and watch). And we're working hard on getting our show to travel around the globe.
Curious on Hytes' sounds? You can find them on soundcloud and spotify.                Want to see them preform? Have a look on their Youtube channel or keep an eye on their Facebook to be informed where they're playing.