Street art is a strongly growing art movement with artists all over the world. The art form is getting more popular worldwide, including Hong Kong, where street artists are getting more attention every day. Like Bao Ho, a Hong Kong based and born artist of age 31. She is a self-taught artist, that's been drawing since her childhood. Working as a graphic designer for several years, she finally quit her job to be a full-time artist. Meet the universe of Bao Ho:
Let us introduce you to Bao Ho
In 2014, Bao Ho travels to Milan where she meets local artists that introduce her to the street art world. In the same year, she wins Secret Walls HK, a wall art drawing competition between artists. Bao Ho is known as the Queen of Street Art in Hong Kong (but we shouldn't call her this way as she is too humble and doesn't really like it neither). She even participated in 2015 at HK Walls, an annual street art festival during the month of March in Hong Kong. Since that time, she has taken all over Hong Kong with big murals and commissioned art by companies and offices.
Bao has been traveling a lot by being invited to street art festivals in, for example, Australia and England and private commissioned in Hainan (China). She does a lot of different projects in Hong Kong, both private and public, where she just creates her own inspired world free hand.
Hi Bao, how did you started to paint into the streets?
I like drawing since I was little. I became a graphic designer, but I realized it's quite far from what I really want to do. So I quit my job and started traveling. During my travels I met some street artists in Italy and they showed me the world of street art. The first experience of painting on murals amazed me and I fell in love with it immediately. That's how I start to do street art.
Where does your universe come from? What's your inspiration or references, if any?
My childhood was surrounded by Japanese manga and animation. I was very shy and not an outgoing person. I like to be alone and create my little world, stories and characters. So, I'll say my mentor was manga and animation.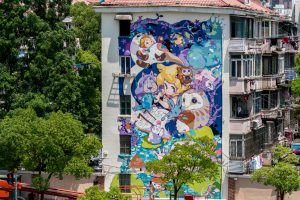 Lately, you have done quite a few commercial works in Hong Kong with big companies such as Microsoft, Google and Nike. How often do you have projects like these and how do you approach them?
It's hard to say how often as it's quite random. Sometimes there're a few in one month, sometimes there's nothing for a few months. Most of the time I get approached by my clients. I think they find me on my social media or website. And sometimes I got referred by friends or some old clients.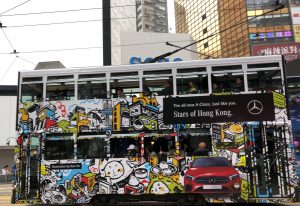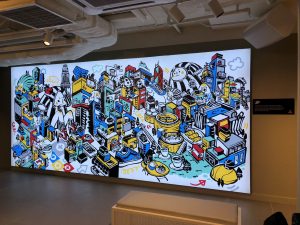 Do you create your works in a studio? Do you usually create what and when you want or do you most of the time make commissioned work?
I do my work at home. I really wanted a studio, but I can't afford it and most of the time I'm too lazy and prefer to stay at home anyway. I do create my own stuff quite often when I'm in the mood for it. I can do 5-6 sketches in one day or I do nothing for a few weeks. It all depends on my mood and if I'm inspired by something.
I've heard that a museum in Greece commissioned you a canvas, how did that go?
It's actually not really a commission but they invited me to send an artwork for their permanent collection which I think it's quite interesting, so I did.
You got commissioned by a school to paint their whole outside building and you are currently painting it. Can you tell us for how long you've been painting as I heard you were painting on – a Hong Kong specialty – bamboo scaffolding?
I got 2 friends to help for that wall and in total it took around 20 days on the bamboo scaffolding. Before I started I thought I would be quite scared of the hight and it would be too tough for me but at the end I made it. With the bamboo, it's quite difficult for sketching as you can't really see the whole thing when everything's covered by the bamboo. So most of the time I was only guessing. Secondly, it's quite easy to drop your stuff when you're on the scaffolding. We dropped almost everything we could drop like the paint, brushes, rollers etc. But luckily, we didn't drop ourselves.
Overall, what do you like the most, walls or canvas?
Walls, no doubt. The best way to share my work and my story to people!
And that's exactly what we like to hear. Thank you Bao Ho!