Last Friday evening, a group of artistic individuals gathered in Amsterdam's Reguliers Dwarsstraat in front of the WIHH Gallery. Passersby wondered what brought all these creative people together. Well, after four long years, it was finally time for the 4th edition of the Dutch Street Art Awards! In this blog post, we'll tell you all about the highlights of this event!
With an overwhelming number of 400 entries that were submitted, this edition was an extraordinary celebration of creativity, talent, and innovation in the world of street art. The jury faced the challenge of selecting the winners from an exceptional pool of talent. Oscar van der Voorn, Judith de Leeuw, Rico de Lange, Joost van Bellen, and Cathelijne Blok utilized their discerning eye and successfully chose a winner for each category.

The Dutch Street Art Awards aim to celebrate every aspect of the Dutch street art community while also recognizing deserving winners. During the ceremony, one by one, the winners were called forward to receive their awards. And for those who couldn't attend, we happily reiterate their names once again:
Most Intense Mural: Studio Giftig
Best Global Mural: Leon Keer
Greatest Gallery: Vroom and Varossieau
Freshest Photo: Sanne Gijsbers
Most Inventive: Street art Franky
Best Local Initiative: The Secret Garden
Best Message: Nils Westergard
Young Talent: Tycho
People's Favorite: Roos Art
This year's People's Favorite category generated outstanding excitement, with votes pouring in from enthusiastic supporters. A total of 5312 votes were cast, and we are thrilled with such an incredible response. As requested by many, we would like to present you the top ten in this category:

#1. Roos Art (837 votes)
#2. Jan is de man (566 votes)
#3. Studio Yasja (559 votes)
#4. Dopie (281 votes)
#5 Dodici (340 votes)
#6 Dazetwo (328 votes)
#7 Ravian Derriére (270 votes)
#8 Davore Smoljan (332 votes)
#9 Rianne Tekaat (188 votes)
#10 Gomad (147 votes)
The venue for this edition was the stunning 2200m2 WIHH Gallery (What Is Happening Here Gallery), located next to the flower market in Amsterdam's city center. The building previously served as the ABN AMRO bank, hosting the private vault of the former queen of the Netherlands. The space is curated by brothers Job & Joris Jan Reuten, who transformed it into a captivating venue for artistic exhibitions and events, providing the perfect backdrop for the awards.
Although the venue itself was already striking, we traditionally held a pre-party to create some cool art pieces to adorn the location. Artists Eklor, Tik Toy, Ox Alien, Spraycanjunki, Nicky Nahafahik, Hugo Mulder DHM, NOL, Ravian Derrière, Nouch, and Sick Society were all invited to contribute their outstanding artistic skills.

The awards themselves deserve a special mention as they were masterfully crafted by the talented artist 2fast. He created unique and stunning awards that truly reflect the spirit of street art. From day one, 2Fast is making these unique sculptures for the award shows and we are really thankful for this. Beside of the award every winner received a Thule backpack made possible by House44, a caged bottle of Monkey Shoulder (Same as the welcome cocktail) Some new creative items from Posca and 1000 NFT's presented by Legacynext B.V.
In between the official parts, the stage came to life with admirable performances. The opening act featured Silatboy, a talented 12-year-old who walked into the gallery earlier that day, proudly asking everyone to listen to his rap songs. At ASA, we hold a deep commitment to nurturing young talent (we dedicated a whole category to it), and it was decided right then and there that he would become the opening act of the Street Art Awards. We had the scoop as the song called "Katmandu Skyline" that Silatboy performed is dropping this upcoming Saturday. Later on, the breakdance performers wowed the crowd with incredible headspins, and Rapper DOEVOE, the main act, delivered an unforgettable performance that energized the entire room.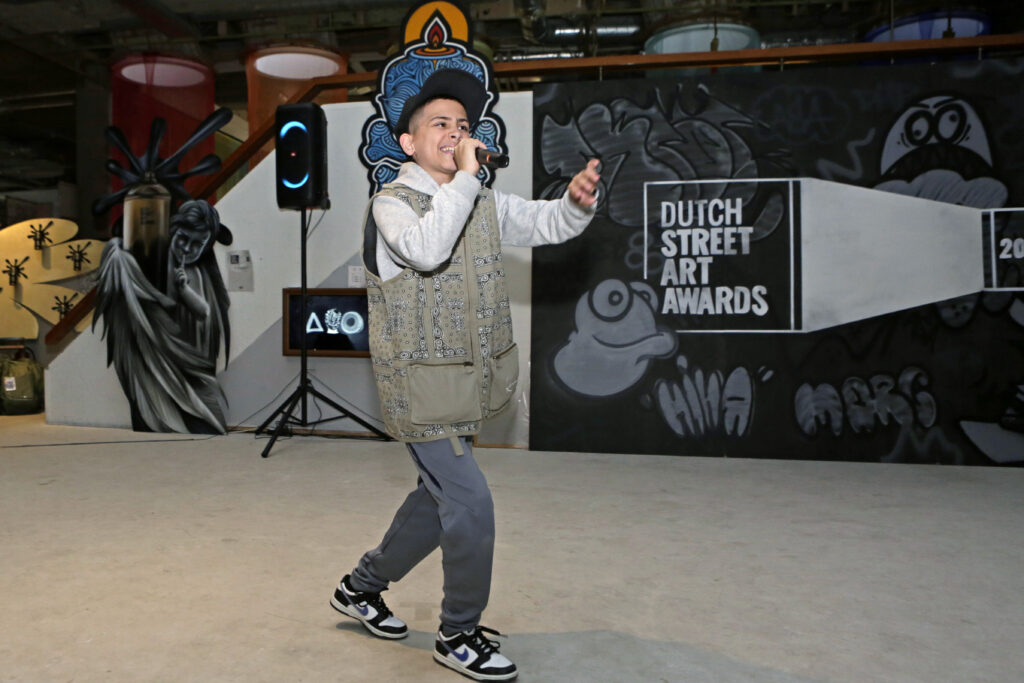 Another inspiring highlight was the animation created by our interns. The animation told the story of a street artist who initially faced trouble for illegally painting on the streets but later wins an award for her art pieces. It carried a highly relatable message. The music, produced by Reaubeau, added an extra touch to it. We will share this animation soon!
It goes without saying that this whole experience wouldn't have existed without the generosity of our sponsors. We would like to thank them for everything they did for the event.
Unfortunately, not everything went smoothly. Beside of the fact that MC DRT had a clear message, the audio experience fell short of expectations, and we share your disappointment. We take this feedback seriously, and we are committed to ensuring that our future events deliver better audio quality. We hope the well-filled goody bag eased the pain a bit. The goody-bag, this year was filled with a whole bunch of artists stickers, 8.6 beer, Fritz Kola, t-shirt by Laser3.14, Monkey Shoulder glass, fun package from The Greenhouse, bag with items from MTN and of course the colorful bag itself from GO Gallery.
Last but never least we would like to thank you for being part of this extraordinary gathering and for your support of the Dutch Street Art Awards. We look forward to welcome you again at the Street Art Awards 2024! 
Photo courtesy: Bjorn Martens