In his new exhibition, Dutch artist Dadara shows the heart of his new works, as well as his own heart. "There's so much to discover beyond the superficial". On Saturday, January 25th the exhibition 'Every Journey of a Thousand Hearts starts with a single Beat' opens at KochxBos Gallery.
Open your mind / Open your heart
As part of this project, Dadara witnessed a five-hour-long open-heart surgery. Like an astronaut who sees a different world once he has watched Earth from space, Dadara was profoundly changed when he saw a live heart beating. "I'm always conscious of my brain, but only now have I become profoundly conscious of the continuous beating of my heart."
Dadara's work is like a tweaked, magical mirror, which reflects our society and blurs the line between reality and fantasy. An overview of his work is presented in the book 'Open your Mind, so we can use your Data', which was published last year.
This book came to the attention of the cardiologist who was involved in the heart surgery of both of Dadara's parents. While browsing through the book, the cardiologist realized that something was missing. "Open your mind? Open your heart!" thought the heart specialist. He invited Dadara to come to witness an open-heart surgery.
Crown Jewel
Dadara felt a deep connection with the heart surgeon, who like Dadara worked in a deep state of concentration, somewhere at the border between logic and intuition. Even though a heart surgeon is expected to work rationally, the act of performing surgery on a heart is partly beyond reason. The realms of the mind and the heart converged at the fingertips of the heart surgeon, as they also converge in Dadara's pen.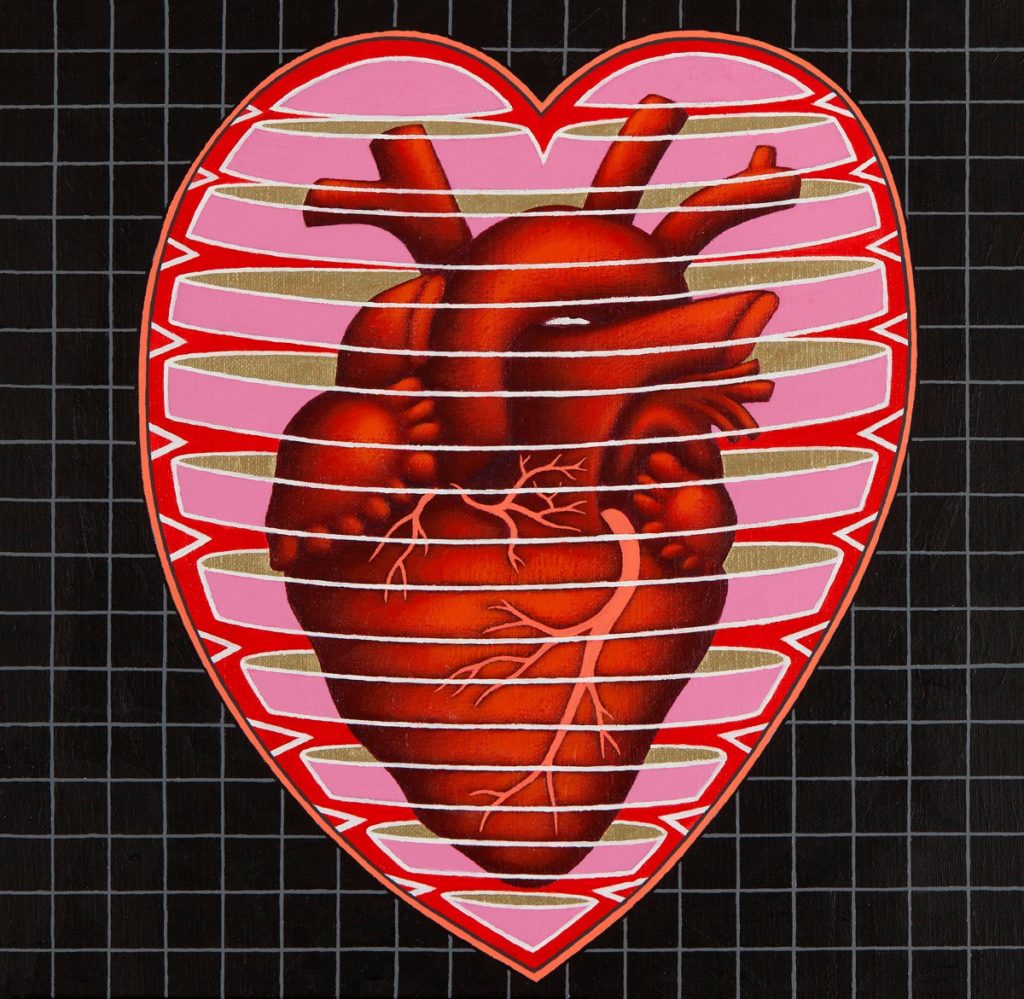 This inspired Dadara to create a series of works that put the heart center stage. The heart is an organic machine: all of life compressed to the size of a fist. It is the center of our world, the body's engine with two halves that complement each other like Yin and Yang.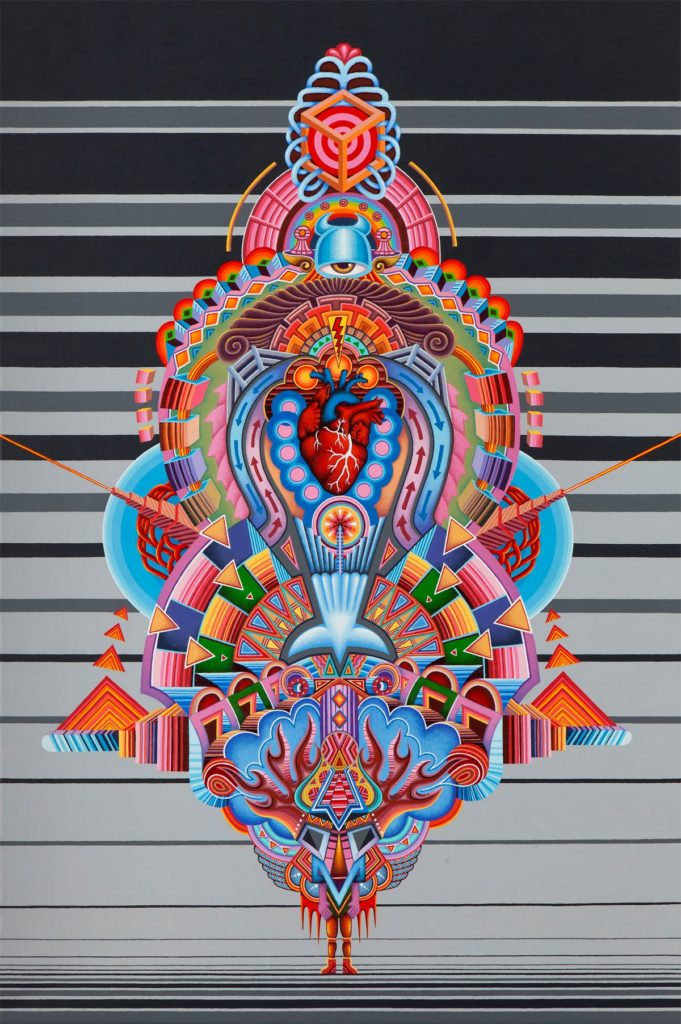 Hundreds of thousands of Dadara's heart beats now lie encapsulated in a pen drawing almost three meters wide: Every journey of a thousand hearts starts with a single beat. A work that he created in Japan over the course of a two-month trip.
Dadara also created a painting of a heart with a 'Supreme' logo printed on it, Supreme being one of the most hyped brands of the moment. "The heart is the most personal thing we have, but even this is not safe from hypebeast mania." The exhibition also features a picture of a meditating heart, trying to keep its peace amid a haywire mandala of raised middle fingers. What's more, Dadara made another painting of a heart using his own blood. It doesn't get more personal than this.
Eventually, Dadara himself entered a CT scanner, in order to make a three-dimensional cast of his heart. This heart – solid gilded silver, with sapphires accentuating the veins and arteries – is placed like a crown jewel at the center of the exhibition. Dadara: "My heart is the heart of the show."

To celebrate the upcoming exhibition, we give away one of Dadara's books Open your mind so we can use your data. Fill in the form below by showing us your favorite Dadara work!
The winner will be informed via email January 24. We're looking forward to your submissions!
Win!
Show us your favorite Dadara work that stands out the most and win his book!
Every Journey of a Thousand Hearts starts with a single Beat
Saturday 25 January until Saturday 15 February
Opening: 25 January, 17:00 – 20.00, Dadara is present
Music Thursday, January 30, live performance of the composition 'Every Journey of a Thousand Hearts starts with a single Beat' composed especially for the artwork by Brandon.
KochxBos Gallery
Eerste Anjeliersdwarsstraat 36
1015NR Amsterdamgallery@kochxbos.nl
Dadara
Dadara's artistic development is a fascinating journey, originating in Amsterdam's house culture in the early nineties. Flyers, record covers, and crying baby speakers marked the start of an impressive career as a designer, cartoonist, and painter. After the turn of the century, Dadara focused more and more on extravagant installations and performances and was also the first ever international artist to build a big project at Burning Man in the USA. The last couple of years he has again concentrated more on his drawing and painting work, in addition to various guerrilla art actions around the world, such as covering the iconic 'I Amsterdam' sign last year with huge banners and fences as a commentary on gentrification.