From February 4th to 18th Learn & Skate organizes a charity auction at Paddle8 with unique artworks by international urban artists. Learn and Skate is a non-profit organization based in France dedicated to bringing culture, education, and skateboarding to disadvantaged countries. 
FASIM is one of the participating artists and tells the story behind his participation.
"Some time ago I received another message from Jean Claude Geraud announcing that they were preparing an auction in Mongolia, in Ulaanbaatar, this time it was to help by building a skate park in an area of Yourtes (Moghul stores), and to be able to pay teachers to provide free education to the children. I said that I accepted almost without thinking, it had been a long time since I had had contact with the organization, I have been very concentrated in a lot of work to be done and particularly in some years, I have not moved from my workshop in Valencia."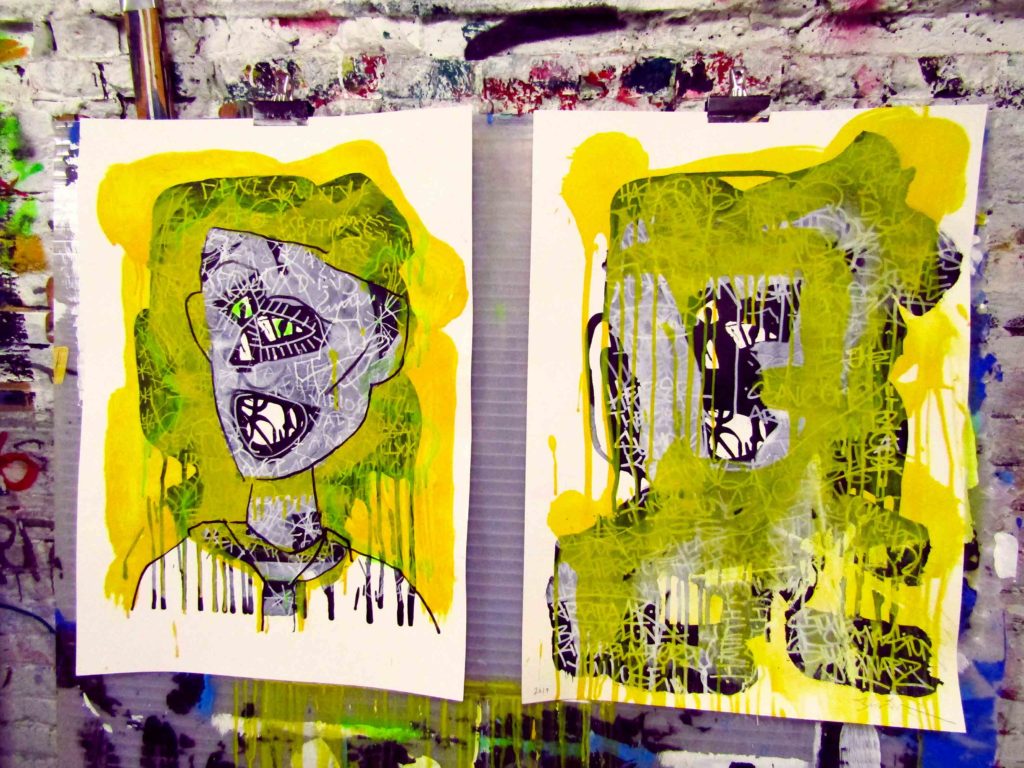 "I had already participated with Learn & Skate (Roulez Petite Ougandais) in other auctions, not all of them beneficial but to raise funds. In the first one I did with them I sold a skateboard and I was very happy because I could see the process of assembly of a skate park in Mukono, in Uganda. Before, there was nothing but a very badly paved track full of holes where the children didn't even have shoes to skate (although I could see them doing incredible things with the boards) to the integral construction of a decent place to practice and train. Apart from supplying them with regular equipment such as boards, proper shoes, wheels and all sorts of gear, it was enormously emotional, one of the most grateful things I have been able to do with my painting, which is very powerful. Then you could see the pictures and the videos of the guys well equipped and with good boards doing some tricks with a style that I recognized right away that I could see, that was native, an unmistakable local style, enormously creative and improvised, very spectacular."
"They raised funds with the help of Haroshi and bought the land where the track will finally be located. For this occasion, the adventure is to get €40,000 for the construction of the skate park, which frankly, I hope and desire that they get it. But, I have no doubt because I have seen the determination with which Jean Claude works, whom I admire for his tenacity, industriousness and initiative."
"A few months ago, I was working on a series of retouched silkscreens when I received the proposal by mail from Jean. While reading it I observed from the side some of the latest works still wet and I immediately thought of using some of that series. The story of the series begins with some silkscreen prints that I edited a couple of years ago, which I tried to do myself, but I could not do it manually because there were large masses of badly covered. So I had to look for a studio in Valencia that could finish the work with some silkscreen octopus and fortunately, I found La Frera Ediciones and we could finish it without any problem. Although I had a lot of material left over from both silkscreen prints. One day I started to paint them timidly, trying them out, but immediately and almost without realizing it, I had started two series of retouched silkscreen prints that have ended up in two beautiful collections of totally unexpected originals that are happily welcome."
Learn and Skate is a non-profit organization based in France dedicated to bringing culture, education, and skateboarding to disadvantaged countries.
The following artists are joining the auction:
1010, Dementia Beivide, Sandra Chevrier, Charles Collet, Martha Cooper, Cryptik, Daze, Olga de Dios, Roby Dwi Antono, Ekiem, Emyr2, Dias Faez, Fasim, Adam Handler, Yuri Hasegawa, Maleficious Heart, Indie 184, Jaune, Jan Kalab, Korail, L'Atlas, Levalet, Rubie Maza, David Mesguich, Misterio, Mr Cenz, El Xupet Negre, Tran Nguyen, Steve Olson, Poni, Remed, Rero, Evan Rossell, Siker, SismikAzot, Bisco Smith, Smithe, Stohead, Superstop, Tavu, Tieri Trademark, Xerou, Phoebe New York, Ernest Zacharevic, Zalez, Thierry Ziegler, Mariana à miseravel.
The funds from this auction of international artists will be used to build a skatepark in an area of Yourtes (Mongolian stores) and pay teachers to give free English, Japanese and art classes to the children of Oulan Bator in Mongolia.
With Haroshi's help, funds were raised to buy the land that will be used to build the skatepark, and the remaining funds support the cultural center project established in May 2019. See the full auction on the website.