It's fair to say that Street-Art has developed itself as an art form and that the acceptance of it by the general public is at an all-time high. The road to acceptance knows many important components and a gallery can play a big part in that. Every artist that has ever exhibited his work in a gallery knows that there are many (un)written rules to which they have to keep. This doesn't mean that there isn't a deep appreciation of the work that a select public would see on the streets. As stated before, a gallery has a very important role. Through clear written agreements they prevent any misunderstandings so that they can achieve a successful exhibit for the artist and themselves. We at ASA can attest that we have enough experience in setting up exhibits and preserve the artist his interests. ASA functions on a regular base as a mediator between the underground urban art-scene and the commercial art industry. We hear some disturbing messages on a regular base about agreements that aren't being fulfilled or were the artist is literally left out of the deal. There are always 2 sides to the story and it's not achievable for us to take a side.
Disclaimer
It is not our intention to badmouth the gallery in this particular story. We appreciate the opportunity that has been given to us by them. Sadly it is a "good" example where we, as an organization, have been directly involved with that didn't end on a positive note. We like to shine a light on this prime example. Take this lesson into consideration, and perhaps you can learn something new after reading this article. The situation below is based on facts and told by us to express our displeasure and impotence about the way this gallery (Exact Science Gallery, Hollywood Los Angels) worked with us.



What happened
In 2014, our show got visited by the owner of Exact Science Gallery (Drew Trela) during the Amsterdam Art Fair in Wynwood Miami. Hij showed great enthusiasm in the works of the artists that we brought along; Sober Industries & Beazarility. He wanted to take the works back and exhibit them at his gallery in L.A after the show in Miami.





This involved a giant wooden sculpture with 3D mapping by Sober Industries and 6 glass works of Beazarility. For the artists, it was a great honor to get that recognition and also to see their works being exhibited in Hollywood. Drew took care of the shipping from Miami to Los Angeles and would also take care of transporting the works from L.A to Amsterdam after the exhibit of 6 months. These agreements were written down and signed by both parties.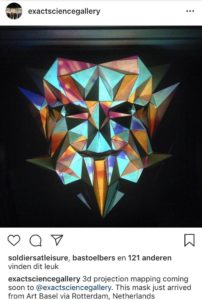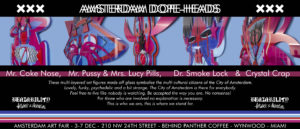 Soon we noticed that we didn't get any response from Exact Science Gallery nor did Drew answer the multiple phone calls or e-mails that had been sent to him. Next, we noticed on Instagram that the gallery was hosting various events which included; Adidas Supershell release (with Pharell Williams) and also Gangsta Boo of Three Six Mafia got spotted during an event in the gallery. The fact that the big wooden artworks needed to be shipped in heavy cases didn't make it easy to send someone from our side to pick them up.





Eventually, we decided to send some friends over from L.A to ask the gallery about this situation. When arrived, the gallery expressed their deep apology and showed that the heavy crates were ready to be shipped back to Amsterdam. A few weeks later passed and we noticed that these claims weren't followed through. Again there was no reply to our calls and e-mails. The staff of the gallery, who we spoke to sporadically, told us that Drew isn't that much of a trustworthy person that honors existing commitments.

But then
All of a sudden, on the 14th of March 2018, we receive a DM from Exact Science Gallery on Instagram. The works would be shipped again and they even sold 1 work. After sending out our address (again) for the shipping and receiving the money of the sold artworks we felt a gush of hope. Due to financial problems, he wasn't able to transport the works back to Amsterdam but this would be done in a few weeks.



On the 15th of May, we started asking questions again about the status of the artworks. Sadly we haven't heard from Drew till this day.

Here's the deal
A frustrating tale in which the scam antics of Exact Science Gallery, and in this case Drew Trela, made us believe on multiple occasions that we would receive good news. Since we, after all these years, don't have any trust in receiving these artworks from Drew we came up with a new plan. Artists, art-lovers and collectors in L.A and the L.A Area. You are accordingly invited to swing by the Exact Science Gallery and pick up the works. The artists would appreciate it of course if the works come back to them one way or another. Of the 5 artworks, Beazarility decided that the initiator can keep two of the works as a reward. If someone reads this and want to pick up that role please contact our editorial team before doing so. The works should be reunited with the artists, so If you know a spot or collector let us know!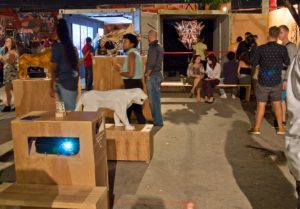 Of course, everyone is more than welcome to take a look at EXACT SCIENCE: Art Gallery & Lifestyle Brand 7565 Melrose Ave. Hollywood, CA. Visit them from 11 AM – 10 PM, every day or send them a message to their Instagram account: www.instagramcom/exactscience
Cheers,
Amsterdam Street Art

*** UPDATE ***
After publishing this blog 2 months ago we immediately received an upset message from Drew of Exact Science Gallery.
He promised to arrange money to send back all the artworks. He kindly asked to give him two weeks to arrange the money.
We agreed on this but also told him that if he breaks his promises again we still gonna publish the article. So guess what, after 6 weeks we did not receive anything, no artwork, no reaction, nothing…
So the deal mentioned here in the article is up again. Feel free to visit Exact Science Gallery in Hollywood to pick up the artworks and you can keep two pieces for yourself.
Any comments or suggestions on this article are more than welcome. Feel free to send an email to: info@amsterdamstreetart.com