The 3rd edition of Parees Festival in Oviedo, Spain, ends with 5 new murals from national and international artists
Parees fest have just wrapped their 2019 edition. Parees is one of our favorite festivals and is held each year in Oviedo, Spain. This year was the 3rd edition and the residents of Oviedo have five new murals to enjoy. The addition of these five murals brings the total number of murals to twenty-three. An incredible number for a town numbering some 200,000 people.
This year brought Mina Hamada, Hedof & Joren Joshua, Udatxo, Catalina Rodríguez Villazón y Matth Velvet together to create magic on the streets.
Mina Hamada
The USA born artist (although she grew up in Japan) resides in Barcelona. Mina based her work on the illustrations of animals and plants drawn by children of two public schools in the neighborhood. The architects were four and five year old Poeta Ángel González and Carmen Ruiz Tielve. Creating a colorful and imaginative world of fantasy full of funny characters named by Mina herself as 'dancing horse, worm cat or giraffO' among others.
Location: Poet Ángel Gonzalez Public School. C/ Molín de Toro, 1. La Corredoria, Oviedo.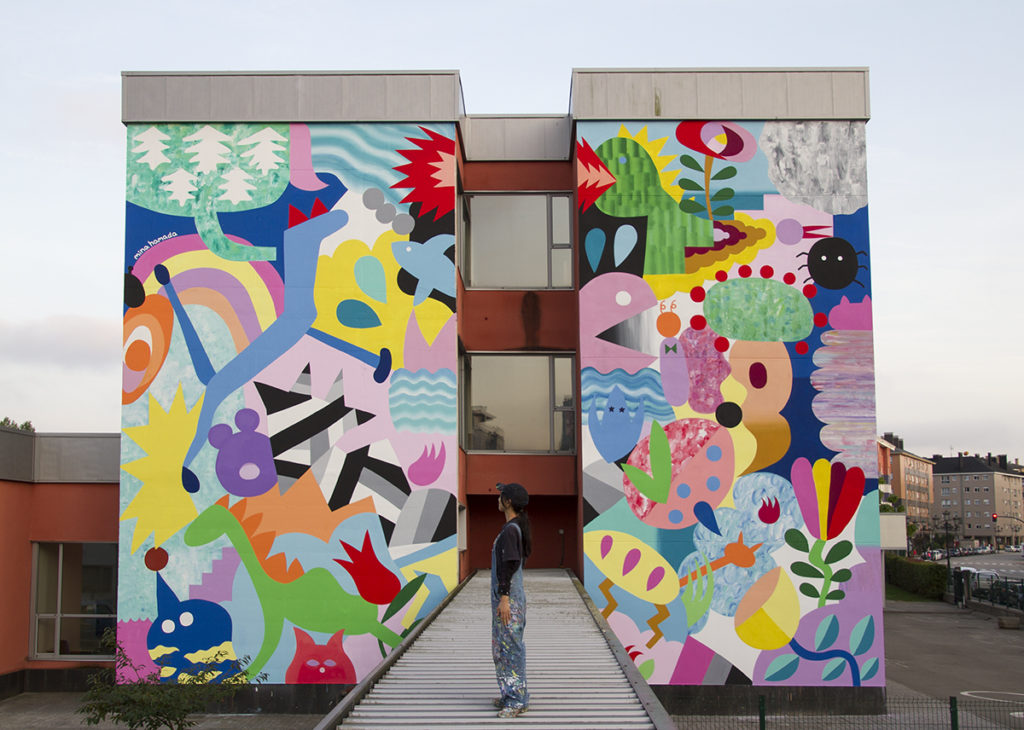 Hedof & Joren Joshua
These two artists from the Netherlands collaborated together at Parees for the 1st time ever, painting a wall that represents a tribute to some traditional sports in Asturias. In this instance, cutting logs. Through a contextualized participatory process, Rick and Joren got several pictures as well as a lot of information from local associations in order to create their artwork.
Location: Tenderina Alta, 55. Oviedo
Udatxo
Situated in the backyard close to an old bar near the main hospital in Asturias (HUCA), Udatxo created her piece for the festival. The talented artist from Basque Country reminds us of the history of the neighborhood through a mural full of light and sensitivity which was created taking antique pics as a reference. The main figure in the painting, a self-portrait of Udatxo, contemplates an everyday postcard of the area while some inhabitants of the place look at her from their homes.
Location: C/ Los rosales, 7, Oviedo
Catalina Rodriquez Villazon
This artist from Asturias, specializes in watercolor technique. Catalina paid tribute to the gigantic legacy of local scientist Margarita Salas with her real first outdoors intervention in a proper wall.
Location: Celestino Álvarez street, El Cristo, Oviedo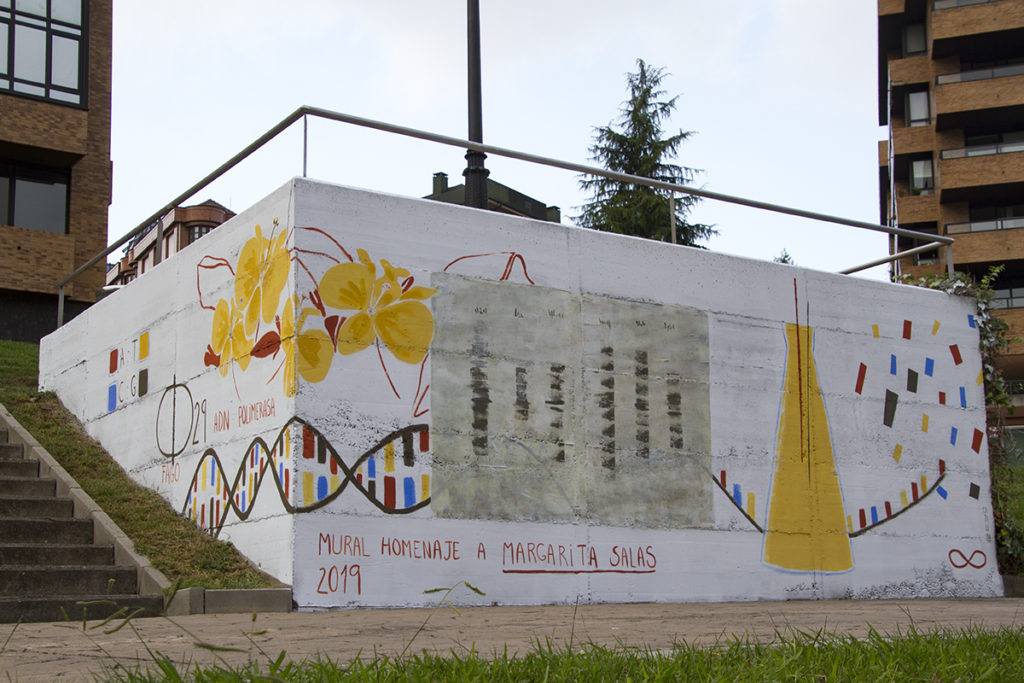 Matth Velvet
The French artist created 'Les Indes Noires' (The Child of the Cavern, in its English version) in Olloniego. The name of the mural comes from the original title of the Jules Verne's novel that was published in 1877. Velvet's work is a homage to the mining background of the village and to its humble and hard-working people, having used old photographs and conversations with some of the neighbors for a better knowledge of the history of the village through a participatory process. Olloniego's mine was closed in 1993.
Location: Oviedo AS-242 road (Olloniego)
All photos by @mirahaciaatras and Fer Alcala