World-renowned Spanish duo PichiAvo have just completed their first art intervention in the city of Barcelona. The duo from Valencia have painted a mural on the facade of the student residence Livensa Living Diagonal Alto of Temprano Capital Partners, designed by the Portuguese architect José Quintela da Fonseca.
The design of the mural displays a very particular version of Pallas Athena's sculpture from the Austrian Parliament, in Vienna.
Despite not being a contemporary figure, Athena has become a key figure in the collective imaginary of our civilization. Being a representative character of diverse feminist schools of thought, this goddess represents the warrior, protector, wise and independent woman.
As part of this intervention, PichiAvo gave our local Barcelona resident Lewis a little of their time to discuss the project amongst other things.
Hi PichiAvo! Tell us a bit about yourselves, how long have you been spraying on walls?
PichiAvo started as a duo in 2007 and we have been working together since then. Besides, we used to paint graffiti before that, both of us use spray cans since we were 17 years old. We started in our home city Valencia painting in the streets.
What was the original inspiration for grabbing a spray can for the first time?
Both of us are connected to art since children, spray cans were only another tool to paint. At the same time, we were attracted to the world of graffiti since the very beginning. I (Pichi) discovered spray cans in secondary school through a friend of mine and then I never quit. Avo started experimenting with new techniques and got caught by the art of spray paint.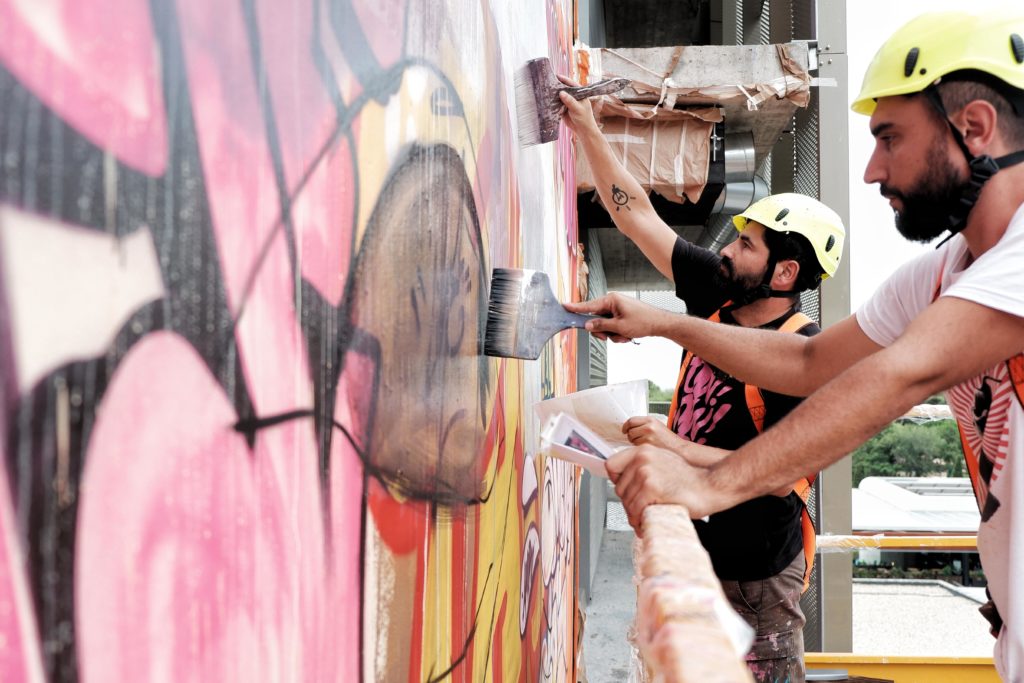 You will have been asked this question a million times… BUT how did you first come to mix graffiti with finer arts to create your current style?
We were focused in achieving technical skills with spray paint during our first years of career. Once we were satisfied with our technique we wondered  "And now, what else?", and we try to go one step further combining our graffiti with what we like the most: Classical art. The result is what you see today.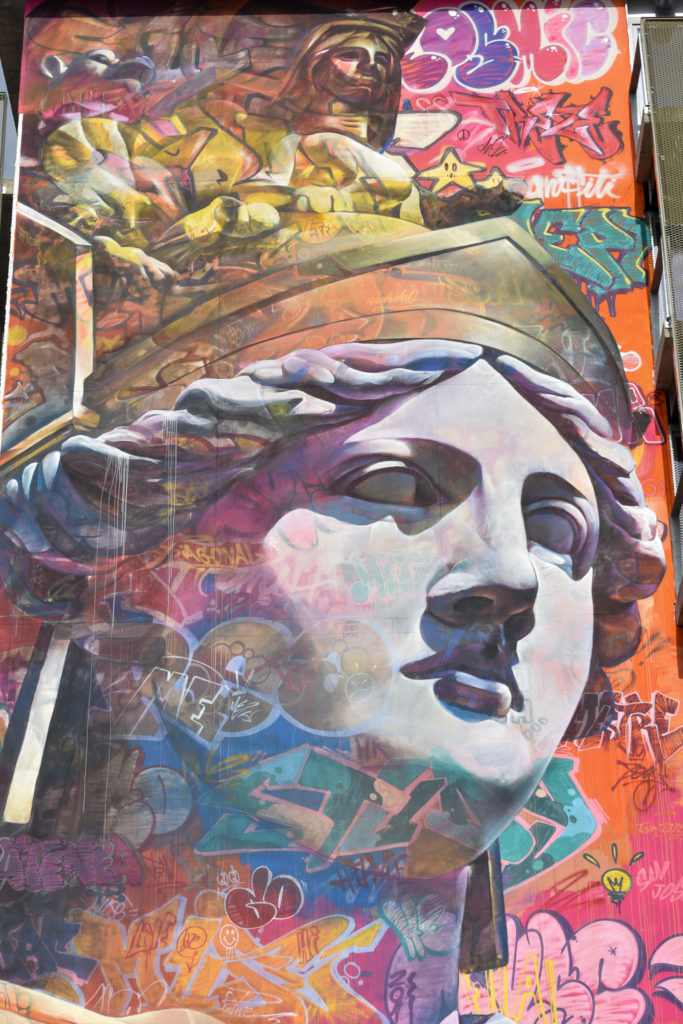 You recently finished a mural in Barcelona, can you tell us a little bit about the experience? The weather has been pretty interesting whilst you were here! 
Barcelona is a global city and an important artistic hub, leaving your mark here is always interesting. The experience was great despite the rain and the wind, we are glad of having painted here.
Is this your first wall in Barcelona or have you been here over the years doing smaller works? I ask this because of a piece outside an abandoned building here that looks very much like your work. The piece must have been there a very very long time by the looks of things!!
We have painted in Barcelona before. Some years ago we did an indoor mural for the spray paint brand Montana Colors in their headquarters/gallery space. We haven't made that piece in Poblenou but we are aware that we have many followers all over the world reproducing our style!
Just thinking about the process of a mural of this scale, are you guys at a stage in your career together where you are able to freestyle a whole project like this (almost like telepathy between yourselves) or do you still work from sketches and plan it all meticulously beforehand?
Art is a process, it takes time, there are some steps to follow. We do always sketch everything before since the piece must have a concept, a connection to the wall, the composition has to be balanced. However there is always room for improvisation, we always paint freestyle graffiti in our creations.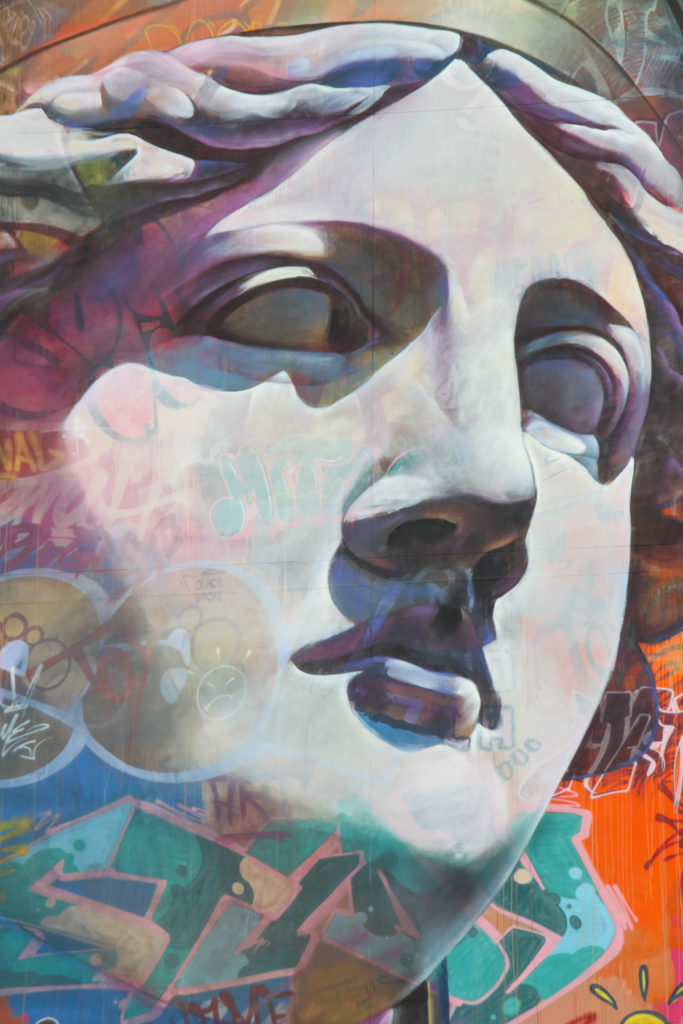 Is a piece ever finished in your eyes?
We could always keep working on a piece, you can always find something to change or improve, most artists experience the same feeling. Walls are different, they compromise many resources, time, people, so deadlines have to be fulfilled
Do you have any crazy ideas/projects that you'd love to do one day?
We have many, and we have already done some others! Many people call us for huge-scale projects, it's like they link PichiAvo to big walls and sculptures. We want to explore more media and techniques, keep working in 3D pieces.
What do you like to do with your non-painting time?
We spend most of our time traveling, so we try to explore the cities where we are, meet local people, try their food, listen to their music. We like everything that has something to do with creation and culture.
What's the ideal soundtrack to a day's painting?
We take our speaker to everywhere and we listen to music during painting, Avo is the DJ. There is always some hip-hop, rock, pop and classical music on the playlist.
If you could have one superpower for the day what would you choose?!
Difficult question… Pichi would like to have the power to read other people's minds, and I would definitely like to be able to travel back in time.
What's next for PichiAvo?
We are traveling now for three months non-stop and we will still be on the road until the end of the year, we have projects in more than 10 countries. After that, coming back to the studio for new ideas and experimentation. We are working on future walls, solo exhibitions, new editions, etc.
Have a look at PichiAvo's Instagram to see what they're up to!
Visiting Barcelona for the first time?