The third round of the "CityCall" fest, organized and implemented by UrbanAct in the city of Volos, has just been completed. Pener participated in the 15th and 24th primary schools.
Pener mentions about his mural: "With large realizations in public space, I try to embed my works in the context of space. For their creation,    I often look for inspiration in the wall itself – its color, block or architectural details. These are simple starting points that can be used well."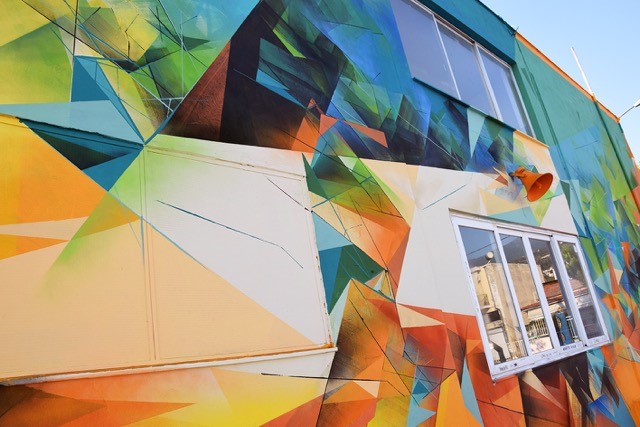 "In the work that was created in Volos in Greece, I was inspired by the building of the school – its energy, and a tube/megaphone which is a very strong accent. I used it in the composition as a key element. Which signals the noise of the children running around the school. Expression, dynamics of the composition reflect the energy of the place – pitch, break in the lesson, fun, dynamics. I set color strongly on the principle of elements that I associate with Greece – azure water… fire/hot from the sky… nature's green/olive trees."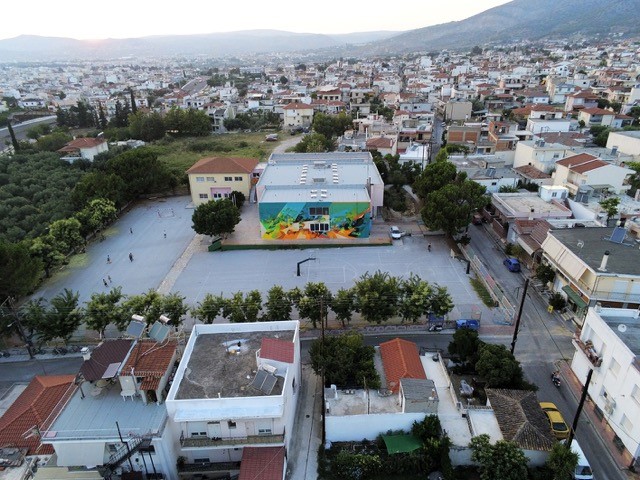 "I based the composition around two windows and I tried to mix the colors in such a way as to underline the dynamics of the place… and fasten everything in some buckles… integrating the elements of youth and nature… I hope I succeeded."
The program of "CityCall" is under the auspices and support of the Municipality of Volos, DOEPAP-DIPETHE, and supported by the following companies: Flame (graffiti spray), Meraki Cafe, Svolos, Noodle's, Village Village, Philomila, Tzikas Petros / Scaffolding, Aerial.gr, ISupportStreetart.
For beautiful cities, with free public spaces and participatory citizens.