In 2016 we organized the first Dutch Street Art awards together with our creative partner Boomerang. In the Netherlands, urban art and street art don't bear the image it should have. They both are veritable art forms just as fine art, painting, and sculpture are. Urban art should be integrated more favorably into the art world. Urban artists often have strong, socially-charged, political messages, defining the essence of what art should function as, in combination with exceptional skill. Using the urban landscape as the canvas, street art is arguably the most democratic form of art. It is free to view. It is truly for everyone.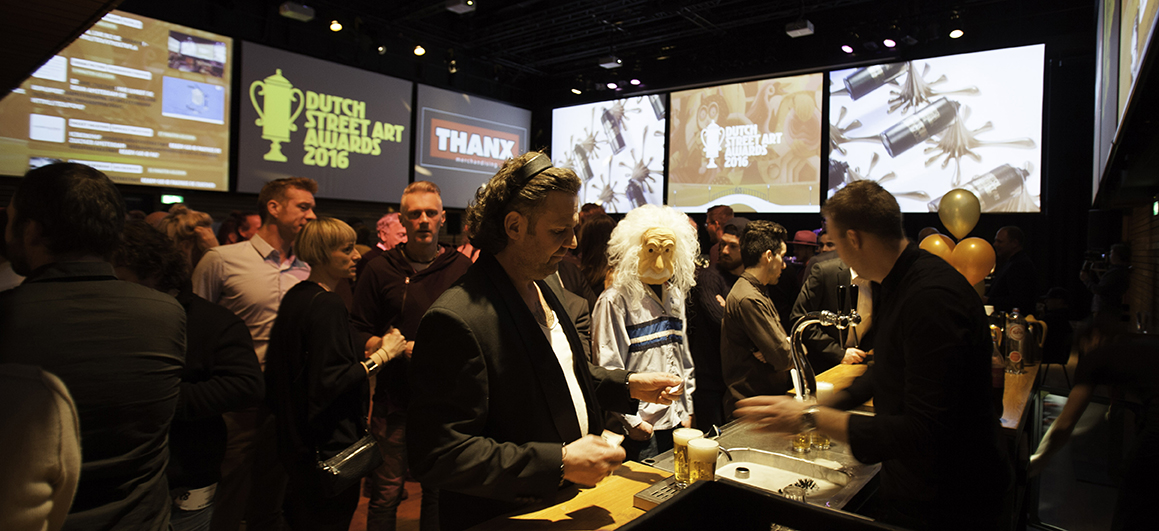 During the first award show the artists actually walked the orange carpet, were welcomed by giant famous street characters and we had an evening filled program: a lecture from the Amsterdam Museum, an art exhibition, a dinner for all nominated artists, breakdance acts, scratching kings, a street related fashion show and an open bar. After the event, everybody went home with a well-filled goody bag.
The jury during the 1st edition of the Street Art Awards:
Ben Eine (London street art legend)
Hedy D'Ancona (Former Minister of Culture-Independent Art and Crafts Professional)
Annemarie de Wildt (Curator of the Amsterdam Museum)
Bert-Jan ter Braak (Chef-Art at newspaper De Telegraaf)
Ans Markus (artist)
D*face (London Street Art Legend)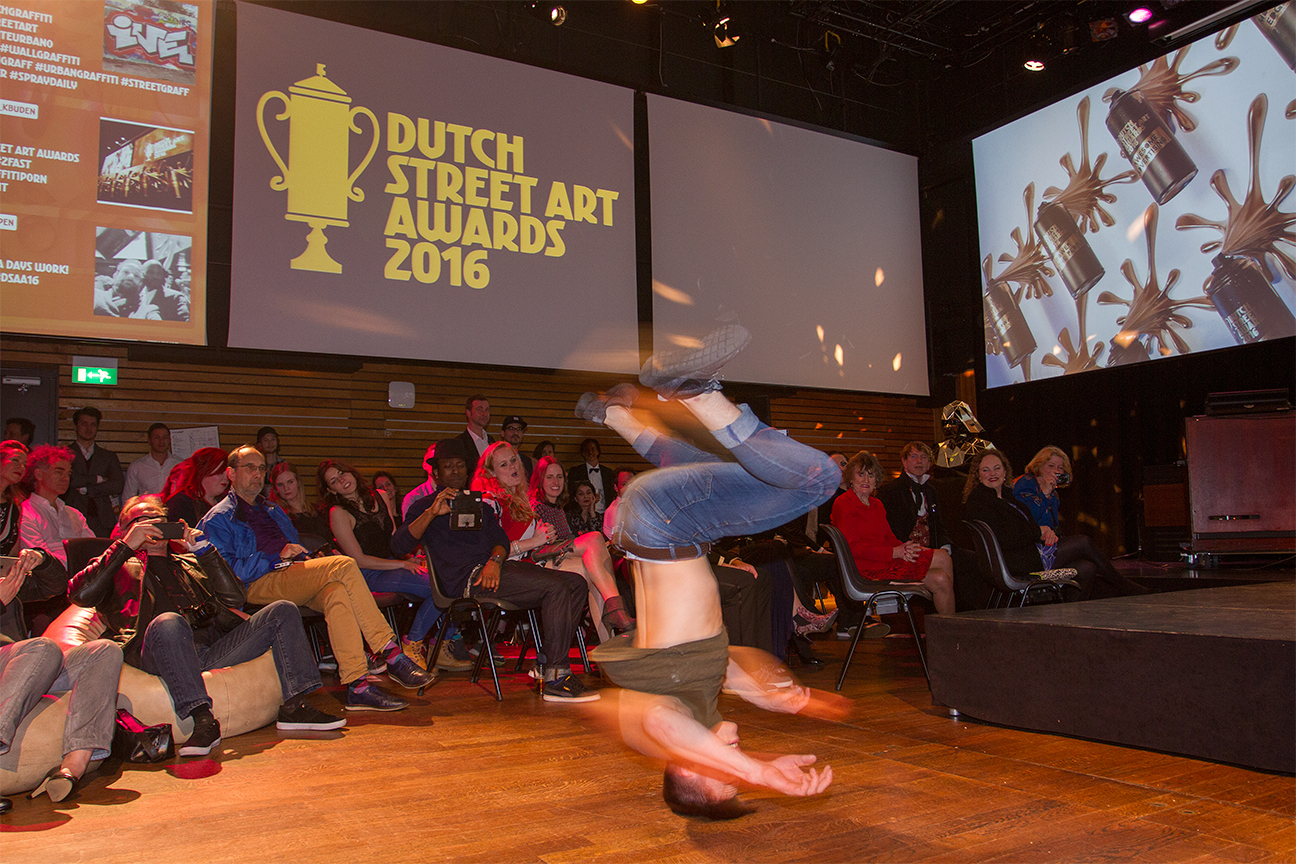 Check out the after movie from the 1st edition of the Dutch Street Art Awards:
Motivation:
2015 was the year that Ikea launched their Street Art collection and when Mac Donalds collaborated with Bushwick Collective to present a Street Art or what so ever called burger.
With these things in mind, we came up with the idea to do a Street Art award show. Not because we thought the scene needed it but more like, if we don't do it, maybe a commercial brand like Ikea or Mc Donalds will do it…
For us, it was more like a cool night out with a lot of fellow artists, music, some beers and for the few lucky ones an actual price. It's not about being the best, it's just more a moment of realization that we all work on the street and most of the time don't get the actual credits that we do deserve.
On a daily base, we run a big platform to show the world the awesome works artists make worldwide. We are artists ourself so we thought we would be the right organization to host an award show like this. This doesn't mean we don't want to work with a commercial party. Not at all! But if we do it, we do it our way. We do it with the right feeling, the right point of view and follow the unwritten rules. Actually, this is the only way it will work.
.Company: Amsterdam Street Art & Boomerang
.Category: Concept development.
.Mission: Create a unique event to award artists from the street.
.Skills used: Production, design, promotion, organization.
Media:
Widewalls
Would you like to create a really innovative experience? Then ASA is the partner you are looking for. We can put together a total experience around your product, message or theme where several urban disciplines reinforce each other.
For several clients, ASA developed multi-disciplinary concepts. Within these concepts, street art is combined with, as an example, urban music, and interactive workshops. The total experience has a reinforcing effect to keep the target group actively involved and to realize the underlying (commercial) goals. Due to the diverse experiences we offer, the crossover of several elements results in an urban lifestyle based on your brand or product.
Please fill in the form below if you would like to have more information or if you would like to work with Amsterdam Street Art.