People tend to forget that great artists had to put in countless of hours and dedication to master their craft and skill so that we can enjoy their artwork. In Amsterdam Street Art's latest blog series:"My life in pieces", we're taking a deep-dive into the artist's portfolio and ask them which art pieces have a significant meaning for them and their career. Today we're meeting up with graffiti and urban clock sculpturist; TikToy.
Biography
Tiktoy started his graffiti career in 1993. At that time he was also painting and experimenting with other materials like clay and wood. In one of his pieces, he combined the best of both and that's how the 3D clocks were born. "My style is inspired by pop-surrealism, graffiti, and street art", he says. Throughout the years you would see the same shapes pop up into my pieces. For example, the arrows I use in my clocks were also a part of my paintings and murals. Besides his aesthetically pleasing work, he's also experimenting with elements. Pieces of his art move due to the wind, lights go on due to solar energy, and currently, he's experimenting with rain.
"I like to challenge myself to come up with new playful features in my artwork. Time functions as a common thread in my art. I've been fascinated by clocks since I was a little boy and I'm getting a lot of joy out of it seeing people getting surprised by my clocks out in the public. It brightens up a world that is always in a hurry".
Piece number 1
This is a clock that I made before I was getting into making 3D clocks. I was out painting one day with a friend and this character came up. I think it's a playful piece with a lot of details.
Piece number 2
This clock hangs in the center of Amsterdam for a long time now. It doesn't hang very high but still, it's hanging there for a long time which is special because usually they're getting taken down or demolished. The fun part about this clock, in my opinion, is that the gears, tongue, and eye all move because of the wind. It was one of the first pieces that could move.

Piece number 3
This clock was hanged during the Four Days Marches of Nijmegen (editors note: As I'm writing this I don't know how to explain this event. It's literally walking for four days. check it out here: https://www.4daagse.nl/en/). Because of this clock, my art was featured in the news for the second time. Two years ago a similar thing happened where I hung small clocks on the side of the highway.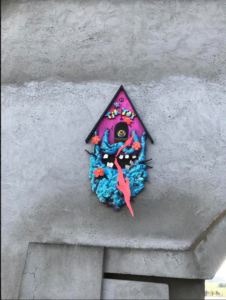 Piece number 4
I'm a big fan of Dali and his surrealistic art. Dali and clocks are going well together.

Piece number 5
This is one of my earlier pieces, as you can see it has a small light in it. A lot of my clocks feature a special element. I make a regular use of sunlight or wind in my pieces or even plants for that matter. I consider it a challenge to come up with new and surprising elements as a feature for my artwork. For my latest series, I have built clocks that react to the rain. For example, there is a clock that cries when it rains.

Check out more of Tiktoy on facebook here. We got a secret for the people at the end of this article, check it out here.