D*Face aka Dean Stockton has just completed his latest permanent mural, this time in Brooklyn, New York as part of a collaboration with Cybersecurity company Kaspersky Lab. Taking just over a week to finish the 100ft x 50ft mural is titled 'Save the World' and sits in an prominent location in Brooklyn overlooking the East river.
As part of the event we were lucky enough to have Dean answer a few questions for ASA.
Hi Dean how are you? Tell us a little about yourself…
I'm good thanks, feeling pretty spent with everything that's going on at the moment, but so far it's all gone pretty much to plan so I can't complain too much. So about me… street artist, illustrator, motorbike enthusiast, cult leader… wait, perhaps I've said too much.
I've been producing work on the street for what feels like forever, so naturally that's the part that most people know me for, but I do like to mix it up every now and then. I just painted a bunch of motorbikes for Triumph which was pretty sweet!
How did it all start for you? Were you one of those kids always scribbling on notebooks at school?
Wow, I mean you kind of hit the nail on the head! I was never really one for the academic side of school, or any side of school for that matter. I ended up leaving school with a whole world of random doodled characters, at that point I had no idea what to do with them or even that they could become anything else. A few years down the line, after completing a graphic design and illustration course, I landed a job in that field, but history repeated itself and I found myself doodling yet again, this time with some slightly more professional skills to back me up. Colleagues eventually picked up on my stuff and gave me the encouragement to follow them up, so I began drawing on sticky back plastic, plastering the results around London whenever I got the chance. I never intended for it to go any further but eventually people started picking up on my images and it all snowballed from there.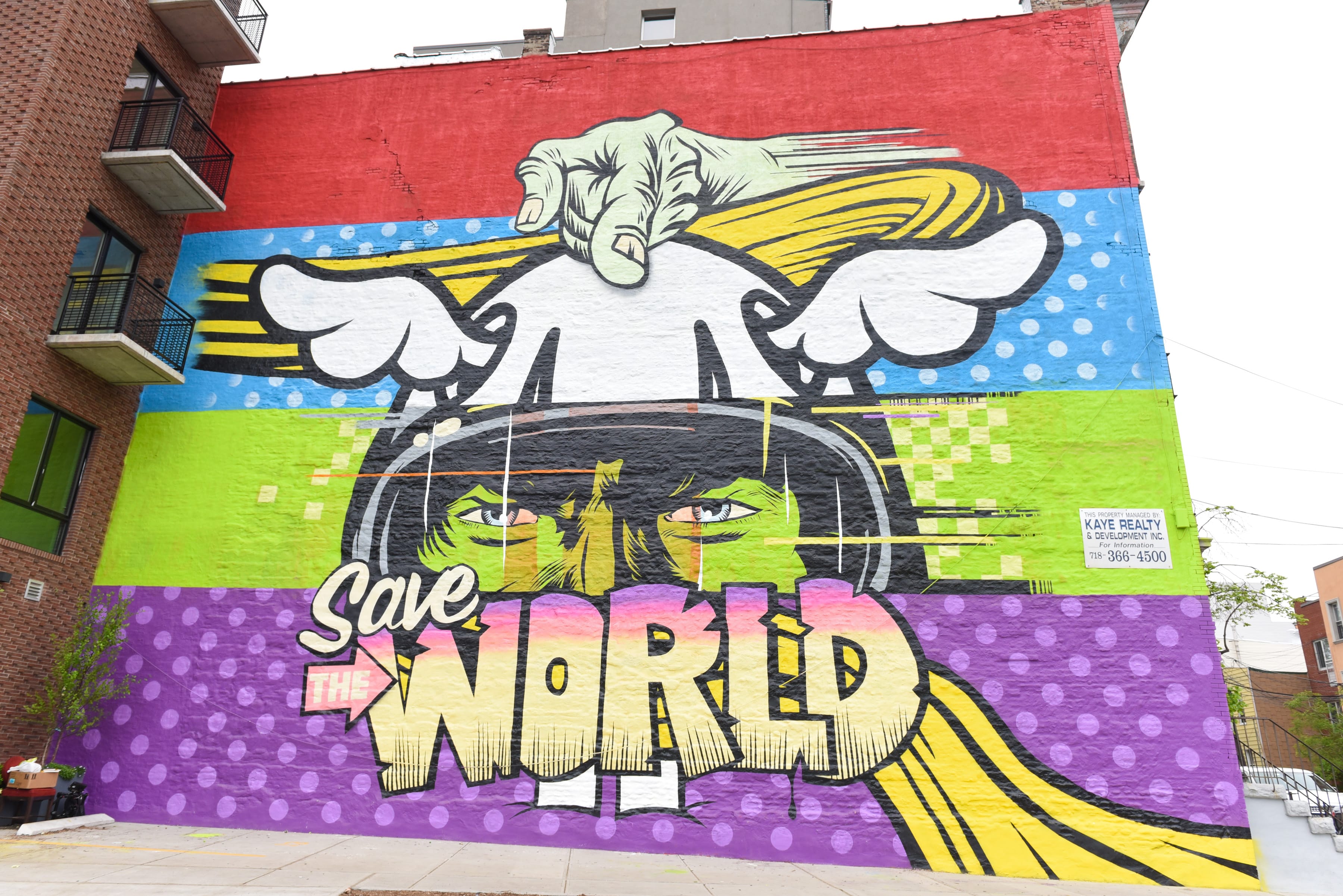 When working on a wall do you have a plan in mind when you start a piece? Or do you like to look at the wall and the surroundings and take inspiration from there?
Murals on a bigger scale have got to have a plan beforehand, they just wouldn't be possible otherwise. Obviously though I want to try and match the work to its surrounding area, otherwise they'd stick out like a sore thumb! That's all part of the planning process, it's all decided ages in advance. With smaller stuff though, paste-ups for example, we just look out for the right spots to use on the day, I like to choose spots that perhaps the eye isn't usually drawn too, somewhere out of the way that I want people to reconsider perhaps. We just did a bunch of them over in Vietnam, which has some great spots.
You have recently been commissioned by the Kaspersky Lab to create an absolutely enormous wall for the Moniker international art fair in New York – how did this come about?
Kaspersky Lab have previously creatively collaborated with street artists including my fellow Londoner Ben Eine, and I was honoured when they got in touch. It's interesting to work on a collaboration with a company in a different field, and find links that connect us. As a member of the creative industry, and especially as a street artist, my social identity is crucial to my work, so of course it's important to me to know that it's secure. Many of my fellow street artists have chosen to remain anonymous for their entire careers, keeping personal and professional life completely separate – that's no easy task. I think that really resonates with the issue of internet security and with the work that Kaspersky are doing. This was a great chance to collaborate with a brand with which I felt a genuine connection to myself and to my work.
Was this your biggest wall to date? How was it doing a piece on such a large scale?
Not quite the biggest, but certainly for its size we had the shortest amount of time to complete it – definitely made for an intense challenge. Like with anything though, the bigger the challenge the bigger the payoff – I've done countless murals all around the world and you'd think I'd get tired of staring all that concrete, trapped up on the scissor lift, but you just can't beat work on such a big scale. Each wall has its own unique character, challenges specific to the location that give everyone a kind of personality. I know it's a strange thing to say about a wall, but it's true.


Do you enjoy collaborating with other artists? Do you feel that collaborating with other artists adds something totally different to the creative process?
Sure, collaborations are always a good way to change things up. Every artist has a different creative process or certain rituals for artistic output, sharing and combining those will pretty much always lead to exciting things in my opinion. It's kind of the artistic equivalent of a chemical reaction, sometimes you end up with something really new and awesome, sometimes it blows up in your face. Also, if you've been an artist for as long as I have then you'll begin to realise that you get into certain creative cycles, and that can damage your results, collaborating breaks that cycle, and lets you see things fresh.
Something I really enjoy is hearing which artists inspired other artists. Which artists inspired you growing up and whose work do you really like just now?
My biggest influences as a kid came from the artists working within the Californian skate scene of the late 1970s, Jim Phillips and Vernon Courtlandt Johnson are the two biggest names for me, nothing beats those guys. Recently I've been revisiting names like Basquiat and Rauschenburg,  the guys that really made the New York art scene blow up at the end of the twentieth century. For me there's never really been an instance since that's shown such raw creative energy, just the sheer volume of work seems like insanity to me. Those two especially used a lot of found objects and stuff in their work, I just think that's genius – I just had a solo show in Paris where a lot of the work used that same idea.
Thanks so much for your time Dean and all the best with your future artistic endeavours!