People tend to forget that great artists had to put in countless of hours and dedication to master their craft and skill so that we can enjoy their artwork. In Amsterdam Street Art's latest blog series:"My life in pieces", we're taking a deep-dive into the artist's portfolio and ask them which art pieces have a significant meaning for them and their career. Today we're meeting up with Danish artist Mikael B.
Biography
Mikael Brandrup, also known as "KETS," is a Danish visual artist, graphic designer, and entrepreneur who currently lives in Los Angeles and was the subject of an in-depth article in the Danish periodical Jyllands-Posten. Brandrup is internationally known for combining the aesthetics of graffiti, fine art and graphic design in his outdoor and canvas work. Brandrup was a featured artist at the Scope Art Show at Art Basel in Miami in 2015 and in 2016, appeared on DR Aftenshowet, the biggest talk show in Denmark.
Masterpiece "Dynamic World" (2017, Los Angeles)

This piece is very important and means a lot to me, obviously, all my pieces mean a lot to me but this is extra special. It's my so far most comprehensive and detailed piece and I worked on it for months (2,7×1,45m). In summer 2016 a dream came true, Greg Escalante (Juxtapoz co-founder and owner Copro Gallery+ Gregorio Escalante Gallery) contacted me for a studio visit and exactly a year later I had my first ever solo show "Reality Shift" in Los Angeles at Gregorio Escalante Gallery. Dynamic World was featured as the masterpiece. It's the one and only piece I choose to keep to myself. Sadly Greg passed away just weeks after the show. Being new to the LA art scene Greg believed in me, I will never forget that. So this is also a memory of a true inspiration and one of the key figures of the LA art scene.
Mural project "Vivid Rhythms" (2018, Los Angeles)

For this project, I was granted the Certificate of Recognition by The City of Los Angeles which was very overwhelming. It made me stop up and look back at an amazing journey. A moment where I realized that all my hard work and dedication since I moved to LA 4 years ago was all worth it. LA has inspired me to keep going after my dreams more than ever. I feel humbled and honored to be recognized by the city I love and live in. So this was 9,300 sqft top to bottom end to end. With "VIVID RHYTHMS" I visualized ArtShare's vision of giving artists the space to dream, grow and create. When I grew up in Denmark, my biggest inspiration was the graffiti and street art of Los Angeles. Moving to LA was one of the biggest decisions in my life and a dream coming true. And as fate would have it, one of my first gigs after moving to the city was doing live painting at one of Art shares events. Here just a few years later, my vision was selected to lead the institution into its next stage of rebranding. With "VIVID RHYTHMS" I want to share my passion, my dream, the belief that anything is possible. Take chances, create your own positive flow and rhythm and attract the things into your life you dream of.
Sculpture project "Safe Haven" (2017, Miami)

Being able to help a cause I believe in and to make the world a better place is a great feeling. I was honored to get the opportunity to transform the iconic Philippe Starck sculpture at SLS Hotel Miami in tandem with Art Basel Miami as a part of my solo exhibition "Awake" in collaboration with Lonely Whale and Adrian Grenier to save our oceans. 100 percent of the sales were benefiting the cause of Lonely Whale. Having the opportunity to use my art to make a difference means a lot. I titled the sculpture "Safe Haven". It's designed by Philippe Starck. Symbolizing the journey from where we are now and where we are striving to be. Inspired by my experiences, thoughts, and emotions from my countless dives in the oceans all over the world.
Sculpture project "Hypercube" (2017, Los Angeles)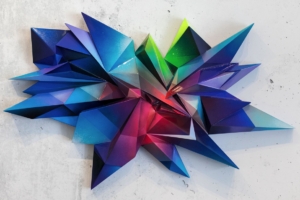 My HYPERCUBE sculpture project was my first ever sculpture of my geometric style. I had this idea in my head for a long time, it took me a while to figure out how I wanted my first sculpture to look, how I wanted the composition, depth, and surface. HYPERCUBE is my latest 3dimensional experiment, exploring the contrast and harmony between opposite parallel line segments. Seeing my 2d drawings on a piece of paper come to life in 3d was an amazing feeling and it gave me so many new ideas, so stay tuned 😉 This was also a part of my solo show "Reality Shift" at Gregorio Escalante Gallery.
Mural project "Daydream" (2017, Copenhagen)

I always enjoy coming back to Denmark and in summer 2017, I was invited to be a part of the biggest open-air gallery in the Nordic in my hometown Copenhagen. This was a fantastic feeling going back to Denmark and sharing my passion and the LA vibes. Especially because I have experienced nothing but love from Denmark since I moved to LA. I knew nobody in LA and I wouldn't have made it without the massive support I got from Denmark. With "Daydream" I want people to stop up and get lost, just for a moment forget what you are going to do or what you are doing. Simply daydream and take a step away from all the day to day tasks and to do's. It was curated by Jens Peter Brask and alongside amazing international artists.
Check out more of Mikael B. right here. Get some fresh Amsterdam Street Art merch here.