Italy is locked down. France, Austria and Spain locked. The United States locked. Denmark, The Czech Republic and Portugal locked. The Netherlands will probably not be locked down (soon), but over the next three weeks almost everything will wind down and social life will be severely impoverished.
What does the 'lockdown' mean for Street Art? For many artists — who depend on festivals, assignments from large companies or "just" work outside — it is a difficult situation.
But, as I write, a lot of murals and other corona-themed artworks are appearing on Instagram. A few days ago I already showed in this blog, how artists are using their art to make a statement against the coronavirus, share their advice and wishing everyone love and safeness. Let me give you a new overview of the latest works, this time with the face mask as subject.
Let's begin with FAKE. This Amsterdam based street artist made a beautiful portrait of a nurse with a face mask figuring the Superman-logo. In the comments, nursing staff responded with applause.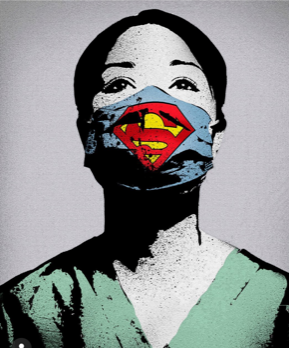 iHeart portrays a little girl from head to toe. In her hand a phone on which she's sent the message 'I need some time alone'. She wears a mask over her mouth and the title of the work reads "It's not you, It's me". Is she excusing herself or is the image referring to the distance between people that has already been created by social media???
The mask also plays an important role in the work of Milanese muralist Giuseppe Ragazzini. His Botticelli-like lady wears a mask and points her hand towards her lungs. In the comments we read 'Quarantine days', accompanied by a sad emoji.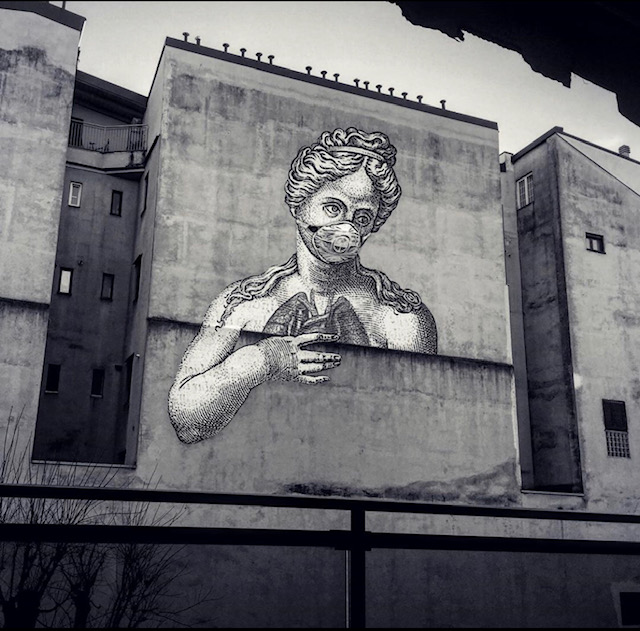 Eddie Colla has been making portraits with facial masks for years. According to him, this has nothing to do with the coronavirus. Still, he himself writes that he uses this image to emphasize the fear and isolation people face when they start to see each other as existential threats. Maybe a little relevant?
SeiLeise in Cologne says this episode is one that will teach us to have a little more respect for the elderly. As a teacher, working with teens that are very respectful to the elderly and valuable to the community, I think Dutch kids are wonderful. I wonder, could it be that German youngsters are a different breed?
The Russian artist Anastasiaa, aka 33 degrees, wishes us strong immunity and thinks masks will not save us. This colorful mural is located in Moscow.
The last one for today is by Alaniz and his brother WESR aka Danny Figueroa. On this mural we see a man lying on the ground looking at the screen of his telephone in paranoia. 'Media scares me more than corona' the caption exclaims. In the comments below, someone who is actually in quarantine in Italy, responds that we should not underestimate the actual threat. Fortunately, the artists explained they are of the same opinion.