Born in Belarus and now a New York-based artist, Yu-Baba has studied art since her childhood to later graduate from the faculty of Architecture in Minsk, Belarus. She now brings both together; creating murals on buildings all over the world, mainly in the United States. I love her work because of the vibrant colors and the beautiful flow her work contains. Yu-baba invites you to her inner world by looking at her art.
Hi Yu-Baba, thank you for your time! Are you busy with projects at the moment?
Hi, Thank you for the opportunity to tell my story and reach a new audience. Since the time when my husband Key Detail and I moved to the US, I can't imagine a time when I am not busy. After a comfortable and stable life in Belarus, here in New York, we feel that time is moving so fast. This city is extremely expensive so we try to be busy and take all the interesting opportunities. For the further several month's Key Detail and I have scheduled our art tour. It is going to be a couple of US states and countries, commission jobs and art festivals. I am very excited about our plans! I am preparing everything concerning sketches and concepts, paint orders, accommodations, tickets and so on. I can't live without traveling and moving somewhere probably because in my childhood I lived in so many places. That's why I always need new impressions from new locations. Also, I am experimenting with a new medium for me like watercolor and coloring pencils to add something fresh in my body of work. All this is not easy to combine with full-time motherhood.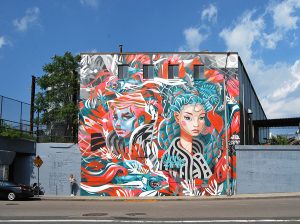 Collaboration wall with husband Key Detail
You studied art since your childhood, have you always been so creative?
I have an oldest brother who suggested me to become an architect when I was 7 years old. That time I lived in a tiny city in the Far East of Russia near China where I started to take art classes. I was lucky to have a good art teacher who inculcated me such important values as the love of painting and drawing and the spirit of creativity. Every city I moved I went to art schools so my childhood in my mind associated most likely with painting everywhere and always.
Did your studies as an architect inspire you to make art on buildings?
Absolutely! I am so glad and honored that I studied architecture and worked as Project Architect in the design of commercial and residential buildings for more than 7 years. Also, I have been involved in planning and designing interiors and private homes. This experience is invaluable. I have the knowledge and abilities to read and interpret architectural drawings. It helps me to determine the size of the potential walls, understand the scale of the mural design, how to use proper colors considering surroundings, even analyze the sunlight and wall's visibility.
How did you start as a street art artist?
It was super fun. All the traveling's I always accompanied Key Detail, at that time my boyfriend. He was invited to Germany to the art festival with an interesting concept. One week about 100 artists transform a huge abandoned factory to the "art museum". Hundreds of walls and thousands of spray paint cans. The atmosphere was so creative, everyone was painting. I was just drawing in my sketchbook. A lot of artists asked me why I don't take the opportunity to paint on the wall and all of them encouraged me to try. I did it. I remember my emotions and heartbeat. A new chapter of my life has opened that day.
Yu-baba together with Key Detail
How was the first time you made a very big mural?
It was natural and easy for me because I often collaborated with my boyfriend and other artists. It was so beneficial because they taught me and shared their experience.
Did you move to New York to boost your career as an artist?
We traveled and painted around Europe and were pretty happy. We explored so many different countries and met so many amazing people who were extremely hospitable. I am so thankful to all my friends in Germany, Italy, England, Poland and etc. But Key Detail and I were always passionate about new experiences and when we got a chance to move to the US we took two suitcases (one of them was full of paint), left our architectural career and fly here to start from the ground. We both even didn't discuss what city we are going to. We have chosen New York because of its powerful spirit and energy.
How does living in New York inspire you? Does it create more opportunities for you as an artist?
This city impacted my life and gave me so much experience. New York allowed me to find a better version of myself, build up my confidence and get more art opportunities. New York with its energy, citizens, and architecture is my big inspiration. I can't take a step in New York City without seeing something that inspires me.
It is convenient to live here in the US to be in a stream. I love this feeling of suspense when one day you receive a phone call or email with a proposition of amazing project on the other side of the US. You pack your luggage and fly somewhere you never been. But you always come back home to New York.
Now New York and I are connected forever because here I gave birth to my baby.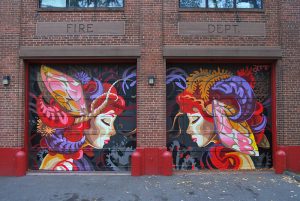 How is the street art scene in Belarus?
To be honest I'm not aware of this now. Back-days there was a very small street art community and it was fascinating to take a step in the history of Belarusian street art. We worked at our architectural offices like normal people but under the cover of night we created and experimented. I remember my thoughts when I almost cried helping Key Detail with his piece standing in the mud near an abandoned building with -30C. That night I felt that it will lead to something bigger. And I was right.
Your artworks usually show pretty girls with big eyes and your works most of the time have a surprising detail. How did you create this style and where do you get your inspiration from?
My style is influenced by the art of my husband because at the beginning I helped him and I saw how he did it. All his visual works passed through my eyes. We always speak about art, we analyze our results, we discuss our experiments.
Probably all portraits I have painted are mirrors reflecting my inner world in different interpretations. Inspiration is everywhere in the world around me.
Do you have something art-related that's on your bucket list?
I do! Before my mural artist career, I was passionate about fashion. I had a specific point of view on fashion and I even had my own street style clothing brand. I produced clothes collaborating with some artists and organized photoshoots. I enjoyed this process a lot! Unfortunately, I have postponed this creative business indefinitely when we moved to the US. But I would love to make it with new energy. My plan is to go studying fashion design. I am so glad I live in the right city. Definitely I would love to experiment with a combination of art and fashion.
You recently gave birth to a baby, how do you combine motherhood with your work?
It's a boy, his name is Max. As I said before it is not easy. Taking care of the baby is a joyful, interesting and somehow magical process. It's a huge inspiration for me because my family is my everything. But the most difficult part is to find time for art. I can only throw myself back into work late in the night. But there is always a way to combine.
Thank you for the interview!
Thank you, Yu-baba! Want to see more? Check out Yu-baba's Instagram.