Dutch artist Yasja again shares her adventures with us in her blog specially written for ASA. After a successful journey in Norway and Iceland early this year (you can read the whole story here), she went to Norway for a second time. But this time she was less well organized…
This year was an amazing but crazy year for me. I worked almost non-stop on several projects and commissions. During the summer, I went to different mural-festivals in the Netherlands like Kings of Colors and Writer's Block. At the beginning of August, I painted a huge mural in Wilhelmshaven, Germany at City Murals Festival, organized by Getting Up Foundation.
After two days of being at home, I've got a phonecall from Lars from Stichting Street Art Foundation. He asked me if I wanted to work ten days on a street art project called `Murals for Communities' in Waterford, Ireland. Sure, I said and I asked him when. This Saturday, was his answer! So I packed my bag, I received the airline-tickets and I flew in that direction.
When I was in Ireland, I got another last-minute commission to paint a huge wall at the HQ of Descended from Odin, based in York, England. So after finishing the project in Waterford, I've landed in Amsterdam, went home to work some days on the design, went back with the train to Amsterdam to take again a plane, but now to England.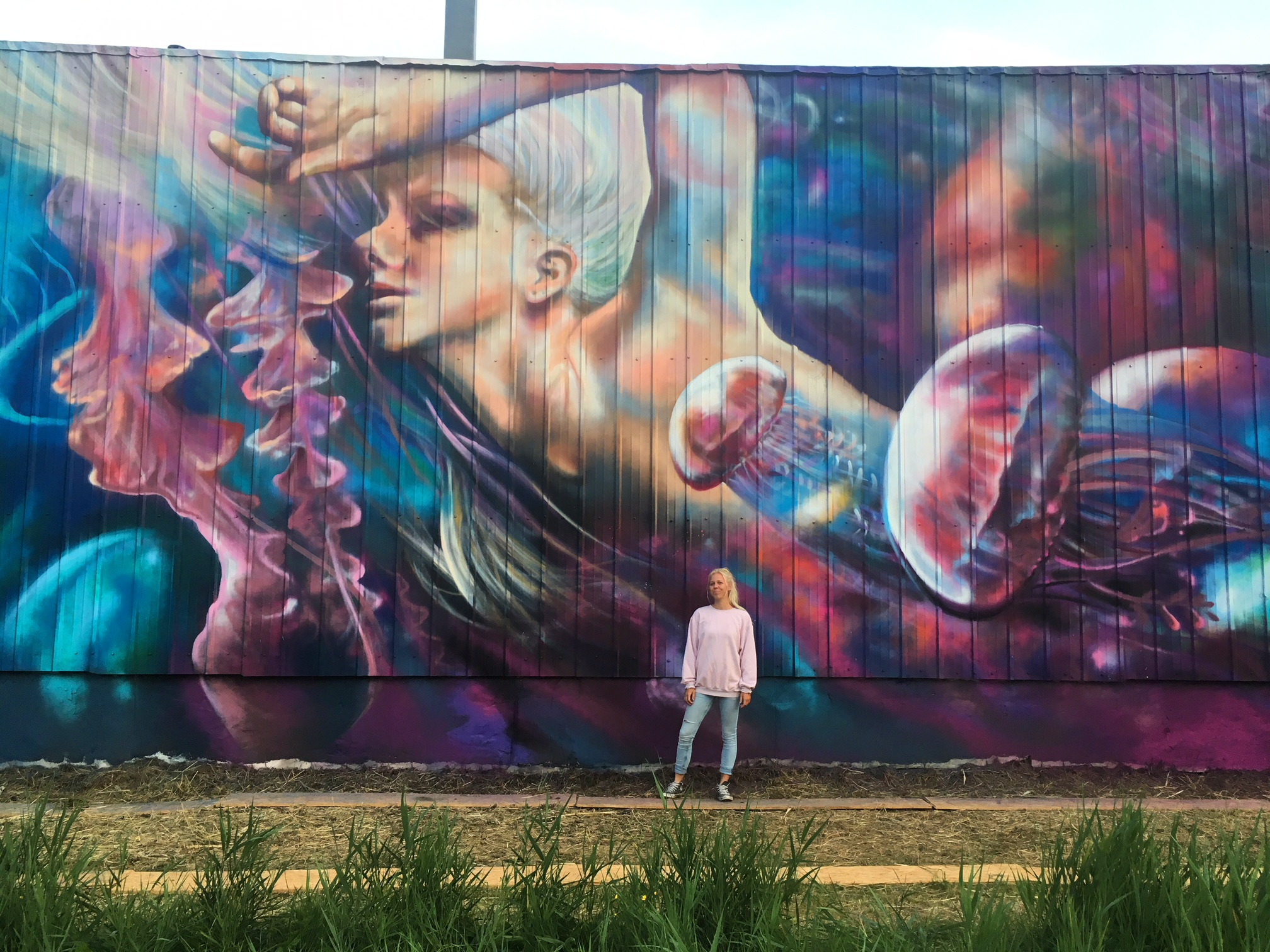 In England, I worked my ass off. The wall was about 35 meters wide and 9 meters high and I did it all freehand. I spent eleven hours working each day on it. After finishing and being happy about the results, I traveled back to the Netherlands again. I came back home late at night and after some hours sleeping, I loaded my car with paint and went in the early morning to Tunnel Vision Festival in Boxtel. Besides that, I had a lot of things to do for Unframed – Urban Art Expo and Jam in Heerlen, Netherlands, where I'm part of the organization and I also participated in the exhibition.
Everything was super fun, it went well and I was satisfied with my results. Especially how I grew as an artist this year. But the drawback was, that the longer I kept going nonstop, the more tired I became. During Unframed I was very sensitive and I even had a little pressure on my chest.
And then `suddenly' the Norway-trip was there.
Unframed ended on the evening of the 22'th of September. That evening I picked up my paintings and loaded them, together with my huge army backpack and almost 200 spray cans in my old and fully tagged Peugeot, by artists like 1UP, Kel1st, and Aroe, which I've met at Unframed.
Many people are wondering how everything can fit in it. I have to admit that I am surprised about that myself. I think it is because I'm having a magic car.
The morning after, I drove almost 1000 kilometers alone in one day to the north of Denmark from where I live in the south of the Netherlands. I had booked an Airbnb where I had my first overnight stay, somewhere close to the highway. It was already late in the evening and it seemed that the Danes not invented street lights yet. My navigation system sent me to a dark and deserted off-grid road in the middle of a land. I doubted whether I should go that way. At the end of the road there was a large old farm. It gave me vibes of `The Walking Dead'. As I drove closer, I saw that there was light. I parked my car and an old friendly Danish woman came outside. I had arrived well and safely in my first overnight stay and this time during the traveling, I didn't forget to pay my gas in Germany.
The first plan was to paint a commissioned mural in Sandnes and to have a solo-exhibition in Kgalleri, a street art gallery in Bergen. After that I would have one week of rest, then leave my car in Bergen, take a plane all the way up to Lofoten; stay there for a while and to paint a mural on a 9 meters high oil tank. Then I would fly back to Bergen, take my car and drive the way down south to Kristiansand and work there on another mural commission in a coffee distillery. But a day before I left for Norway, I've got a phone call from the guy from that coffee distillery, that the job would unfortunately not continue. His excuse was that his mother didn't like the idea of a mural.
Anyways. I slept amazing in the bed and breakfast and I continued my journey to Hirtshals, where I started the four-hour boat trip to Kristiansand, Norway. This time I didn't spend much time out there. I've said hi to Sedin and Ane, the people from Mint Street Art Gallery who arranged my earlier exhibition and mural project and with whom I was staying in March.
After a coffee and a pizza, I continued driving from Kristiansand to Sandnes. It was a five hour during journey, through the beautiful Norwegian landscapes. In Norway, there are hardly any highways. I drove on a main road through the mountains and fjords. Before it went dark, I've seen many typical red wooden houses, cabins or boathouses laying next to the water.
Earlier this year, when I was painting my mural in the center of Kristiansand, I came in contact with Terje Høyland and his wife Hanne Langmoen Høyland. Terje is a street art lover and he has his own street art blog 'Street Art Purpose' in Norway. They were visiting my solo-exhibition in Mint Gallery at that time and invited me to dinner. We had very good conversations and they asked me for doing a commissioned mural in their street, later this year.
It was late in the evening when I arrived at their place in Sandnes. They have a cozy house with a lot of religious statues in combination with a diversity of paintings from several street artists. I was welcome to stay a few nights in their daughter's room, who was away for studies in Oslo.
It was super nice to see Terje and Hanne again and I felt home in their house right away. Also they made a delicious `fiskesuppe' (fish soup) for me. Since that moment I fell in love with this traditional Norwegian dish.
The next morning I immediately started the mural in their street. It was about 4 meters wide by 1,5 meter high. I've painted two portraits of Nadia Murad and Malala; two incredibly courageous women who both won the Nobel Peace Prize.
Nadia Murad is a Yazidi human rights activist. In 2014 she was kidnapped by Islamic State and they made her a sex slave after they killed all her brothers, her mother, and many other Yazidi people. Yet she managed to escape and she now lives safely in Europe.
Malala is a Pakistani activist for female education and the youngest Nobel Prize laureate. Education was not allowed for women in the region where she grew up and where the Taliban had the power at that time. In 2012 she was shot by the Taliban in her head, but she survived. Now she hits back and is a famous children's rights activist, living in England.
It was an honor to paint this beautiful and strong women. The story of Malala I already knew, because a few years ago I read her book `I am Malala'. But when I did research on the story of Nadia Murad, I cried. On almost every photo of her, you see the emptiness and sadness in her eyes. How can a person endure so much pain and heaviness? How much more awfulness can you experience in life?
And then I looked at myself and realized how damn lucky I am that I grew up in such a safe and prosperous country. The most things that I have in life are almost self-evident: family, a bank card, a roof above my head… And especially as being a woman: the freedom to walk freely in your own town, let's not say to drive alone in your own car to the other part of the continent.
I've finished the mural in two days. The first day was easy. The sun was shining and the temperature was nice. But the second day was terrible. The wind was so strong that my spray cans now and then felt down from my ladder and rolled over the street. It was hard to spray in the right direction. Besides that, I had a terrible headache that day. Nevertheless, I've finished the mural with a satisfied feeling and I went to bed early, because the next day my journey would continue further to Bergen for organizing my exhibition. Terje and Hanne were in Oslo for a few days' work, so I was home alone in their place.
That night I didn't sleep much though. I had a super weird and painful cramp from my hips that spread all through my legs. I didn't know in what kind of position I had to lay down to reduce the pain. Besides that, I was a little bit in panic, because I've never had this before and I didn't know what the fuck was going on.
The morning after, Friday the 27thof September, the pain wasn't over and I didn't know what to do. Giving up is not my style and I really wanted to be on time in Kgalleri, the street art gallery in Bergen. So I decided to reload my car and started the 6-hour drive to Bergen slowly. During the first part I couldn't enjoy the beautiful views. Because of the rain I barely had ten meters of sight and I had moments when I had to bite in my sweater because the cramp in my legs was unbearable. Till now I still don't know what was going on in my body at that time. Luckily I felt much better after a fresh soup and tea in Haugesund.
It was at the end of the afternoon when I arrived at Kløverhuset, a chic covered mall in the middle of the center in Bergen, where Kgalleri is located in. I parked my car at the side of the Strandgaten, a busy street with many expensive boutiques. People looked open-eyed when they saw my car passing by. Especially when I unloaded all my stuff in the middle of the street.
That evening I've met the owner of Kgalleri, Karsten Kongshavn, and his colleagues Mari and Tore. They helped me hang up all the paintings and the gallery arranged for the weekend a super nice and luxe hotel room for me, with a beautiful view over the old town Bryggen and Mount Fløyen.
The day after, on Saturday, many people came to the exhibition opening and it was a great success.
I finally met the legendary Øistein Jakobsen with who I was digitally in contact before I went to Bergen. Øistein is a very extraordinary man with a passion for street art and adventure. I see him as a rough cowboy figure. At a young age, he lost his leg after a delta-flying accident, but that didn't stop him from doing the things he wants to do. In the 80's he even though was in the games of Paralympics skiing and now he owns the online forum Streetart Bergen and follows the more than 60 active street artists in Bergen on a 24/7 bases. A lot of people know Øistein Jakobsen in town.
I felt honored that a bunch of other amazing Bergen-based artists came to see my exhibition, like Brosey, AFK Street Art and Naeem Searle a.k.a Nimi. Everyone I've met was so open, friendly and helpful. They thought along with me, like sharing workplaces and potential cooperation projects.
In that weekend I also got in contact with two other Bergen-based artists: Bares and Tegson. Bares is originally from Siberia, but grew up in South America. The past years he's a Bergen-based graffiti writer and has a business with painting busses. Tegson has his roots in the Bergens graffiti scene and is now a public space artist, well known by his abstract trademark of organic shapes.
They invited me to drink a coffee in their studio and asked me for some advice for a mural-sketch. Eventually, I became involved in the project spontaneously. I actually planned to rest a little bit and explore the city and surroundings, but I couldn't resist the joy of having a mural in Bergen.
The title of the mural is `Nå er det hennes tur', which means `Now it's her turn'. It was a charity-piece for 'Care Norge', a charity organization who stands for women rights in third world countries, painted at the back wall of Bergen Kunsthall, the art museum of Bergen. The project was given by Gate Galleri, another street art gallery in Bergen.
The background was made by Tegson. The 'Care' letters on the background are made by Norge1927, a local graffiti shop in Bergen run by a group of graffiti artists who do a range of projects from images of characters to more text/lettering based work. Bares did the middle portrait and I did the left and the right portrait.
We finished the piece in one week and there were days that we've painted till the late hours, even when it was raining. I was surprised and upset when I heard, just right after finishing all the work, that the mural will be painted over after a while.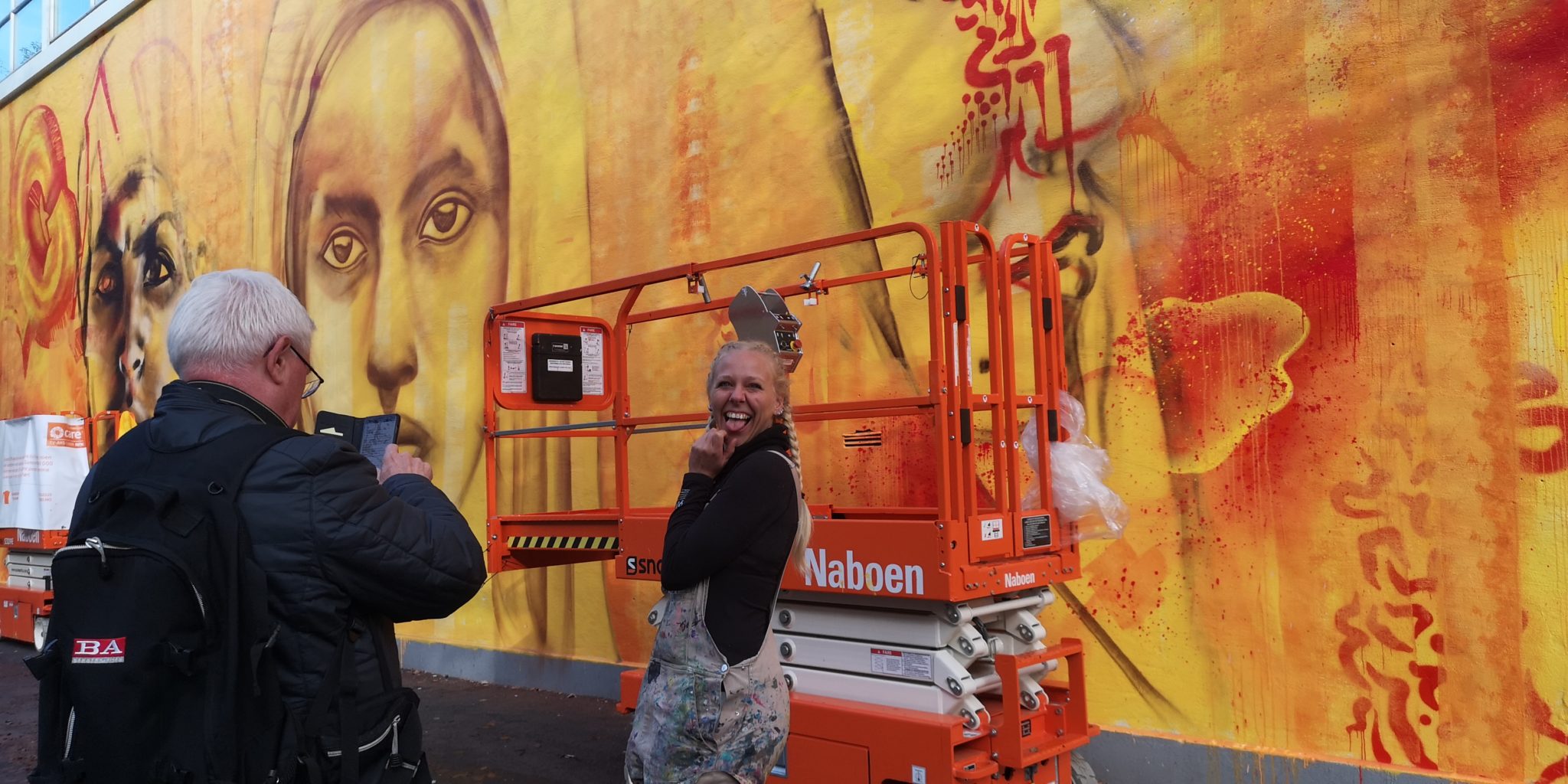 As I've said, I actually had the plan to go to Lofoten after finishing my exhibition in Kgalleri. The Lofoten are an island group in northern Norway, above the polar circle. It's incredibly beautiful out there, that's what many say. Nevertheless, I decided not to go up north anymore. Not this time at least. It was already October and the winter was already there. I really was not in the mood for painting an outside wall two weeks long in the wind and snow. Besides that, it was a free job.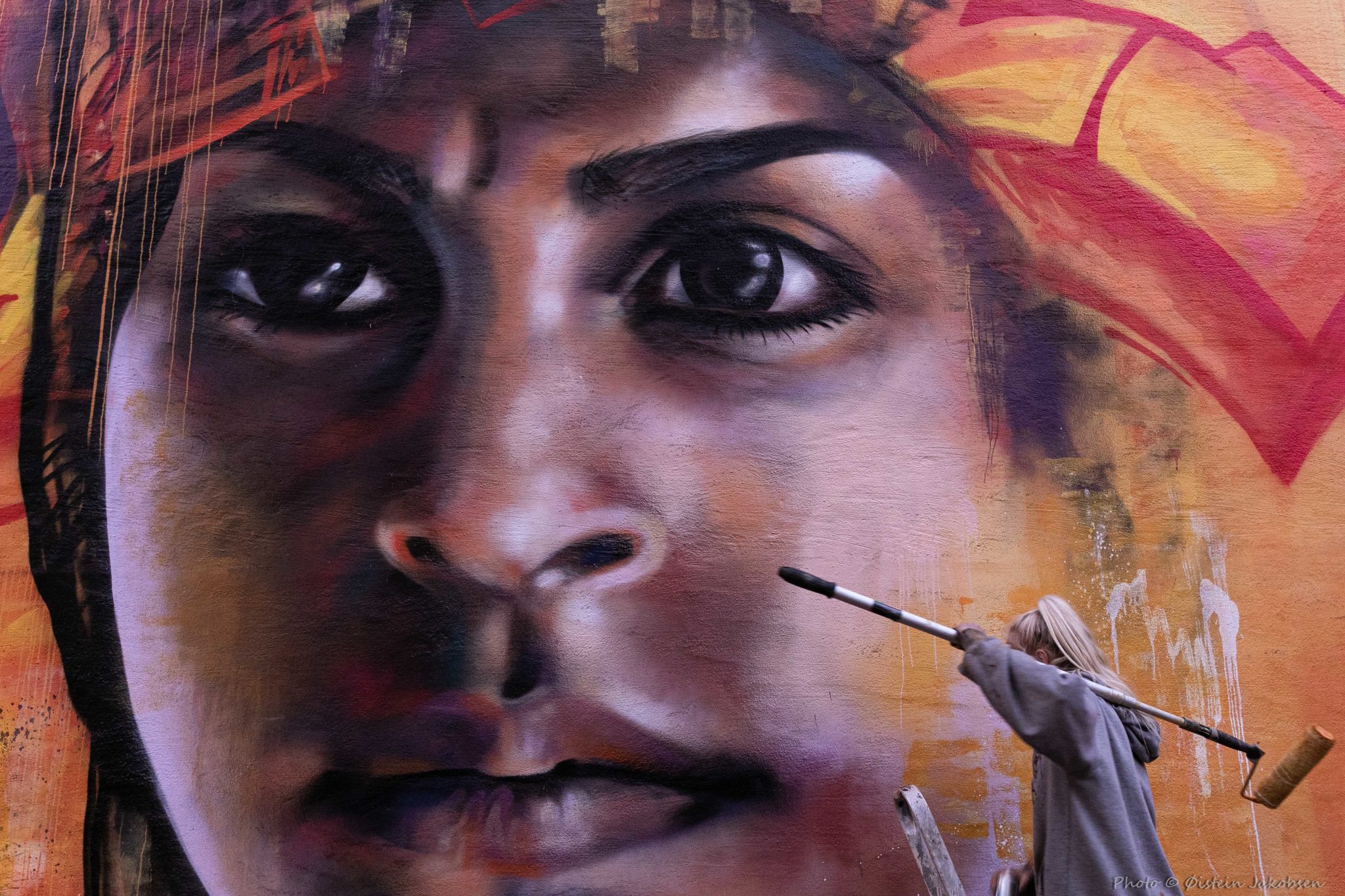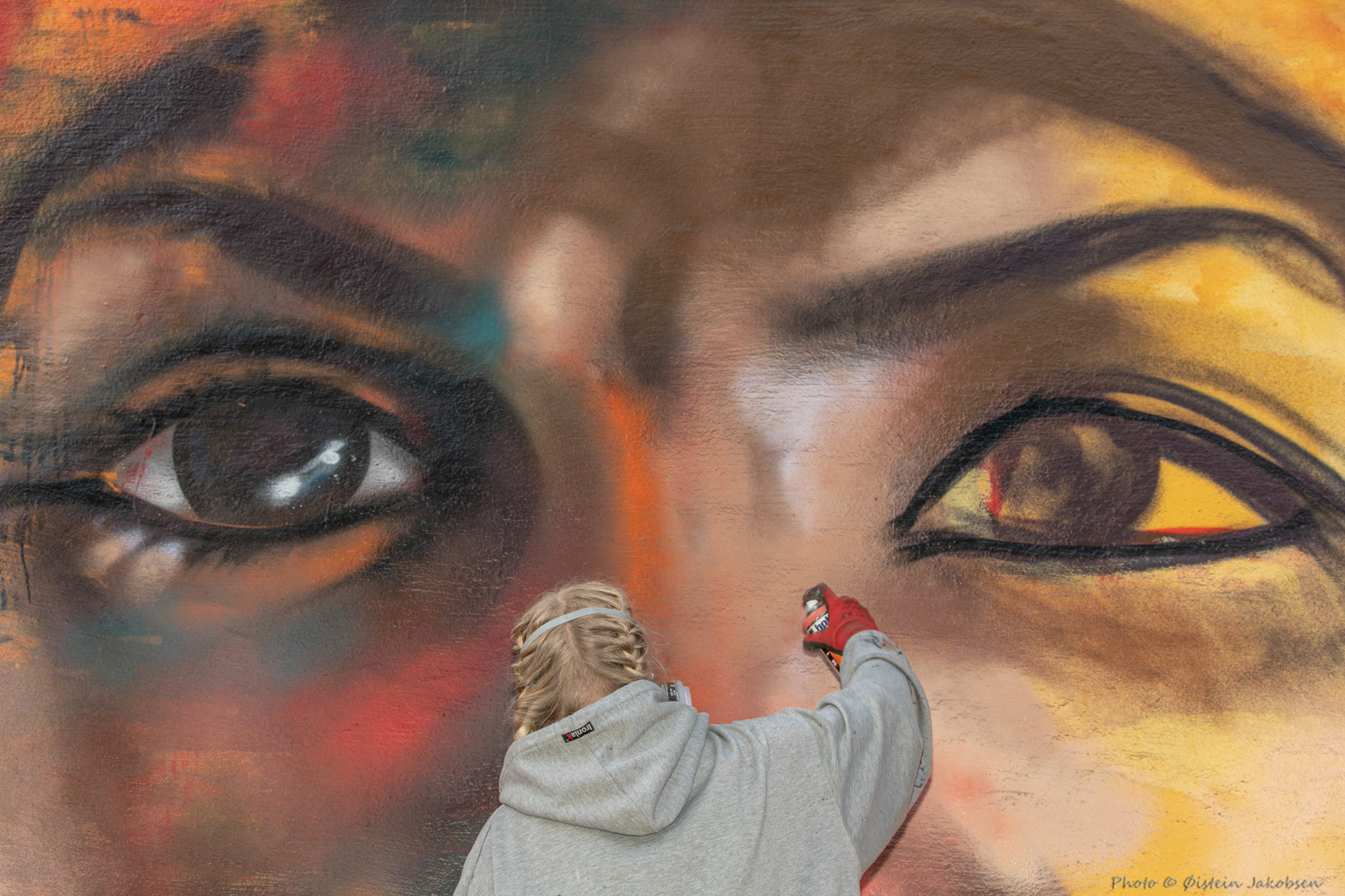 Instead of that, I stayed longer in Bergen and during the weeks that I was there Øistein referred me to Kronstad DPS, a mental health center. There I received an assignment to make a mural in December, so probably I'll go back within a month.
The exhibition in Kgalleri went very well. I sold two big paintings and got a friendship with Karsten, the owner of the gallery. The rest of my paintings are still in Bergen, exhibited in Magic Hotel Korskirken.
Even though my trip was totally different than my original plan, I went home with a satisfied feeling. I'm so grateful for all the new friendships I've got and all the new experiences. Now it is time for rest a little bit and making free work on canvasses during the winter period. I can't wait to come back to Norway. I really feel home in the Northern countries.
Most pictures by Øistein Jakobsen, who recently shared his story about Fauskanger no. 2.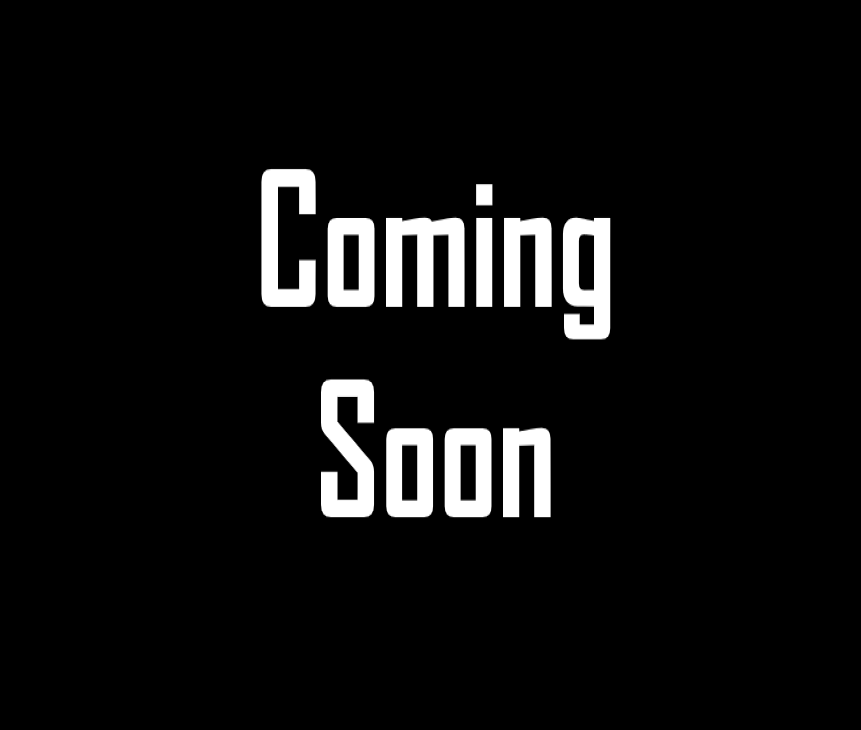 Coming Soon! Our special edition ASA 10 year anniversary calendar. Pre-order yours here.