The coming weeks, Street Art will be realized at various locations along the route to IJmuiden aan Zee in the port area of the Dutch harbour city ​​IJmuiden. The project "Kantje Pikken", synonymous for walking along the harbour, is part of the project "De Rauwe Loper" which is presented by the municipality of Velsen.
The second artists who are going to paint a big mural in IJmuiden are "The modern storytellers" also known as Karski (1974) & Beyond (1983). The Dutch artist duo who travel all over the world to paint beautiful murals. Karski & Beyond both have backgrounds in the world of graphic design and fine arts. At the age of 10, Karski already picked up a spray can for the first time. Beyond, from the newer generation and started painting in 1997. Last week ASA visited IJmuiden to completely renovate and prepare the wall.
I was curious if they were familiar with the local proverb "kantje pikken"?
"We walk along the harbor sometimes, a good place to get some fresh air and clear your mind while the ships sail in with their latest catch"
In 2012 they started combining their skills as an experiment. Because the first wall had worked out so well, they decided to work together. Since then they have traveled all over the world to paint murals. Both Karski & Beyond have a passion for travel and for art. They are very happy to be able to do this in daily life.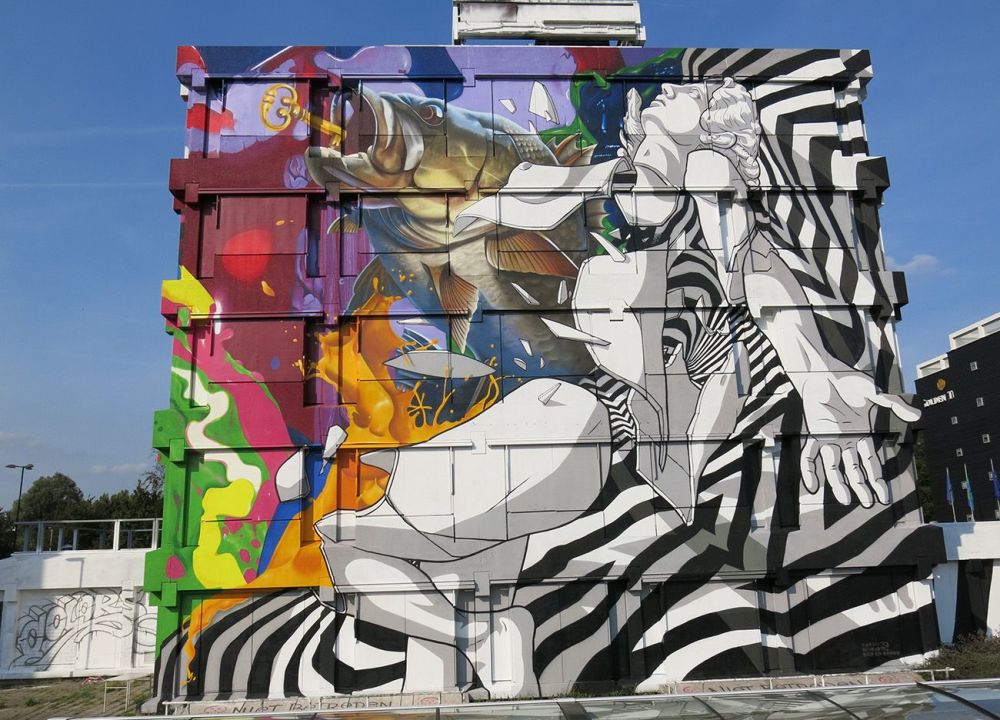 What can IJmuiden expect from your visit?
"IJmuiden can expect a real Karski & Beyond, a colorful painting where the boundaries between realism and abstraction will be explored".
The purpose of the murals is to put a smile on the face of the people passing by looking at the work. Karski & Beyond are not only about creating cool murals, but also the story behind it. Each mural tells a story, which is why the artists are called the modern storytellers, "We want a story by our walls that touches people and makes them think. Every time people walk along our walls, they see something different. This involves everyone in our story" is what they said in an interview with Justice&Peace.
In 2017, the duo won the Dutch StreetArt Award in the Best Dutch Mural category. This is what the jury said about it, "Tactically and perfectly executed by telling their own fictional story. Complete with all kinds of details, shadows, lights and 3D and clear craftsmanship.
I asked Karski & Beyond if they could tease in one sentence what they are going to create in IJmuiden?
"IJmuiden receives a painting from us in which the diligent work of the fishermen, illustrated with an artistic twist".
For more information and updates about the project check out our Facebook event page.
Interested in getting a creative job done? Feel free to contact us.