This week's artist is from Bali, Indonesia and now living in Athens, Greece. I am talking about WD aka Wild Drawing. His work can be found in Europe, America and Asia. Since the year 2000, WD has been active in the streets as well as in his studio, he has established his name at many different street art festivals around the world. WD has studied art and graduated in both Fine Arts and Applied Arts.
Everybody has a different story about how they got into the street art scène. I was curious about WD's story, "Actually it all started when I was in the early years of my studies at the School of Fine Arts where we often were protesting against Campus policies by making large posters and banners. From there I realized that making large images in the public space can have a big impact on society too. That's why I started painting in the streets and luckily I got much appreciation from the people".
WD's work is recognizable because it is a typical mix of Western and Eastern cultures. It is always a very vivid image and leaves your imagination free. With a paint roller and acrylic paint, he tackles every available space and makes the whole image visually attractive which results in a fascinating result. For WD the interaction with the place where he works is of major importance, he always ensures that there are recognizable local elements in his work. He doesn't want his work to appear invasive, there must be harmony between the art and the thought behind it and the place where it is born. His work arises from the inspiration he draws from nature, art, people's lifestyles and social phenomena.
Because you made some insane works in the past I was wondering what work are you the most proud of? "I'd like to speak about the work that is the most memorable for me, first. Well, back in 2015 when there was a referendum in Greece I took the initiative to make a mural, the "No land for the Poor" (the picture above) in Athens, visualizing a sleeping impoverished homeless guy. The last day when I had just finished with the mural – and I was writing a dedication "dedicated to the Poor and Homeless here and around the globe" – I felt someone tapping me on my shoulder. I turned back and I saw a middle-aged man saying "thank you my friend for making this beautiful mural for us who were invisible and considered like second class citizens", as he explained to me he was homeless. I was so touched, he was so touched too and we ended up hugging each other… unforgettable moment and once in a lifetime feeling"
"When it comes to the work that I'm most proud of, maybe is the "Knowledge speaks – Wisdom listens" or the "TimeHole" because these murals went viral and I got an unexpected wave of love and appreciation for my work by people all over the world"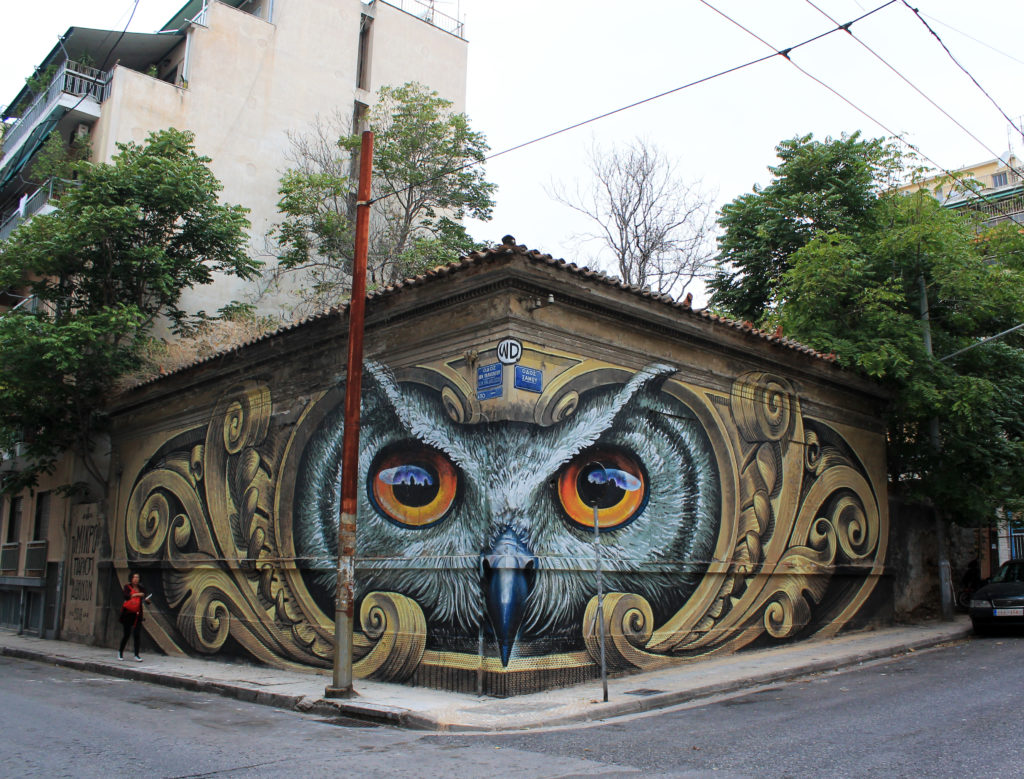 What he loves about Street Art is the freedom of expression and the fact that he can share his thoughts, and communicate, with as many people as possible; with everyone who passes in front of one of his works or just comes across it on the web. Apart from these, through street art he has the chance to "speak" about the big issue of public space.
I asked WD what his favorite subject to paint is, "To be honest I prefer to make artworks in which there's a message. My favorite subjects often have to do with social phenomena, systemic inequality and injustice, environment, nature etc".
In 2017 ASA went to the Aruba Art Fair in San Nicolas where they unfortunately didn't meet WD because he was scheduled a week earlier. In 2017 WD visited Rotterdam and painted this insane mural called "Helixotherapy", inspired by the famous graphic artist M.C. Escher. "I hope that the people of Rotterdam enjoy this wall and that they feel the positive message I had in mind when I made the work" says WD.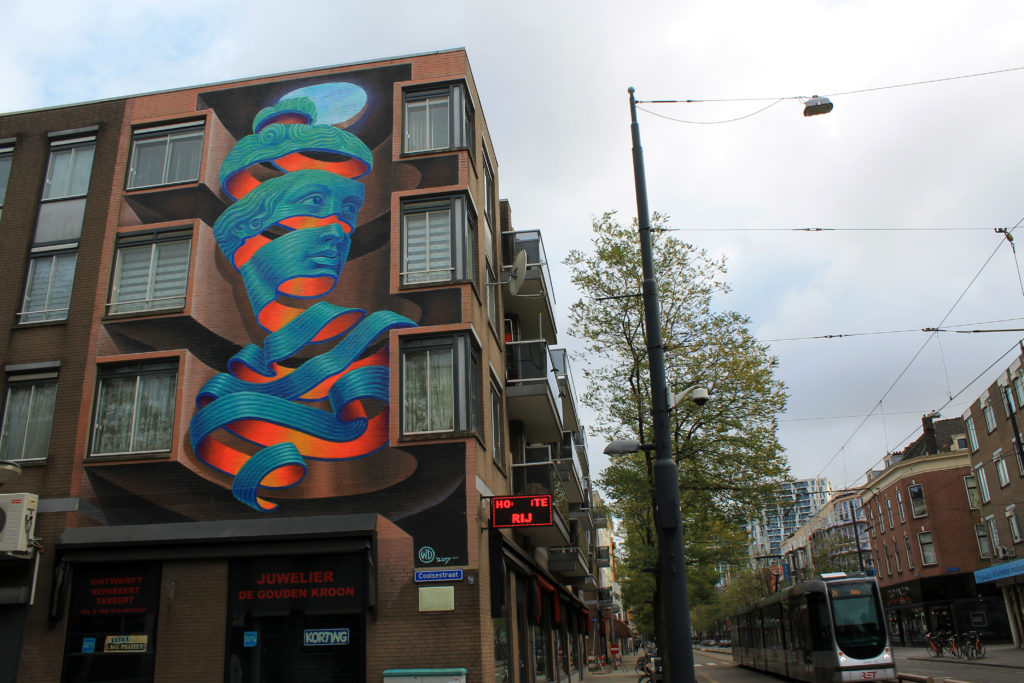 Check out WD's socials to never miss out any of his work!
It's not my intention to move away from this artist special of this great artist WD but while reading the story about the homeless, the current project of the Amsterdam based artist DADARA pops up in my head. From the perspective of giving more attention to the homeless I like to share this video of his project.