It's International Women's Day! In Let's make a Statement last week, I announced that I will pay more attention to the great female artists we have in this world. International Women's Day is a great day to share the first post dedicated to female artists!
Let's start with 8 of my favorite female artists. The ladies who, without them knowing, inspire me in different ways.
Viviane Sassen
I remember the moment I realized I wanted to do 'something with art' very well. It was when I was visiting Huis Marseille, an Amsterdam photography museum, and saw the work of the Dutch Viviane Sassen for the first time. It enchanted me. Her photographs invited me into a colorful, artistic world. It's esthetic but has several layers to it at the same time. The abstract poses of the models working together with the vibrant flow of nature, awoken a dream inside me I didn't know was there. From then on I wanted to dive into the magic world of art, explore more and I felt the highly need to make every day inspirational and creative.
Marina Abramovic
Marina Abramovic is the world's most famous and known female live performance artist. I've never seen a performance of her in real life, but hearing about both performance art and the way Abramovic performs for the first time, really set me to thinking. I like it when art makes me question. What I read and heard of Abramovic made me question more and more. I decided to read her autobiography Walk Through Walls to find out more. Even though I don't always want answers when it comes to art. Abramovic explains in her book that it's important to her to perform until she can't. That the moment you push yourself to your maximum, you'll come to a different state of mind. I didn't finish the book. I felt like she wanted to make the reader feel the same way she does during a performance. Pushing yourself till such a maximum you can't think. And that's what she did to me with her book. And that was the moment I started to respect and understand her art.
Hera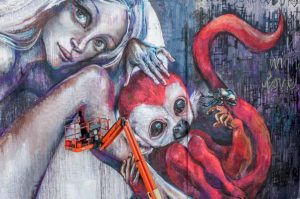 Hera is the half part of the duo Herakut, a German street art duo. Hera sets the characters' form and proportions, whilst Akut paints the photorealistic elements. I think Hera's work is strong, female, abstruse and above all, very unique. I love to see when two talents reinforce each. I can't wait to see Hera making her mural during If Walls Could Speak in May! Love her art as much as I do? You can buy Herakut's artworks on their website.
Jas Charanjiva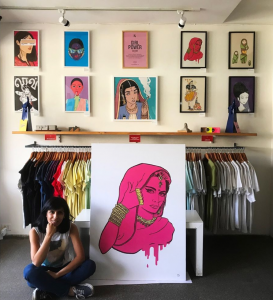 Jas Charanjiva's art always relays a message. It's very important to her to hold up a mirror to society. A lot of her artworks have to do with women empowerment. Jas' art was big in the news after she made a statement piece in response to a horrible group rape in Delhi, India. The fact that she stands up for woman and especially the fact that in response to these kind of situations she is not afraid to express herself, makes me have lot of respect for Jas and admire her. The image above is a copy of the original work Jas made in honor to the student who passed away after the frightful incident. She is representing a brand-new attitude which is why she sports the 'boom' knuckle busters. Read more about this inspiring lady on her platform Kultureshop.
Frida Kahlo
I love surrealism. And I love strong females who are not afraid to have their own opinion and make a statement. So Frida Kahlo really can't be missed in this list. She painted from the suffering and the pain she had to deal with her whole life. Noticeable from her work are the bright colors in contrast with the alienating atmosphere in the background. An icon of her time, who is still a great muse to many in the art world.
Shamsia Hassani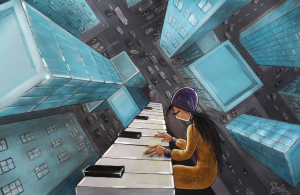 Shamsia Hassani is one of Afghanistan's first female street artists. I love her work and I love the stories she tells with her works. She always paints woman, most of the time playing an instrument. The instrument provides the women with a voice. A voice that in our current world can't always be heard but is so much the more important. Her being the first female street artist of her country proves she has strength and courage. The women she portrays are strong woman, and so is she.
Natalia Rak
I'm a real daydreamer. I love to fantasize about what lives underneath the surface of the sea, I like to think about mythical creatures and elves and I don't mind that they might don't exist. Having the quality to be taken away by your own fantasies is great. But at the same time I'm down to earth and love the fact that in everyday life we can create our own kind of magic. Natalia Rak's work brings me to a combination between both state of minds, like for example the scenery's where she shows a human being in an elves color, sitting in a flower. She brings together both worlds.
Roos Art
Roos is what you call a young talent. A very young talent, indeed. She's only 19 years old but her star in the street art scene is rising. I think it's great to see that a young person is so determined and confident about her passion. Having a passion and to believe in yourself is a must at every age and Roos shows her dreams in an inspiring way.
Everyone is inspiring in their own way. Let's motivate each other and stimulate all sorts of people in the world to be who they want to be. Be open to being inspired might bring you somewhere you didn't know you wanted to go. Let's all go for a balanced world. Not only gender-balanced, but in all sorts of ways. Follow the official International Women's Day #BalanceForBetter.
If you want to make more out of International Women's Day you can also visit the Mama Cash Feminist Festival x Stedelijk Museum Amsterdam to learn more about today's female artists.