"Amsterdam for Everybody"
Klik hier voor de Nederlandse versie
We can finally share the location of If Walls Could Speak! We just finished 10 great murals at the platanenweg in the eastside of Amsterdam. 
In the week of May 13 until Saturday the 18th, 10 new murals arose at the Platanenweg in the eastside of Amsterdam. Amsterdam Street Art will host an unique Street Art "Festival" in the eastern part of Amsterdam.
By painting 10 huge murals, the selected artists will transform a completely renovated area into a safe and creative neighborhood. To ensure that the people who live in the area actually love the art pieces, we've decided to give the festival the theme Amsterdam for Everybody
10 walls mean 10 great artists! We've curated a wide range of various styles and we aimed to book high-profile artists from The Netherlands and abroad. Please let us introduce you to the participating artists and explain their style and motivation to be part of If Walls Could Speak.

Artist line-up:
Dan Kitchener / DANK (United Kingdom)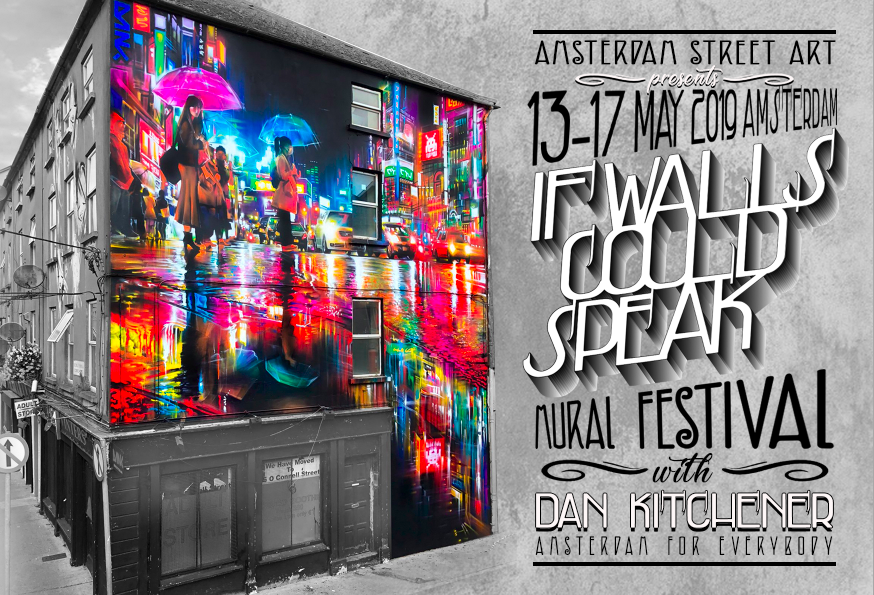 Style: Rainy street scenes with a wide variety of people shown in the painting.  A gritty urban theme, taken from everyday life and the surroundings and environment we all experience daily. You'll find beauty in the most mundane of scenes and particularly love the relationship with light, shadow, and composition. He will try to fill his work with a tangible mood, a sense of being there.
Why: Since the fact we live in a country with a lot of rainy, grey and gloomy days. With the work of Dan Kitchener, we guarantee ourself a rainy but colorful day that hopefully will end the gloomy days and bring it back to something positive.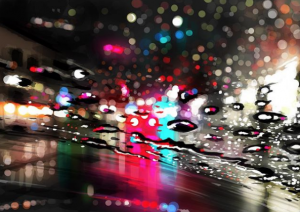 Check out the work of Dan Kitchener / DANK: Website / Instagram / Facebook
Studio Giftig (The Netherlands)
Style: The creations of Studio Giftig are translated into enormous murals. Characteristic for their work are the realistic representations and portraits which are applied in various ways because of their own visual language. They personally photograph the models before they paint them.
Why: Studio Giftig creates murals on the highest level with top quality. The duo won the People's Favorite award during the Benelux Street Art Awards 2018 and also the Entree Award with the work shown in the photo here above. Their work definitely can't be missed at this unique festival. Expect a well-motivated concept translated into a big piece of art.
Check out the work of Studio Giftig: Website / Instagram / Facebook
Julieta XLF (Spain)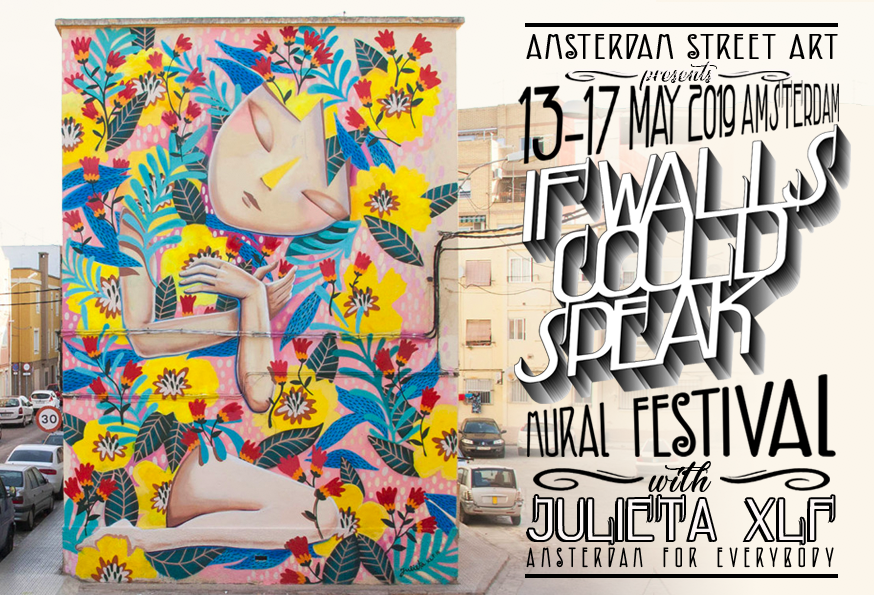 Style: Through her work, Julieta XLF talks to others by the use of color and the rhythm of forms. She imagines and creates from the forms that nature shows to her, focusing the attention on the natural diversity of the environment and the need to preserve it. Working from the integration, from the idea of beauty, with the figure of a woman as a starting point protagonist of their own adventures and reflections. Julieta's girls are dreaming awake.
Why: With the work of Julieta we attract a large group of positive minded happy people, kids and city exploring dreamers.

"Birds arise spontaneously from the hairs of all of them because their dreams are reality, they dream of the transformation, the renewal, the evolution that the world that surrounds them needs."
Check out the work of Julieta XLF: Website / Instagram / Facebook
DOPIE (The Netherlands)
Style: Bright, bold, with four legs or with wings. A combination of (photo)realism with aspects of traditional graffiti. Dopie likes to bring colour to all the darkest nooks and crannies. As much as he tries to add something extraordinary to the environment, he uses images that almost seem like they belong in those particular spots.
Why: Dopie is a well respected Dutch artist with graffiti roots in Amsterdam. His goal nowadays is to reach the widest possible audience. Through experimentation, he has found that animals are the perfect subject. Not only do they offer endless possibilities; people tend to notice those murals right away, leaving them with smiles on their face.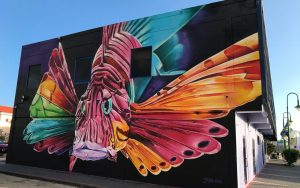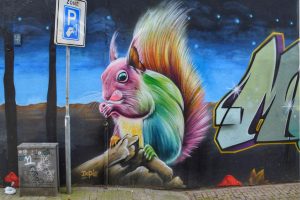 Check out the work of Dopie: Instagram / Facebook
Case Maclaim (Germany)
Style: Case Maclaim is a graffiti painter who relies on his highly developed talent to create pieces that combine brilliant photorealism with a strong note of surrealism. With the use of spray paint, he gets the most out of his visuals and creates well respected stunning pieces of art all over the world.
Why: For years now, Case is one of the most innovative artists from Germany and probably whole Europe. His most recognizable works are the overlaying hands that symbolize unity and power. Case creates a subliminal language understood by all. After all, a hand gesture can tell much more than words ever could.
Check out the work of Case Maclaim: Website / Instagram / Facebook
KASH & CHUCK (The Netherlands)
Style: Well developed graffiti in the purest form. Both are well-known Amsterdam based artists who work on the streets here and abroad. Expect colorful lettering with amazing executed characters translated in a concept specially created for the event.  
Why: Since the fact we work with the theme: "Amsterdam for Everybody" we were convinced that the main source of art in public space, graffiti, needs to be part of this event. Both are well-respected artists who developed their style in an amazing way and their results definitely deserve the title ART.
Check out the work of KASH: Instagram / Facebook
Check out the work of CHUCK: Website / Instagram / Facebook
HERA of Herakut (Germany)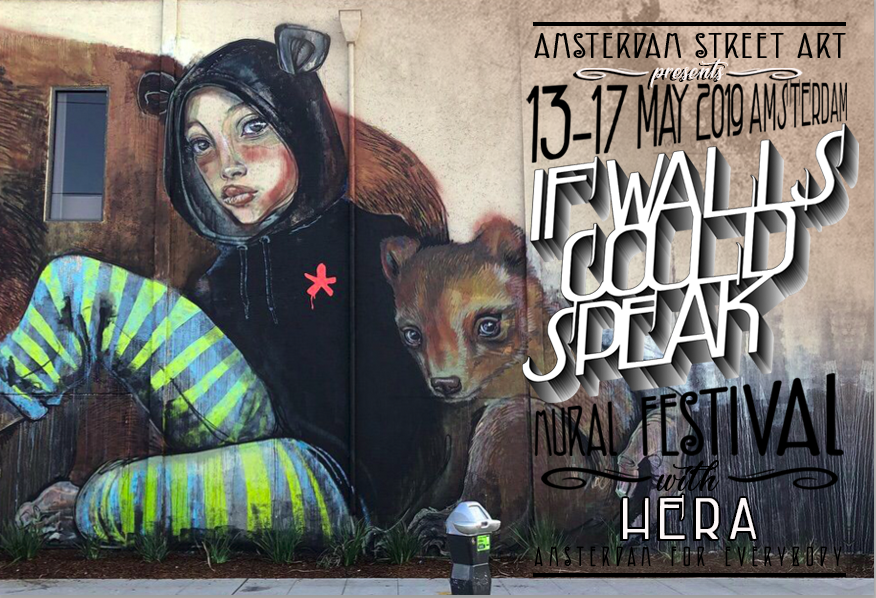 Style: Hera combines her skills as a graffiti artist, illustrator, poet and storyteller to create fluid figures with simultaneously elegant and chaotic line and brushstrokes. Her work is often a statement on the human condition and experiences of childhood. In 2004, Hera joined forces with Akut and began creating collaborative work under the name of Herakut.
Why: The second women in the line-up of the If Walls Could Speak festival with very strong artistic and sensual storytelling through her paintings. After presenting her work through the major cities all over the world it's an honor to have Hera on board.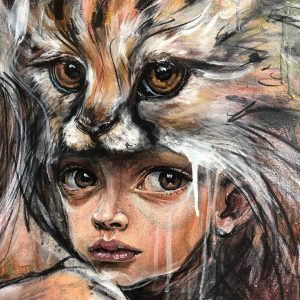 Check out the work of Hera: Website / Instagram / Facebook
Sjem Bakkus & IVES.one (ASA collab)
Style: A cool combination of detailed line-work and fragmented portraits. Both artists, Sjem Bakkus and IVES.one have a wide orientated street portfolio and they have done several collaboration projects. Expect a cool customized concept for the If Walls Could Speak festival where art meets Amsterdam in a special way that most locals don't even know about.
Why: Since the fact that Amsterdam Street Art is taking care of this festival and our own group also exists out of street artists we love to be part of the artists who take care of a mural.
Check out the work of Sjem Bakkus: Website /  Instagram / Facebook
Check out the work of IVES.one: Website / Instagram / Facebook
Smug One (Australia)
Style: Known for his photorealism graffiti work, Smug, or Smug One, aka Sam Bates, is an Australian contemporary street artist with great skills. Using nothing but spray cans, he was able to gain mastery over a difficult task of making highly technical pieces that are somehow edgy, cheeky, and incredibly playful.
Why: Smug's photo-like works are well known throughout the street art community. He creates pieces unlike anyone else, availing the streets of the world with murals that are so lifelike, people often question whether they are giant plastered photographs rather than hand-painted murals.  
Check out the work of Smug One: Website /  Instagram / Facebook
Leon Keer (The Netherlands)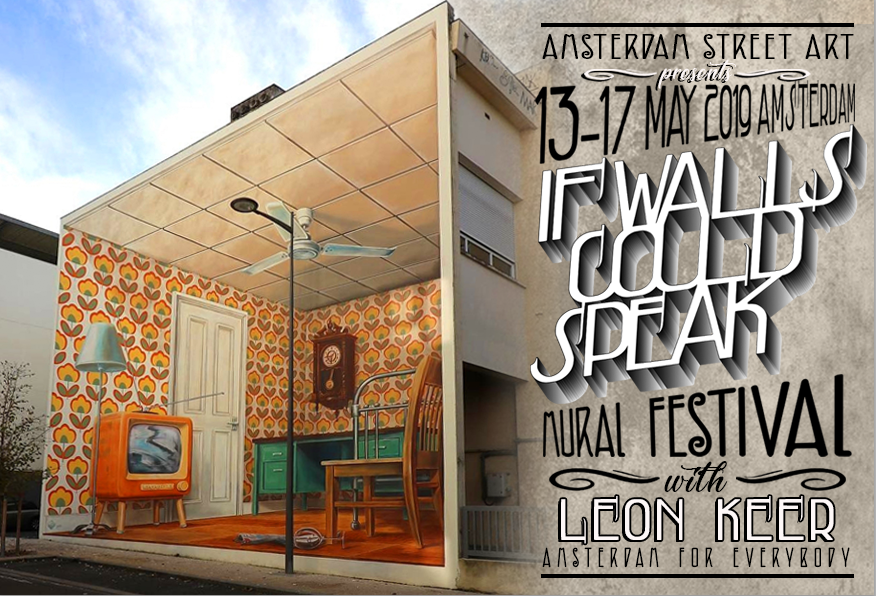 Style: Leon Keer is a world leading artist in anamorphic street art. A message seems to be present in his work. Current issues are reviewed, such as environmental concerns and the livability of this world. Leon Keer is constantly aware of the playfulness and beauty versus the degradation around him, a contrast that he expresses and amplifies in his work and which he uses as a metaphor for life.
Why: Winner of the Benelux Street Art Awards 2018 so it's an honor that Leon will be present during the If Walls Could Speak festival. Expect something spectacular!
"Every street art piece is unique and belongs to the street and its residents, the temporary fact about this artform strengthens its existence"
Check out the work of Leon Keer: Website /  Instagram / Facebook

If Walls Could Speak festival is commissioned by Stadgenoot.